The Hyakunin Ikki event is one of the events that was present at Genshin Impact in the V2.1 update. This is how to play and get various attractive prizes.
It is held in the city of Inazuma, which is one of the mysterious battles. You can form a team of two to show your fighting skills.
The fight is done on colors, to get points, you can beat your opponent, and use the opportunity to win prizes from various challenges.
You can also complete missions added to the Battle Pass, so you can get EXP faster. So here's how to play the Hyakunin Ikki event on Genshin Impact.
How to Play Hyakunin Ikki Genshin Impact Event
The Hyakunin Ikki event will take place on September 2, 2021, until September 13, 2021. To take part, you must have at least an Adventure Rank Lv 30 and above and have completed the Ritou Leaving Operation quest.
After meeting the requirements above, here's how to play in the Hyakunin Ikki Genshin Impact event.
During the event, you can complete the World Quest "Hyakunin Ikki: The Great Battle". Follow the instructions in the quest by looking at the challenge location.

In the Hyakunin Ikki event, there are 6 that last for 6 event days. A new challenge will be unlocked each day.

Each challenge will provide three types of difficulty which are divided into Normal, Difficult, and Extra Difficult. Difficulty levels will give different scores.

At the Hyakunin Ikki event, there are 6 characters provided during the event period, players can manage 6 teams consisting of several trial characters and their own characters.

Then also attach event-exclusive Garyuu Art to each team to make it easier to conquer challenges.

Each tip can use at most 2 characters and 2 Garyuu Art.

In this challenge, you can use Relay to change to the next team. When switching, teams will appear in the order they were created. The CD of Skill relay is 10 seconds.

Fervor will accumulate when changing teams by defeating enemies. After Fervor is at a certain level, it will give buffs to the fight. Maximum up to level 4. This effect will decrease if your fight is bad.

During this fight, you will defeat all enemies to a certain extent, stronger enemies will give you a lot of points.

When the challenge ends, you will get a different Insignia according to the points earned.
Hyakunin Ikki Event Records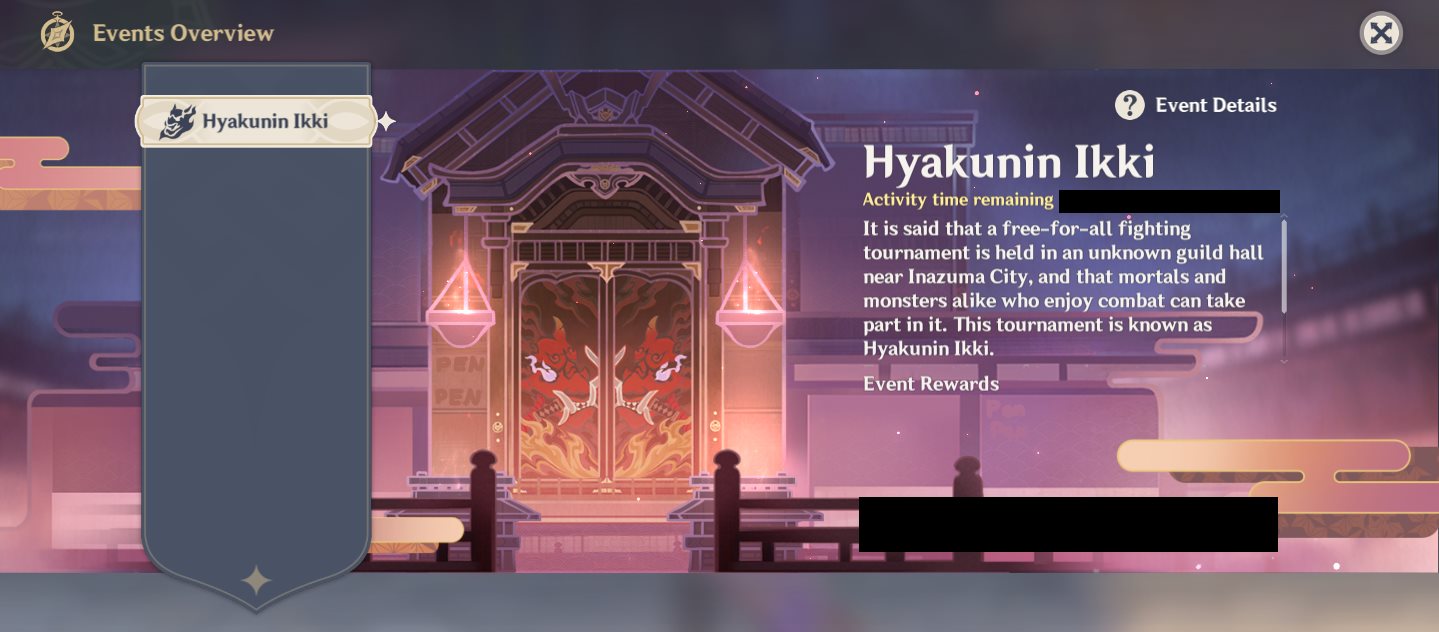 When a team is in battle for more than 25 seconds, the fighting power will take care, switching teams will remove the effect.

When changing teams, some of the effects left by the previous team will be lost. In addition, if all the characters in a team fall, the challenge will fail.

During challenge mode, Elemental Resonance will have no effect and cannot be used. For example food etc.
Hyakunin Ikki Event Prize
There are many prizes that you can get, including Primogems, Hero Wit, Talent Materials, Mystic Enhancement Ore, Mora and Style Cards.
Keep visiting Kabargokil for the latest information, Follow our Kabargokil Instagram and YouTube news, too!