Players will know how to get weapon loot crate hunter Free Fire (FF), because this is a pretty interesting loot crate. We'll probably have some new stuff, when we unlock this stuff and get that Cool weapon Skin now.
Moreover, there are still some interesting events that will be released soon, because there are many who will have the opportunity for players to try. Especially for now we will also have some of the best opportunities, so that we can run the events that are currently being released.
You must also remember that in the position of the Moco Rebith Free Fire event, there are indeed some new things, of course you have to try it immediately. So that in the future nothing will be missed, even a good opportunity for the player to use it to be enthusiastic when playing.
Then for How to Get Weapon Loot Crate hunter Free Fire (FF), let's see it soon and maybe you guys like to try it. Because we who open this, will have a great chance to get the main Skin prize to fight the enemy as well.
How to get Weapon Loot Crate hunter Free Fire (FF)
For now we can directly login to the Free Fire game, so that later you can get the prize now.
Once you are in the Lobby section of the game, select the section called Shop on the Left to continue getting.
Select the menu that says Armory so that you later have an easy chance to find this item.
Because it is one of the new Weapon Loot Crates, of course, players can immediately see the top thing.
After doing something like this now, you can immediately buy it for 50 Diamonds for 1 Weapon Loot Crate.
If you want to have a bigger chance then buy up to 10 Boxes right now.
This is indeed somewhat like Weapon Royale, but the prizes we get are more for the Skin section of this main weapon.
After you get one of these permanent skins, check the Weaponary section and use the skin right away now.
When you understand this part now, then now is the right time to use the weapon Skin. These players will have the opportunity to get the main prize of AUG Skin and MP5 Cyber ​​Bounty Hunter, the opportunity is of course quite large later.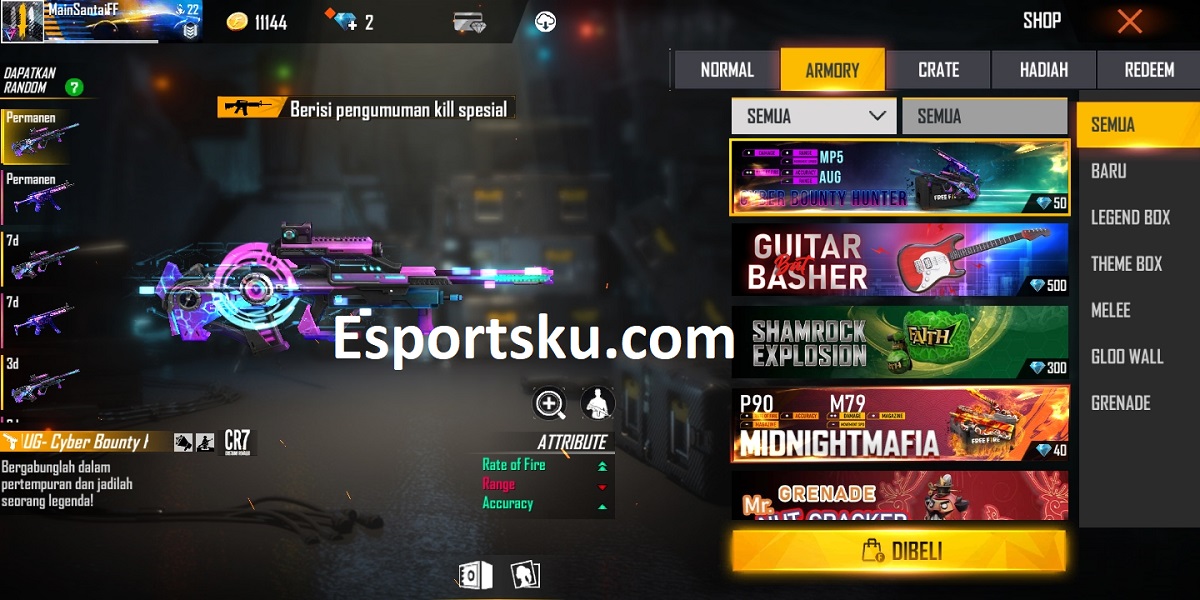 Surely you will be excited again to get this prize, because both skins have interesting shapes and effects. If every player has this gift, it will definitely be enthusiastic to fight the enemy because of the additional stats that the Skin provides.
Skin Aug This will increase the additional stats on Rate Of Fire ++ and Accuracy +, but the range is reduced and it doesn't matter. Then for the MP5 Skin Damage + and Range +, but our Movement Speed ​​will decrease but it doesn't matter either.
Both of these skins have pretty good looks, even these will have a better appearance and you will like them. Immediately have the second Skin from the Weapon Loot Crate, for you to immediately use when dealing directly with enemies.
After knowing How to Get Weapon Loot Crate hunter Free Fire (FF), you must have this skin through the methods that are already present. So that the chances are even better, you can even use one of the Skins in the match later.
You even have to know Hockey Tips for Opening Free Fire Crates, so that the chances of getting this prize are even greater. Maybe later the players will have a bigger chance, so that the fun will continue to flow to get this main prize right now.