How to Get Wanwan Skin, Cecilion & Atlas Mobile Legends, for Free!
One of the most awaited events by Mobile Legends friends is the event to get free skins.
For Spinners who have been waiting for this, of course, this is good news for you because in the near future Mobile Legends will return to an event with free elite skin prizes.
At this event, you have the opportunity to get one of Wanwan's elite skin variants, Cecilion and Atlas.
Therefore, here is an explanation of the event and how to get the free skin.
READ ALSO: 7 Most Powerful Alice Mobile Legends (ML) Counter Heroes Season 21!
Welcoming the MLBB x Star Wars Event
The event turned out to be part of welcoming the latest collaboration from MLBB x Star Wars which will be released in the near future.
In addition to getting these elite skins, you also have the opportunity to win other prizes such as Magic Dust, Magic Wheel Potion, Gacha Star Wars x MLBB Tickets and even Epic Limited skins.
The thing that will certainly make you bigger to win these various prizes is the long enough time period of the event.
This event itself will last for a whole month from July 8 to August 8 as stated on the official Mobile Legends Instagram.
How to Get Free Elite Skins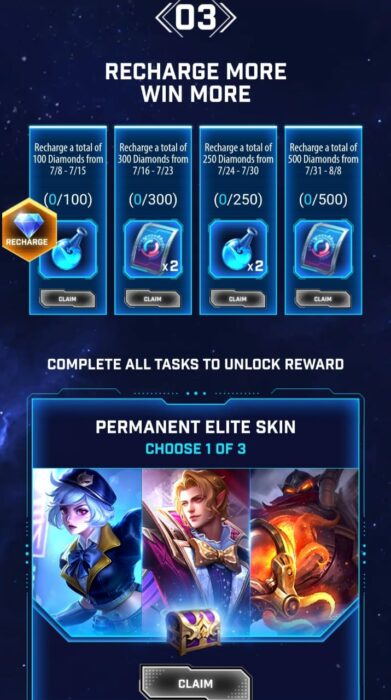 To get the elite skin, it turns out that the conditions are very easy, you only have to do the tasks on the official website of the event.
By doing a top up of 500 Diamonds, besides having the opportunity to get 50 diamond cashback and Star Wars gacha tickets, you are also free to choose an elite skin between Wanwan, Cecilion or Atlas.
Therefore, SPIN Esports has a recommendation for you to top up the diamond cheaply, namely through @nexusstore.id, and you can get it right away all gifts offered by Moonton cheaper. You can check it right below.
READ ALSO: Here's how to get Crystal of Aurora, it could be an Epic Skin!
Don't forget to visit the SPIN Website for other latest updates, and follow our Instagram and Youtube.