It turns out that there is a Way to Get a Jeep Thrash Goth Free Fire (FF) Skin, which is one of the newest prizes that is also present in this game. Maybe those of you who like to use Jeep Vehicles, will be interested and want to have a Skin like this in your account.
Just yesterday we just experienced many exciting events and various things such as events, even other important things in the Free Fire game now. Because there are still some interesting things that we can get, when we keep playing this Free Fire game.
There are even things like How to Get a Free Fire Surfboard Disc Cover, so you can have a prize that must be in the event as well. Maybe there are some other additions that you should use, when trying and following the new Events now.
Especially for How to Get the Jeep Thrash Goth Free Fire (FF) Skin, one of the new Skins that will be present on the Indonesian server. Because you also know now how to have it.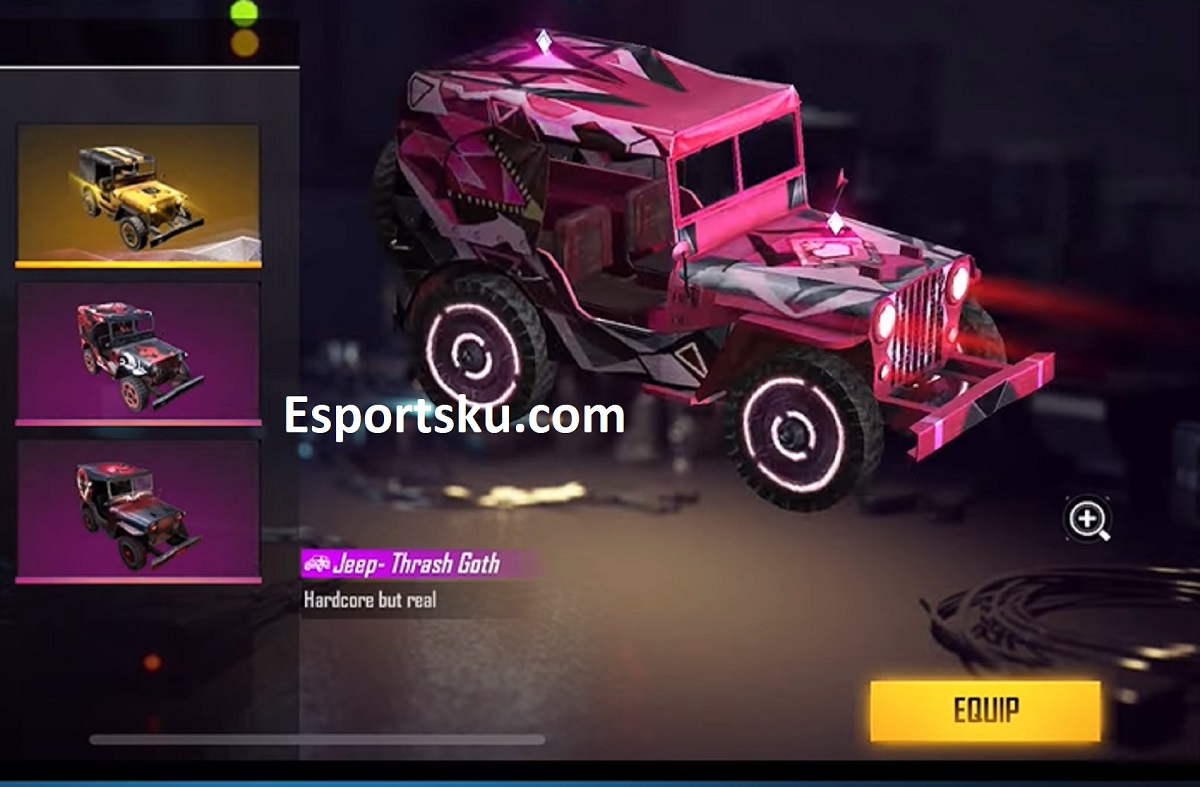 How to Get Skin Jeep Thrash Goth Free Fire (FF)
This event will be related to Top Up, you have to be prepared because the prize will be present on 24 / 25 August 2021.
On the Free Fire Indonesia server, players will get a new skin called Jeep Thrash Goth through the event.
After you log into the Free Fire game, of course you can directly select the right side called the Event Tab in the form of a calendar.
Then you now select the section named News in the upper left corner and then find the Top Up Mission.
Every player who wants to have this skin must only top up 140 diamonds, at most only 20 thousand to get this skin.
You can top up in several ways, online services and you can't do anything illegal.
After you have Top Up, return to the Event Tab and we can only receive the Jeep Skin prize for you to use.
Then check again in the section called Free Fire Collection, select a vehicle and you will see the new Skin.
Of course, the presence of this newest Jeep Skin is related to new things from the 4nniversary game Free Fire now. Moreover, there is also a way to get the Sonictroop Bassrock Free Fire (FF) Bundle, you can do it in a very easy way.
Using the new bundle and a Jeep car skin like this, will add a very cool look when you're driving. Also know the Unique Facts of the Golden Jeep Free Fire Skin, because before this new one appeared, some were popular too.
Maybe you are interested in trying and collecting vehicle skins, then this Jeep skin should not be missed at all, huh. Moreover, there are still several other additions that we can use, to continue the upcoming game.
Yesterday we also just arrived at How to Get Gloo Wall Thrash Metallic Free Fire Skin, maybe you guys like it and will try it. This is a skin that is also suitable for the Jeep that you will use, it will definitely look very fitting for the future.
After knowing How to Get a Jeep Thrash Goth Free Fire (FF) Skin, then now is the time to try it directly and use it. Have the vehicle skin immediately this time, maybe later you won't be able to get it again.
To make it more free, just try Free Fire Top Up Tips, because this method is too powerful for you to feel. Because it's an activity like that, you can really use it if you're interested and want to try it right away.
Keep visiting Kabargokil for the latest information, Follow our Kabargokil Instagram and YouTube news, too!