This is how to get the Baghatur Bundle and Batyr Free Fire (FF), players will immediately have the bundle and use it too. The cool appearance of a new Free Fire item, the two Bundles named Baghatur and Batyr have the same resemblance.
You will also have some things that you like, because events will also keep adding more and more and you have to try. The prizes that are present in this Free Fire game too, will have some new things and you have to wait so we can have them all.
Maybe you don't want to miss the How to Play Pew Pew Pew Free Fire Event now, because there are cool prizes for us to get. Because there are some prizes that you might like, if you follow and try directly some of the events that are present in this game.
Including you guys can try How to Get Bundle Baghatur And Batyr Free Fire (FF), the latest bundle for us to get right away. Of course, the gift will look much stronger, if you use it when dealing with enemies, yes.
How to Get Bundle Baghatur And Batyr Free Fire (FF)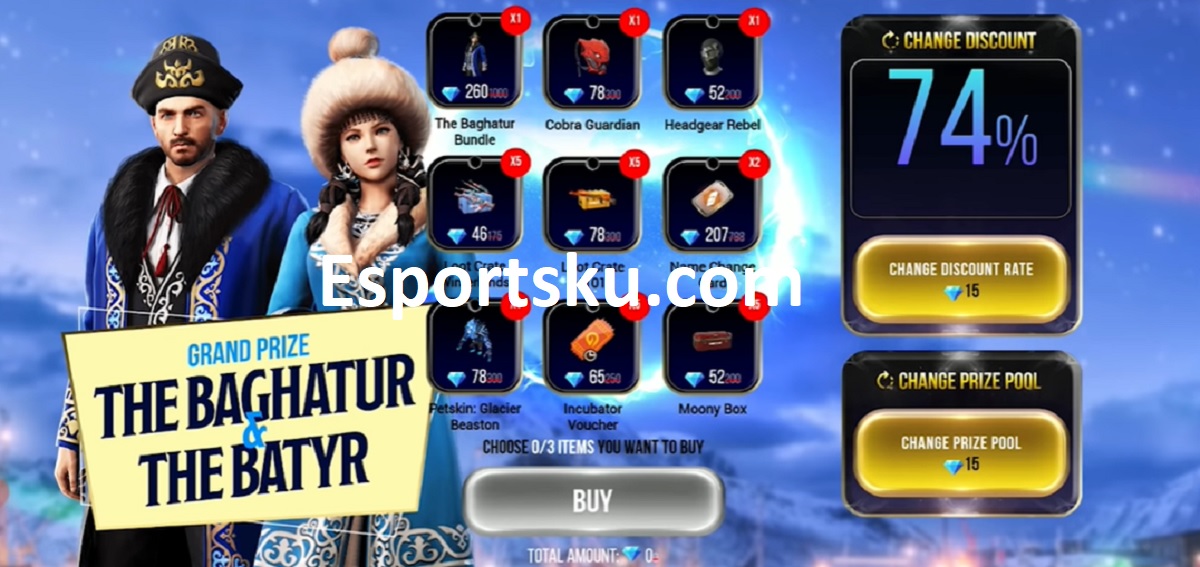 Players must first enter the Free Fire game to be able to get the Emote prize.
Then after you have done this, select the event tab on the right which looks like a calendar.
Later if you have entered that section, you can directly select the section called Change your Fate Web Event.
After entering the players will be asked to do a Spin on the Discounts and Prizes in this Event now.
Now then after doing the Spin, you will see how much discount you get and the prizes on any purchase list.
Then those of you who are satisfied with the discount, can immediately select the 3 items you want to buy and all of them are subject to the discount.
But if you are not satisfied with this discount gift, then you can immediately use 15 Dm for a re-spin.
Then for the prize, if there is no new Baghatur and Batyr Bundle, you can immediately re-Spin as well.
Of course, all the prices you choose and buy from the event will be greatly reduced.
After making a purchase, you can immediately see the Bundle in the Vault section of your respective account.
Maybe the one that you bought earlier, the player can immediately use to compete.
Both of these Bundles were previously rumored to be released in July or August, but in the end it only happened in September. Although this is a bit long, you can immediately have this gift right now.
Come on, immediately have the skin and use it, when dealing with enemies, you can still maintain your image. Then there used to be Leaks of the Baghatur and Batyr Free Fire Bundles, at first they wanted to enter the Diamond royale feature but they didn't appear.
Let's just play the Change your Fate Event and use your hockey, who knows, you can get such a big discount. To be more efficient, you also can't spend money to buy bundles.
After knowing How to Get Bundle Baghatur And Batyr Free Fire (FF), then now is a good opportunity for that. Let's immediately have the bundle and use it when competing, so that your appearance at push rank looks like a winter person.
Then there is also Lucky Crate Free Fire 2021 which reportedly gives free gifts, but you have to be careful and don't easily believe this. If you get hit by the name Phishing, surely it will be quite detrimental for the players later.