How to Get the 2021 Eid al-Adha Event FF Stamp Code!
The Eid al-Adha event at Free Fire (FF) has been taking place from July 12, 2021, and Garena has presented many exciting activities that players can do.
One of the things that players can participate in is the latest Eid al-Adha Web Event called Berkah Kurban.
This event has the main prize of Grenade Matryoshka which has a very cool and unique appearance. Well, to get the prize, players will need enough Unique Stamp.
Also Read: Download APK P King Hack FF, Can Access Sultan Account?
Also Read: DJ Dimitri Vegas Rumored to Be a Free Fire (FF) Character!?
There are various ways to get the stamp and one of them is by using the Stamp Code!
For those of you who want to know how to get the Stamp code, here is a complete explanation directly from the in-game!
How to Get FF Stamp Code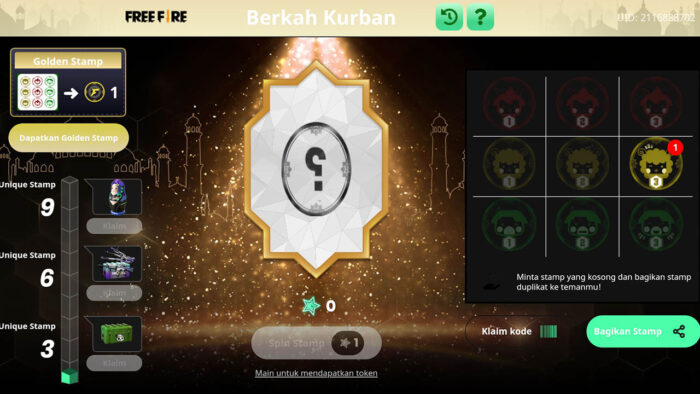 Complete in-game missions to get Harmonious Star Tokens that drop after matches and daily missions on the Eid tab. On peak days, the number of Harmonious Star Tokens dropped after the match will be higher
Use Harmonious Star Token to get random stamps. 1 Token = 1 Stamp.
Every time you get 9 Unique Stamps, you can claim Milestone prizes with the main prize of Grenade Matryoshka!
You can get duplicate stamps. You can share duplicate stamps with your friends who need them by clicking "Share Stamps"
In addition, you can also ask your friends for a code for your missing stamp.
After you share duplicate stamps, they will be automatically deleted from your collection board. View your stamp sharing history on the "History" button and the "Stamp Sharing" section.
Also Read: Latest Free Fire Max Trailer, 10 Times More Realistic!?
That's the way to get and share the Free Fire (FF) stamp code at the latest Eid al-Adha Sacrifice Blessing event! Don't forget to visit SPIN Website for more information, and follow the account Instagram and Youtube we!