This will be an easy way to get Streetbeat Box Free Fire (FF), you can definitely have lots of cool prizes from events like this.
Because the prizes that will be given in the Streetbeat Box are quite good and can be considered very interesting later.
Moreover, some of the new events that are in the Free Fire game now, indeed provide many interesting prizes that you must try.
With those of you who take advantage of the latest missions from the current events, there will definitely be many attractive prizes that can be put to good use.
Not only that, for the Free Fire x Street Fighter collaboration, it has had a pretty good impact.
Where is the game in this Free Fire game, it will indeed be interesting if you always follow the events given by Garena now.
Not only that, you have to know how to get an easy Streetbeat Box Free Fire (FF) and give attractive prizes.
See how to get it, in the article below.
How to Get Streetbeat Box Free Fire (FF)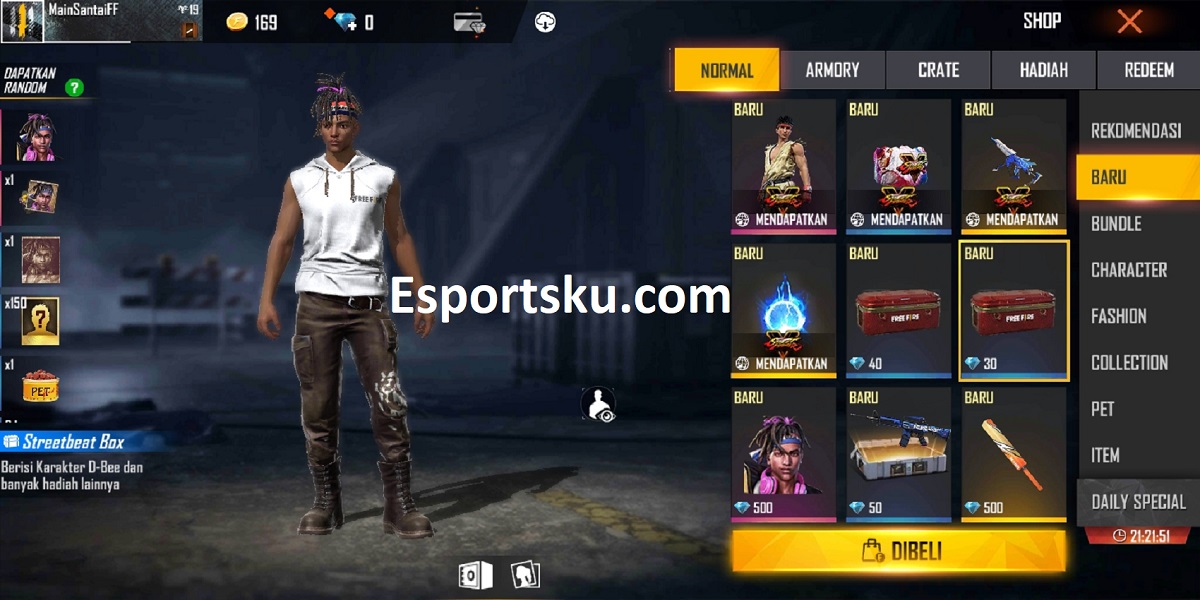 At this time in the game there is a new item, whose name is Streetbeat Box which you can get easily.
Of course it is quite easy, for you to use right now.
Maybe by using the Streetbeat Box, you will be able to have the newest D-Bee Free Fire Character now.
Not only that, here you will also have a cool D-Bee Character Bundle that you should try to use when competing later.
Not only that, to get this Streetbeat Box too, you can say it's very easy and you have to have all the prizes.
When else can you get cool gifts like that, because now it's quite easy to get.
First of all, you have to enter the Free Fire game, to know and continue the process of getting the Streetbeat Box.
If you are already in the Lobby section of this Free Fire game, then you can go directly to the Shop right now.
After that you can select the section called Crate, when you are in the Shop.
This box is already at the top for you to get, the name is the Streetbeat Box which contains lots of cool prizes inside.
When you have found this box, of course you can buy it directly for 30 Dimaond, you can get the box, right?
To make your chances of getting bigger prizes in this box, you need to spend 300 diamonds or buy only 10 pieces.
The gifts that you get from this Box, will go directly into the Vault or Character if you get it.
With the presence of a Streetbeat Box like this, you will indeed have many advantages in having cool prizes like that.
Not only that, for the prizes that are presented this time, the contents are indeed diverse and can be obtained if it is Hockey for the future.
D-Bee character
Bundle Set Full D-Bee
Fragment Box D-Bee
Universal Fragments 150 Pieces
Pet Food 1 Piece
All Play Card 3 Days
Double XP & Double Gold 3 Days
These prizes can be obtained if you buy the Streetbeat Box, so what? Are you interested in trying it yourself now?
After knowing How to Get Streetbeat Box Free Fire (FF), are you interested in trying to have it now?
That way there's an easy chance of getting the item, only in this way now?
Not only that, you can also find out how to get the Magic Cube Free Fire which is very easy to try right now.
When else can you get a free bundle, through a free magic cube.