It turns out that this is how to get the Street Fighter Free Fire (FF) Surfboard, it's not too difficult for the players to do right now.
Because from here we will indeed have many new opportunities, so that we can get cool skins from the events that are presented.
Especially from the Free Fire x Street Fighter Collaboration now, you also know that this event is indeed quite lively.
Lots of new things and interesting prizes, for you to use while completing missions and competing against enemies.
Where for now, you must know that there is a new Free Fire x Street Fighter Event Schedule.
So the missions that are presented are also, indeed, very good for you to get when you compete later.
You can also know how to get the Street Fighter Free Fire (FF) Surfboard, so let's try it right now.
Curious? see below.
How to Get Street Fighter Free Fire (FF) Surfboard
The skin that is present for this special Free Fire x Street Fighter, has finally entered the Surfboard which you can get using the easy way.
All of that is presented specially by Garena, so you really have to be able to do this and make good use of it.
Because what is presented from the Street Fighter Surfboard Skin like that, it will be one of the attractive prizes that you can use later.
Being in a position to get a Street Fighter Surfboard like that too, will make you have to complete the Mission first.
After this given mission, then you can get the prize and play in other events as well.
Even while playing to complete the mission, you can also get White Arcade Free Fire Tokens for other events in this game later.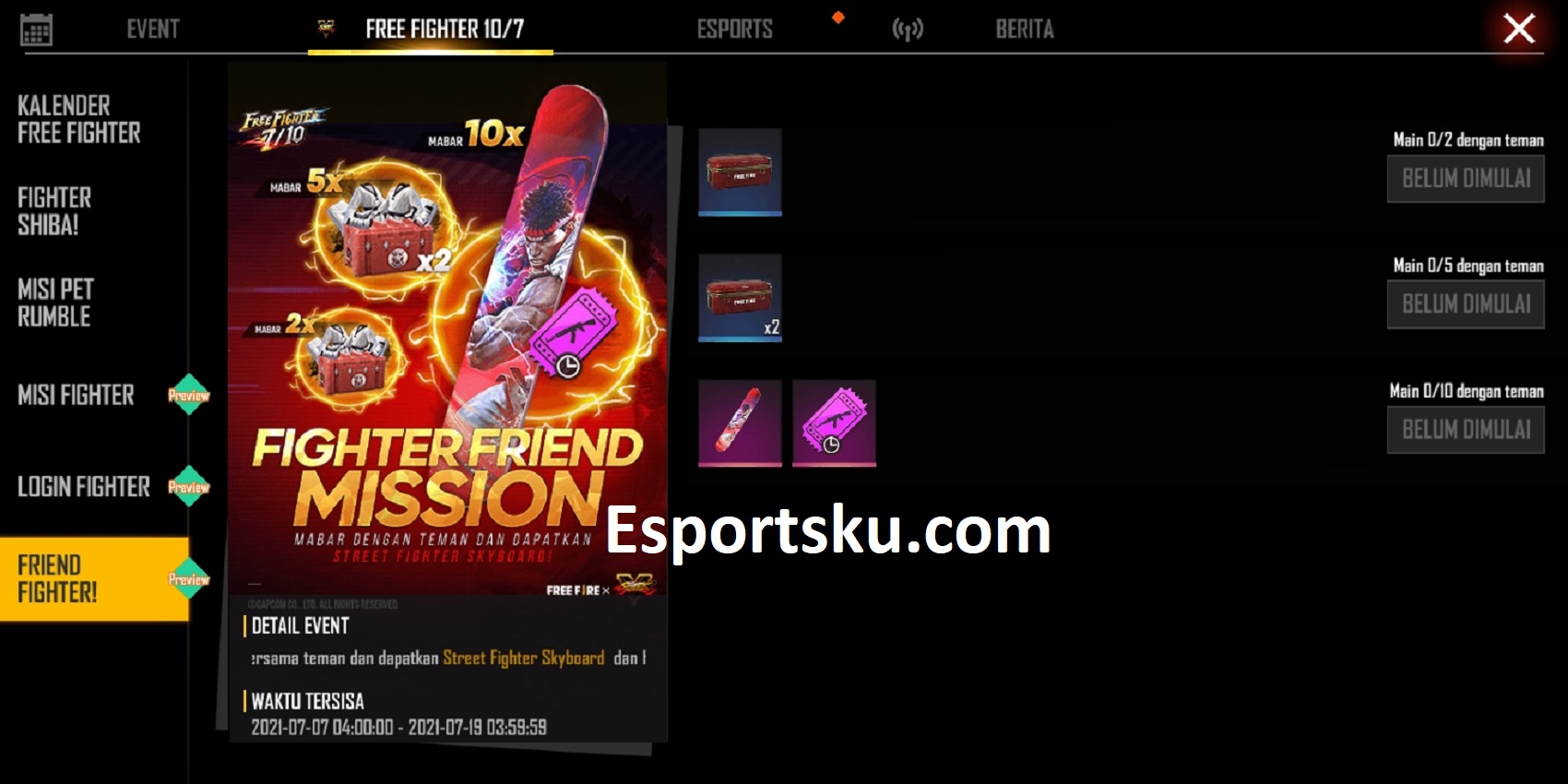 Yesterday there was a leak of the Ryu Free Fire Surfboard Skin, but now it's finally presented with a better Street Fighter name.
So later on, you have to check the mission first, on the Event Tab in the Free Fire game right now.
After checking all the missions that must be completed like this, then you can definitely get the prizes right away.
The mission to get this Surfboard Skin is Mabar with Friends, both in Clash Squad or Battleroyale mode, you can definitely finish.
If you have completed all the missions presented, then you can immediately receive the main prize of the Surfboard Skin in the game.
The appearance given to this Surfboard Skin is also quite good and attractive, so you probably won't want to miss it all.
Because it's a new event this time, the missions are easy and the prizes aren't too difficult for you to get all later.
Moreover, the mission description too, was like this.
Mabar With Friends 2 Times: Loot Crate Karate Bundle
Mabar With Friends 5 Times: Loot Crate Karate Bundle 2 Pieces
Mabar with Friends 10 Times: Street Fighter Free Fire Surfboard Skin.
By trying things like that, you can easily complete the Mission in this game right now.
Kabargokil also advises you to play in Clash Squad Mode only, but if you want to push rank, that's fine too.
So by taking advantage of things like this, there will be many other prizes that can be obtained quite easily.
After knowing how to get the Street Fighter Free Fire (FF) Surfboard, you and your friends can immediately complete the mission together.
That way maybe you can play this event well, because the prize will probably be a Limited Edition too.
Especially by using Free Fire's Best Landing Tips, it will help this Skin to look more suitable for use with all of you.