This is how to get Space Ops Loot Crate Free Fire (FF), so that's what will help new players to get a cool Bundle.
Of course, with those of you who take advantage of things like this, there will be lots of interesting things that you have to take advantage of later.
Because for now there are still some new parts, the event that appears in June is very interesting to try.
Of course, by taking advantage of this, it will give the biggest share for the players later.
Especially for the problem of the Rampage New Dawn Free Fire Event, where this will soon end and you must solve it immediately.
If later the event is finished, then everything will be lost and you will not be able to get it again.
Even if you missed it, it's better to just try How to Get Space Ops Loot Crate Free Fire (FF) because this can indeed be a substitute for that event.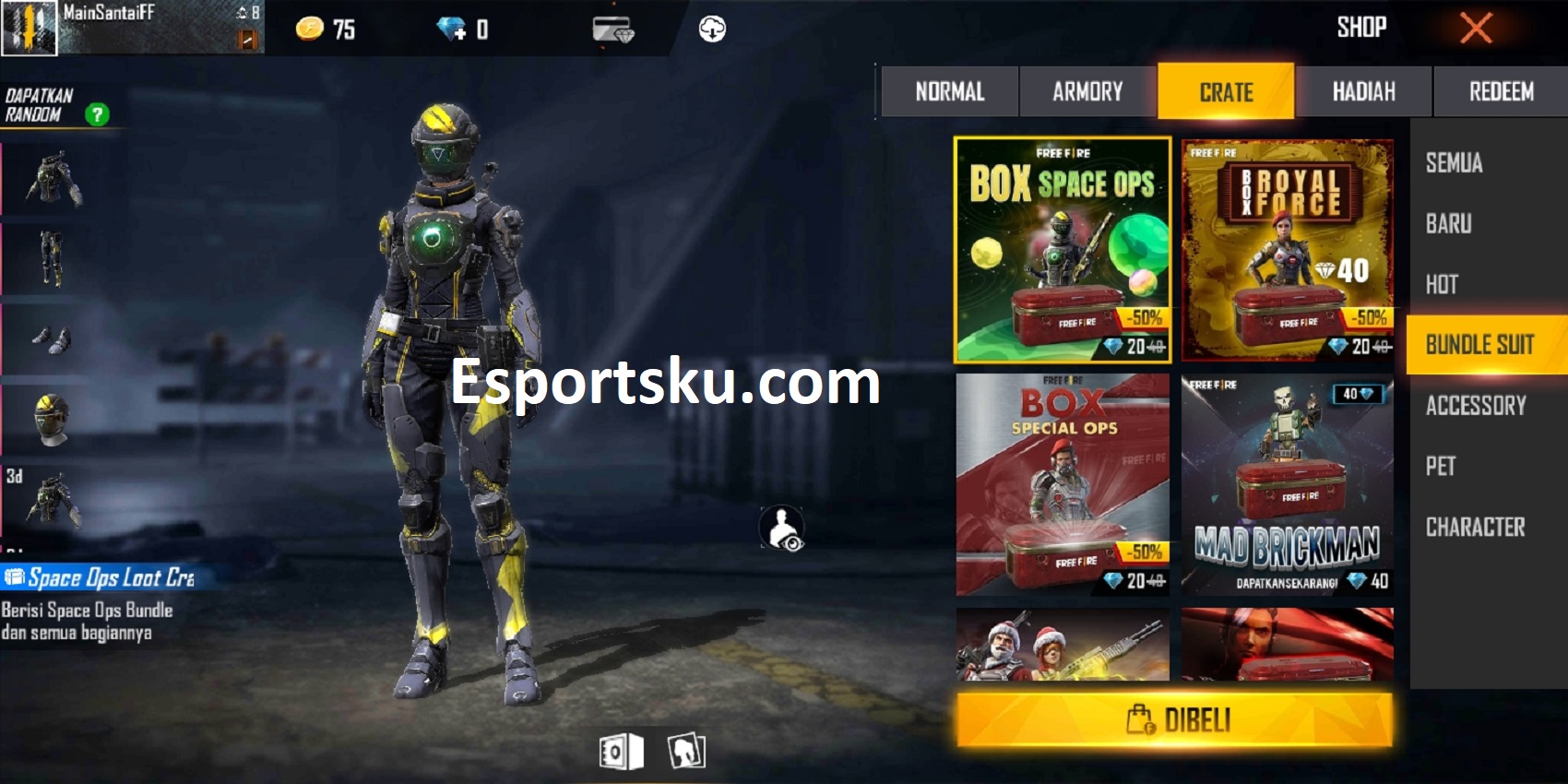 There are already a lot of Loot Crate released in this Free Fire game, so you have to make sure you have this thing called Space Ops.
By using the Loot Crate, of course you will be able to get a lot of cool prizes that are in it too.
Because for now, the Space Ops Loot Crate will also have lots of attractive prizes that can be used well.
Especially if you buy and get the permanent Bundle directly, it's definitely hockey and can be used directly to compete too.
By having this Loot Crate, then you must immediately open and immediately target all the prizes that are in it as well.
All of that is very useful for us to use, everything that appears now you will use too.
How to Get Space Ops Loot Crate Free Fire (FF)
Therefore, let's immediately get this Loot Crate, because the method is also quite easy for you to do.
You must first log in to this Free Fire game, then when you are in the lobby, select the Shop section.
After you enter, go to press the text called Crate, after that select the one that says Bundle.
Here you scroll slowly down until you find the name of the Loot Crate Space Ops.
If you find it, then you can immediately buy it at a fairly cheap price of 40 Diamond, but if it's a discount, it's only 20.
According to my experience, those of you who have bought it, you should be able to buy a total of only 10 Loot Crates.
The chances of getting the main prize will be bigger, than we thought later.
The prize will go directly into the Vault, if you have managed to get it.
That way you will receive these prizes, if you are lucky you can immediately get the 4 sets of bundles permanently.
You won't be able to get a set of Bundles here, so there's a Head first and so on until the Legs section to get.
After you have done something like that, then you will immediately know and understand that you will be interested in this Loot Crate later.
So, how is it? Are you guys going to do Gacha here? You could say that from there you will also get Item Loadout.
It's a side gift, so you could say it's like a bonus.
If you've tried How to Get Space Ops Loot Crate Free Fire (FF), then just open it and get the bundle right away.
By having an appearance like that, you will look like an army that guards the universe in the vast space.
Not only that, you also have to know the Latest Ryu Bundle Free Fire which is one of the special Street Fighter collaborations.