This is how to get Skyline Free Fire (FF) Crate Loot, it's pretty easy for us to do and get the prize later. But if you are Hockey too, maybe there are cool prizes that you can get on the Loot Crate and you can use it right away.
In this new update for the Free Fire game now, there are indeed many interesting things that you might try to use. Of course you won't miss some of these opportunities, to collect all the things and prizes that are in the new Event.
Especially for how to get the Golok Thrash Metallic Free Fire skin, of course you have to go through the missions that are available by Garena now. If you manage to have it, of course you have to use it immediately.
Then you can add cool weapons using How to Get Loot Crate Skyline Free Fire (FF), maybe it's easy for us to do. But no hockey, you guys might think something else.
How to Get Loot Crate Skyline Free Fire (FF)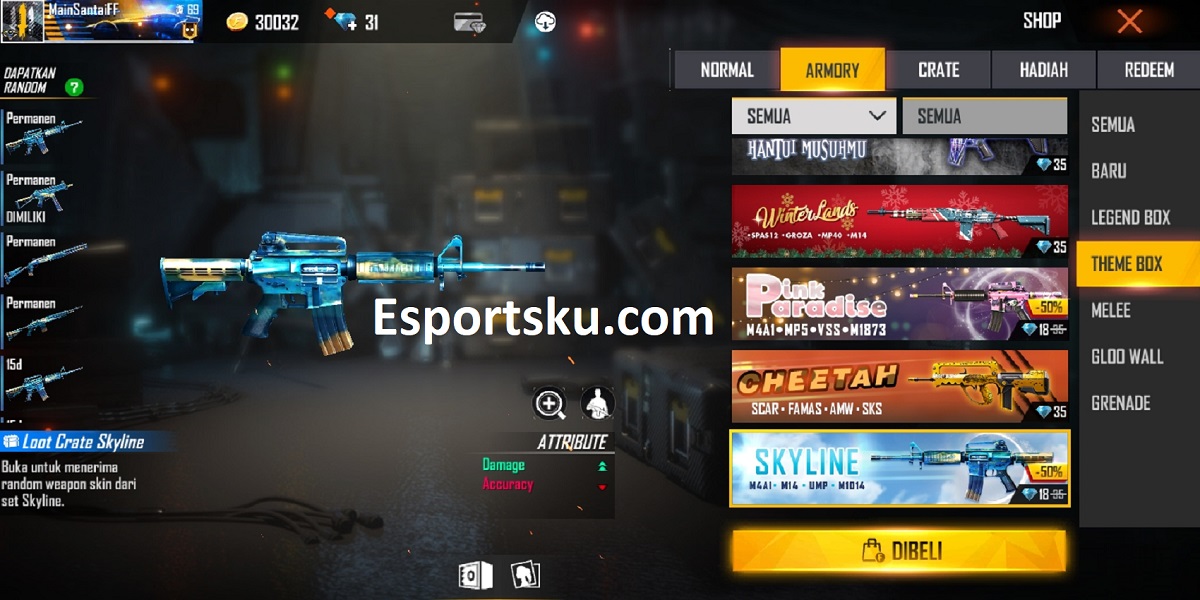 Enter the Free Fire game first, until later you see the game lobby has appeared.
Then you can directly select the left side called Shop, it looks like a Shopping Basket.
Choose the one named Armory when you enter the Shop, so you can see the many Weapon Skins that are present in the Loot Crate as well.
In the category on the right, you press the one that says Theme Box to make it easier to find.
Scroll to the very bottom, for you to find a Loot Crate named Skyline.
You can buy it, you only need to spend 35 Diamonds, the price is quite cheap for now.
Your chances of getting a Skin in this Loot Crate are indeed small, but if you buy 10 Boxes or 20 Boxes it will probably get bigger.
The skin that you managed to get will be directly entered into your own Weaponary account.
Use the skin directly, so that your appearance will be stronger and you will not easily lose when you compete later.
The method we have to do to get this Loot Crate is indeed easy, but you need to pay before doing it. But usually Garena will give free events, even the prize is the Loot Crate.
Then the weapons selected in this Loot Crate are many, you may see some very powerful weapons in the match later. Like M4A1, UMP, M1014 and M14 which can be more barbaric if we use this skin.
Moreover, the additional Stats that are present in this Skin are very supportive, in the Damage ++ and Accuracy – sections. It doesn't really affect accuracy, but if the part called Damage might feel bigger.
If you want to have one of the skins now, you have to buy it immediately using the method as explained earlier. Also use Hockey Tips for Opening Crate Free Fire, so that in the future you will easily get this main prize.
Having one of the prizes present at this Loot Crate will help the player to keep a colorful appearance.
After knowing How to Get Skyline Free Fire (FF) Crate Loot, maybe you can find out now. It's just that those of you who don't like it, it's okay to have the Loot Crate.
Moreover, there are still several other Skins such as Thompson Thrash Metalic Free Fire, one of the new Skins that has a cool appearance. Then you can have the skin, to make it look barbaric when you push rank later.
Keep visiting Kabargokil for the latest information, Follow our Kabargokil Instagram and YouTube news, too!