You have to know how to get the Uzi Amber Megachyper Free Fire (FF) skin, one of the newest skins. Even if it is seen from the shape and appearance, it is quite different and one of the cool skins but the shape is small now.
Maybe you guys will like the Skin, it will even have some interesting prizes that we can try. Of course, completing one of the Missions in this game when the event takes place, is indeed one of the right choices to get better prizes.
This includes participating in all the Moco Rebith Free Fire Event Schedules now, because what we know is that this event does provide various prizes. There are many choices that we can get from here, of course the option to get some more prizes.
Then for How to Get Skin Uzi Amber Megachyper Free Fire (FF), let's immediately have this new Skin. Players might be interested in this skin, because what we know is that the shape of the skin is also very attractive for players to use later.
How to Get Skin Uzi Amber Megachyper Free Fire (FF)
Players can get this skin starting from September 17, 2021
You must first login to this Free Fire game to be able to get the weapon skin.
Then select the Luck Royale section on the left to continue the process of having a chance to get a new Gun Skin.
Then after you are already in the feature, immediately press the one that says Weapon Royale.
Now, after you see the prize is this Uzi Amber Weapon Skin, you can immediately spin it if you really like it.
Player will get 2 different spins, 1 time using 50 Diamond and 10 times using 500 Diamond.
Of course, the price is quite expensive, if you have prepared the money, you can do it right away, good luck.
If the player manages to get this Skin, it will be sent directly into the Weaponary Free Fire.
Your chances of getting Uzi Amber are indeed great, depending on Hockey and 1 Spin can get the Skin right away.
Well, for the first time, you already know the important part, how to have this skin, which includes enough pictures. You need to spin in Weapon Royale, then hope to get one of the Prizes that are present in the feature, especially the main part.
Skin Uzi and there is also a Mag 7 Amber Megachyper which is among the coolest, when will you see a small weapon having an effect. We can also say that the Uzi is a first-effect skinned gun, other pistols, if I'm not mistaken, are just cooler.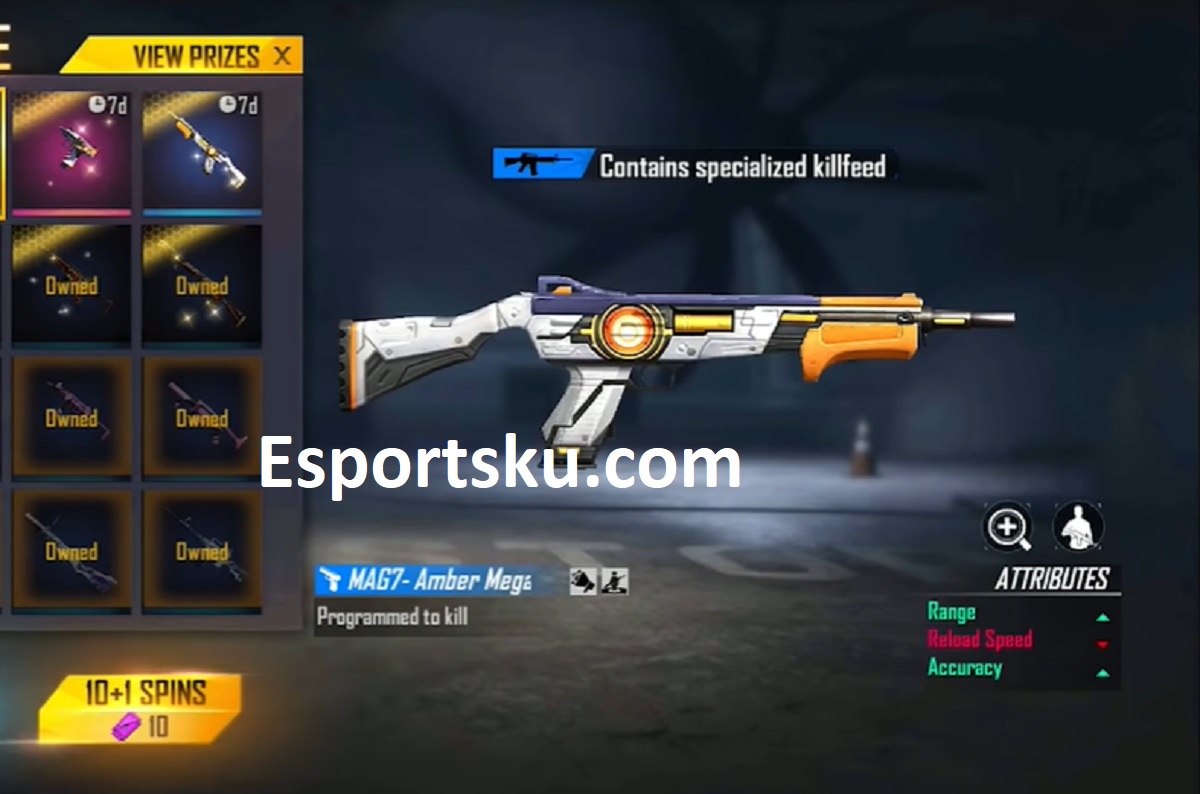 The additional stats that Uzi provides also help Rush players, the Damage + and Accuracy ++ sections of course make Uzi's weapons more dangerous. Then the Reload Speed ​​section has been reduced, it's just that it won't have much effect when you use it.
Furthermore, Skin Mag 7 has an addition to the Range and Accuracy + section, for Reload Speed ​​also has been reduced. Things like this are indeed balanced for both weapons, you will definitely like it and use it later.
The appearance of this Amber Megachyper Free Fire skipping weapon, of course, you must immediately get it through the cool way. For hockey, also use the Free Fire Spin Hockey Tips right now.
After knowing How to Get Skin Uzi Amber Megachyper Free Fire (FF), let's immediately have other things that are much more exciting. Surely for this skin there are some gold effects, if you really like it, you have to spin it right away and try your luck.
Then you can know Tips for Using Uzi Free Fire Weapons, so that you can also win playing Skins. When you have this skin, but the game is still not enough, you have to be more enthusiastic about mastering the weapon again.