You have to know how to get Rocker Hair Free Fire (FF) skin, of course this is a pretty good choice. In fact, we will have one chance later, to give this Hair to the female character to make her appearance even more metal.
Moreover, the presence of many new Skins in this Free Fire game is indeed of various types, of course you don't want to miss them all. Maybe there will be quite a lot of interesting prizes that you can get, when participating in the new Event that is present in the game this time.
Including one of the ways to get the Free Fire Pakol Hat, one of the skins that is quite interesting for us to use later. The Cowo character who uses this skin later will be cool because it looks like a Hunter from a forest whose culture is very pure.
For now, we have to know how to get Rocker Hair Free Fire (FF) skin, so that later the appearance of the female character will be cooler. Because the hair has a pretty cool color, even the condition of the style is quite impressive.
How to Get Skin Rocker Hair Free Fire (FF)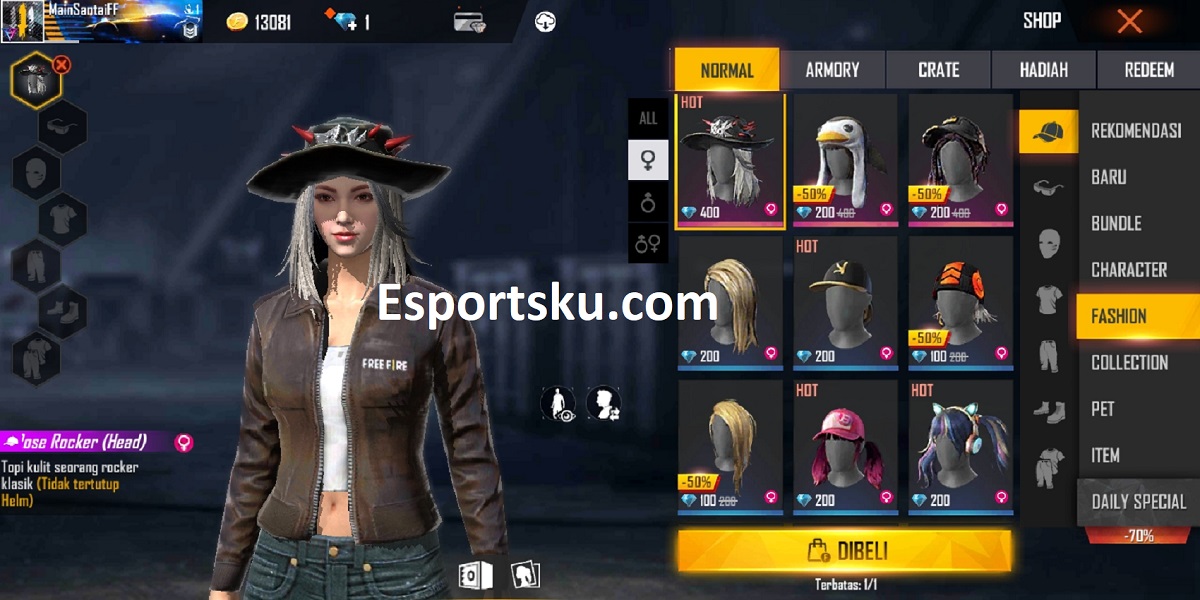 You will have to login first into the Free Fire game, then appear in the match lobby section.
After you have entered, select the section called Shop on the left.
If you have entered, press the word Fashion so you can immediately find the Hair Skin from the Rocker Hair.
Don't forget to re-select the Female Gender, so you can get this main skin later.
Then, when you scroll down slowly, you will find a hair skin like the picture.
Players can buy it directly for 400 Diamonds, this Style can only be used for female characters.
Then you can check into the Vault section, after buying the Rocker Hair Skin that we have now.
Change your Girl character into a Real Rocker in a famous Band Concert.
To get this skin maybe you will have a pretty good character appearance, it won't even make his hair look messy. Because the hair skin has a hat too, you will even like using this skin when competing.
There are still several looks from other Bundles that are suitable for this Hair Skin, it's just that you have to wear them as well as possible. It will not look ordinary, when you have used Skin Rocker Hair in the match later.
This skin has long silver hair down, then there is a Cowboy-shaped hat that has spikes and has an iron crest. Your playing ability might feel better if you battle using cool skins.
Don't miss this hair, there are still some other skins that are good for us to use, it's just that the mission must be completed first. If you want to have a skin from this event, of course you have to be ready to follow and always take advantage of the position to compete later.
So that you will continue to get the winning position, without having to experience the bad influence of every upcoming defeat. How? Interested in owning this Skin and using it when competing later?
Let's immediately follow the method that we have given, so that later you can get a pretty impressive prize.
After knowing How to Get Rocker Hair Free Fire (FF) Skin, then in the future you will have a cool and much more interesting Skin for us to use immediately.
But you have to know that there are 20 Most Expensive Free Fire Skins that only have Sultans, but some of them will give good prizes. Just follow the development of the Shop's contents now, so you don't have to miss any cool items.
Keep visiting Kabargokil for the latest information, Follow our Kabargokil Instagram and YouTube news, too!