Maybe you should try How to Get Shiba Free Fire (FF) Loot Crate, so you have a chance to have a great main prize. In fact, you will also have one of the most interesting Pets, and it is quite cheap if it is hockey through this Loot Crate.
Moreover, in the Free Fire game, there are still many new things, not just one or two events that appear simultaneously now. You may find lots of cool events, when you see or join the latest events right now.
Maybe on the 4nniversary Free Fire Event Schedule, you will have a good chance to win without difficulty. Even the part to face all the missions related to playing, of course you all look like and interested in trying it.
Then if it's the same as How to Get Loot Crate Shiba Free Fire (FF), maybe you will like it right now. Because this will help you, to make it easier to have lots of prizes.
How to Get Shiba Free Fire (FF) Loot Crate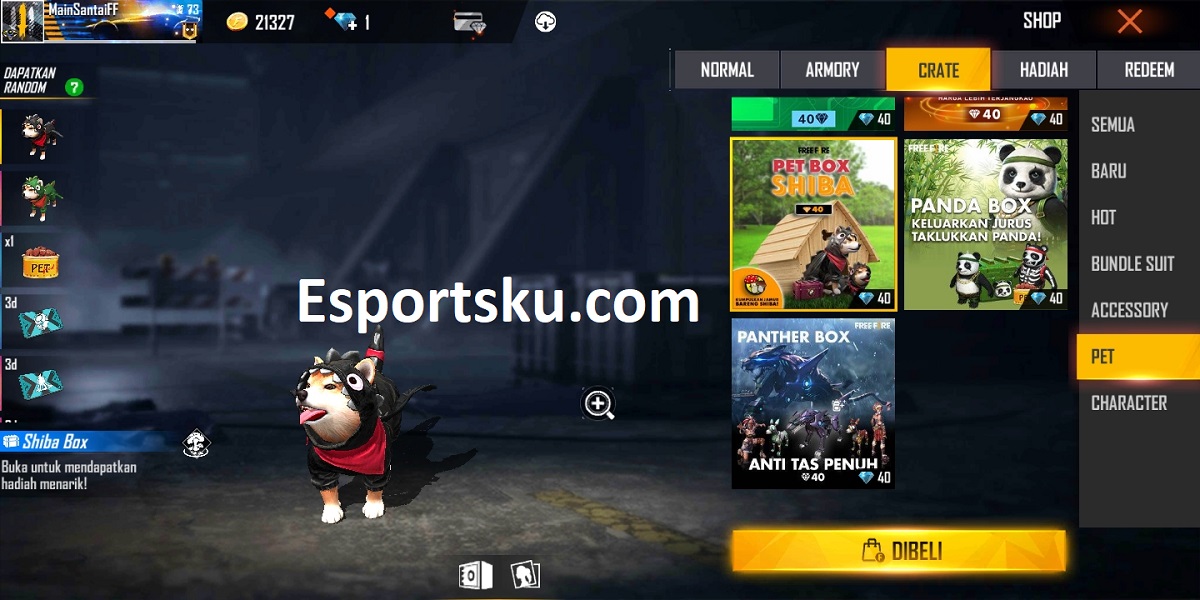 Enter the Free Fire game first, then you will have to select the Shop section which is right on the left of the game menu.
Then press the section called Crates again, for you to see and immediately look for it in the Pet writing section.
In that column, you will find many Pet Boxes or Loot Crate Pets that can be purchased very cheaply.
Scroll slowly down, then you will see a main prize of this Loot Crate right now.
Just buy the Loot Crate for 40 Diamonds, then you can open it immediately if you buy only 1.
But if you want a bigger chance, it's better to buy 5 so you have a good chance of getting this prize later.
But if you really want to have the Pet Shiba right away, it's better to buy it right away so it's not too expensive from this Loot Crate.
After you get the Skin or Pet, you will immediately enter the feature called Pet in the Lobby later.
You can see and use it, to be helped in the game that you are going to do.
For Pets that are present in this way, maybe you will like and be interested in trying it directly in the match. This Shiba Pet has a good skill strength, especially if it is with the Latest Free Fire EP Character in the match later.
Because this Pet will help you to find Mushrooms, all mushrooms that are near the player will be visible on the Map. Not only that, this pet is the cutest in the Free Fire game and many want to own it.
If you use Pet Shiba, then together with the A124 Free Fire Character, maybe this will be an interesting choice right now. It's just that we have to try it, there are even some interesting things that we can use too.
Use as best Shiba as possible in the match, then you will have no difficulty or lack of Energy Points when facing enemies. Because there are several other prizes, for you to enjoy even now we can see them..
After knowing How to Get Shiba Free Fire (FF) Loot Crate, then you won't be able to feelhttps://kabargokil.com/competitive-rulling-ffml-free-fire-season-iv-divisi-1-22-augustus-2021/kan Difficult thing again then. Later for players who want to have Pet Shiba, but through Loot Crate at this time.
There are even 12 Best Free Fire Pets that you can know, one of which is Shiba and maybe you will like it when you are wearing it.
Keep visiting Kabargokil for the latest information, Follow our Kabargokil Instagram and YouTube news, too!