Try to know how to get Robo Loot Crate Free Fire (FF), maybe you can get interesting prizes later. Of course Pet Robo which helps us to be protected from Troubles, we can get through the Way that is present in the game right now.
Maybe you will wait and be interested in trying the prize, even later if Hockey can get the Jackpot when opening the Loot Crate. Now the events that are present in the Free Fire game will increase, until the Free Fire game will experience it too.
Because for some time in the future, you will see a lot of exciting updates and we should be able to try it now. Even for the problem of the 12 Best Free Fire Pets now, maybe one of them will help you compete more easily.
Moreover, to try How to Get Robo Loot Crate Free Fire (FF), maybe you will have one hockey to get it. Because the Pet that is present in this Loot Crate, one of the 12 newest Pets that we can use.
How to Get Robo Loot Crate Free Fire (FF)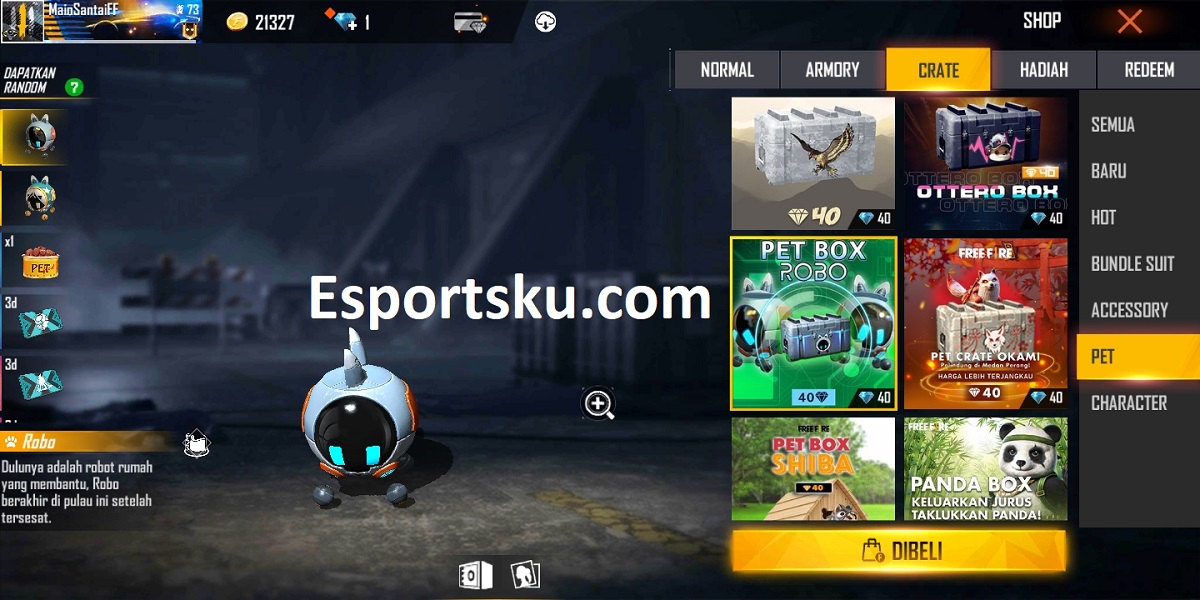 Players who want to try this must first log into the Free Fire game, then the game lobby will appear.
Next, you select the part on the left that says Shop and will go directly to the Shop Menu section.
Next you have to first click the name Crates in the Menu section, then press Pet again in the Crate section on the right.
Then you scroll slowly down, then you will soon find something called Loot Crate Robo for you to buy soon.
The price that is present in this Loot Crate is 40 Diamond, but if for example there is a discount, it will definitely feel cheaper.
You can only buy up to 10 Boxes if you want, so that the main prizes for the Pet and Skis will also be bigger.
But it will not depend on the total, if not Hockey, it means 10 Boxes failed to get the Pet Robo.
If you get one of the prizes permanently, you can immediately look at the Pet section at the beginning of the lobby.
Use Pet Robo if you manage to get it which will help the installation of the Shield even stronger.
A pet named Robo is indeed not something we should let go, because of his very good ability right now. Especially if you use this Pet as best you can, it will definitely support the Rush game or survive.
It's just that you may have to have this Loot Crate to get it Hockey, but you can buy it directly in the Shop. You just have to choose what you want to get Pet Robo through, but what is clear is that we can try this Loot Crate to get it.
If you want to choose this method, then also use Hockey Tips for Opening Crate Free Fire so that the opportunities are even greater. Even if you use Pet Robo after getting it, you can train it in Training Mode later.
So that your chances of dealing with enemies will not be too difficult, because Robo provides a fairly large Shield at this time. Hurry up and try to get hockey to get a Pet Robo, even you will have even more prizes.
After knowing how to get Robo Loot Crate Free Fire (FF), then you might be immediately interested in trying it now. Moreover, the Pet is really a recommendation for you, especially those who often hoard a Gloo Wall.
Especially if you know how to use Gloo Wall Free Fire yourself, maybe things like this will be easier. All things like this, are quite useful and help you to survive longer.
Keep visiting Kabargokil for the latest information, Follow our Kabargokil Instagram and YouTube news, too!