You can find out how to get Rafael Free Fire (FF) Skin, one of which is easy and maybe you can try now. Maybe if some of you are players of this character, maybe you should immediately have this character skin and be able to use it immediately.
When competing also does not mean skills that we can see, even though it is the first but there is also such a thing as appearance. If your characters really want to be even cooler, just put them on a good skin and maybe it really looks like it.
Moreover, yesterday you also know how much the Chrono Free Fire Skin costs, one of the coolest clothes when you use it. But there are also several other Skins that you can get, when you try it directly to buy it later.
Especially for How to Get Rafael Free Fire (FF) Skin, you Rafael character users must have this Skin too. So that later this character looks more frightening, even the enemy will not dare to do anything about it because of his current skin.
How to Get Rafael Free Fire (FF) Skin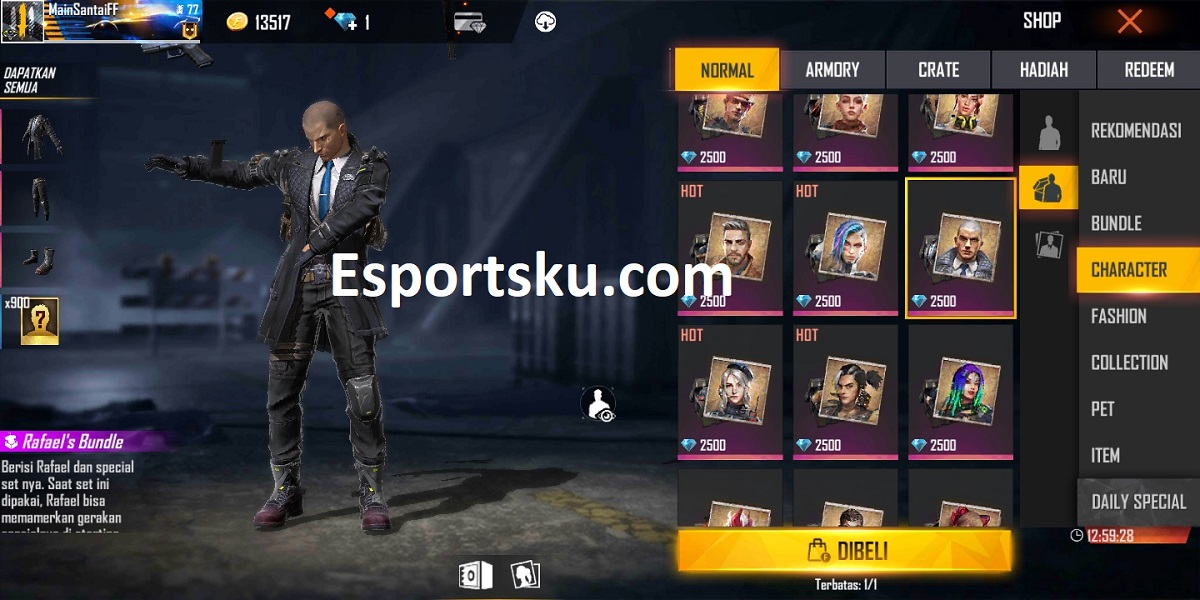 Those of you who want to have this skin must first log in to the Free Fire game, so that later they can directly enter the Shop section to the left of the game lobby.
Then if you are already in that condition, just select the section called Character on the right side to make it easier.
After you have entered this section, then just select the icon number 2.
If you have selected that section, look for it. Scroll down to find the Skin.
You can find this skin a little at the bottom, but maybe now it's starting to slowly rise.
You only need to spend a total of up to 2500 Diamonds, to buy the Skin from this Rafael character.
The prizes in the Skin Package are also complete, it's just that it doesn't include this part of the purchase.
The skin that you have got will go directly into the Vault
This we can only use on the character named Rafael, not for the others.
The appearance that you will get from Rafael's character if you use the skin later, will look more fitting and maybe cool too. It's just that if you don't like it, it's better not to because there are still many other skins that you can get right now.
Maybe you will also have some good opportunities to get other Skins, so you won't miss the new prizes. Even Rafael's Skin itself is the best part of the character now, it's just that you have to buy it first.
In the future there may be some things that you might like, yesterday the character Rafael got the new Free Fire Buff. Surely you will have the convenience of winning the match, if you use this character as well as possible later.
How about knowing how to get Rafael's Skin? Are you also interested in having it now? Surely later the characters you use will look quite cool and interesting.
Especially supporting the current state of Rafael, you will probably like and make better use of this character.
After knowing How to Get Rafael Free Fire (FF) Skin, maybe this method will help you even easier. There are even some great possibilities, if indeed Rafael is one of the cool choices for you to use right away.
It's just that first pay attention to the 5 Best Weapons for the Rafael Free Fire Character, so that your game will be helped by this weapon. Moreover, this Rafael's Skill, indeed depends on his ability to shoot using Marksman and Sniper Weapons.
Keep visiting Kabargokil for the latest information, Follow our Kabargokil Instagram and YouTube news, too!