Players must know how to get Prowess Weapon Crate Free Fire (FF), maybe those who missed yesterday can get this skin. Because there is a second chance that you can get, when the first time fails and finally the opportunity appears.
Maybe those of you who really want to have skins or prizes at the event, but can no longer appear in this game. Let's immediately use the second opportunity, so that later it will not be missed again and definitely get it.
So for now, we still have the Booyah Style Free Fire Event, one of the coolest interesting events for you to try. It won't be too difficult and will probably give you lots of opportunities, so you can finish the first part first.
Especially for How to Get Prowess Weapon Crate Free Fire (FF), maybe you also need this old Skin back. When you don't succeed the first time, it means you have to immediately use the second chance to do it in the game.
How to Get Prowess Weapon Crate Free Fire (FF)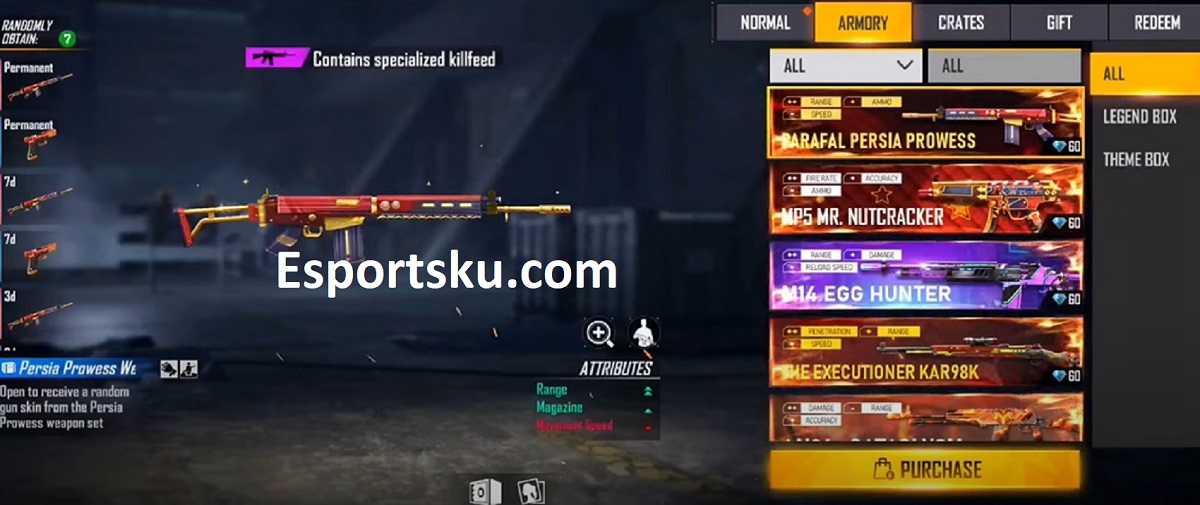 Players must first login to this Free Fire game and will go directly to the Lobby of the game.
You press the Shop section directly to the left of the game lobby.
Well, later on, you use the Armory section, to quickly find the Weapon Crate that we mean.
Is one of the newest items, maybe you will find it at the very top.
Those of you who want to have this Weapon Crate Prowess have to buy it for 60 Diamonds, it's quite cheap.
But you have to use Luck to get this Skin, because the chances of getting it are definitely small.
Just buy up to 10 Weapon Crates, so that the chances of getting this main prize will be even greater later.
Skins that you managed to get permanently or not will directly enter into Weaponary Free Fire.
The chance to get this Skin in Weapon Crate is indeed small, you can also know how to see the Free Fire Prize Percentage. Because from Loot Crate there are usually only Epic or Rare Weapon Skins, but some of these things are not permanent.
It's possible that you will get the Attention or still duration at all, get permanent if hockey is possible. But if you rarely get a permanent grand prize, it might make you feel annoyed and confused.
Well, that's the risk of buying this Weapon Loot Crate, the system we use is still similar to Weapon Royale. Even from here we can also get far more prizes than in the first event, the opportunity still exists depending on your Hockey, huh.
You should also try Hockey Tips for Opening Crate Free Fire, so that later the chance to get this Skin prize is much bigger than before. Get the Parafal Skin and G18 Prowess immediately for those who don't have it, we'll just have to wait and maybe we'll be interested in it later.
This skin that you will get has strong stats from Range ++ and Magazine +, but beware the Movement Speed ​​section is reduced. How? interested to buy this Weapon Crate right now? let's have it if you really want the gift skin now.
After knowing How to Get Prowess Weapon Crate Free Fire (FF), you can immediately try it yourself and maybe hockey. Because later we can get this skin again, even if we use a second chance on the features that are present right now.
Moreover, you also have to know How to Use Free Fire Parafalse Weapons, so that later your abilities will be much stronger. It's not even easy to beat, when using a weapon like that in a certain range match.
Keep visiting Kabargokil for the latest information, Follow our Kabargokil Instagram and YouTube news, too!