This is how to get the Pink Bundle Loot Crate Free Fire (FF), maybe you will also be immediately interested in trying it. Of course you also probably won't want to miss the opportunity to get the prize, because the pink loot crate contains a cool bundle.
Moreover, there are still lots of newest events that we can try, when following the latest events that are present now. Maybe you won't want to miss all of these prizes, because the total that you can get is quite a lot and very useful.
Then the appearance of the Moco Rebith Free Fire Event this time, of course you can also have the prize when the mission is complete. Of course, if you have finished all of them, surely the event prizes that appear now will not be possible for you to miss at all.
You even have to know how to get the Pink Bundle Loot Crate Free Fire (FF), because this is the most important part right now. You might get quite a lot of prizes, even some of them are really cool bundles that you shouldn't miss.
How to Get Pink Bundle Loot Crate Free Fire (FF)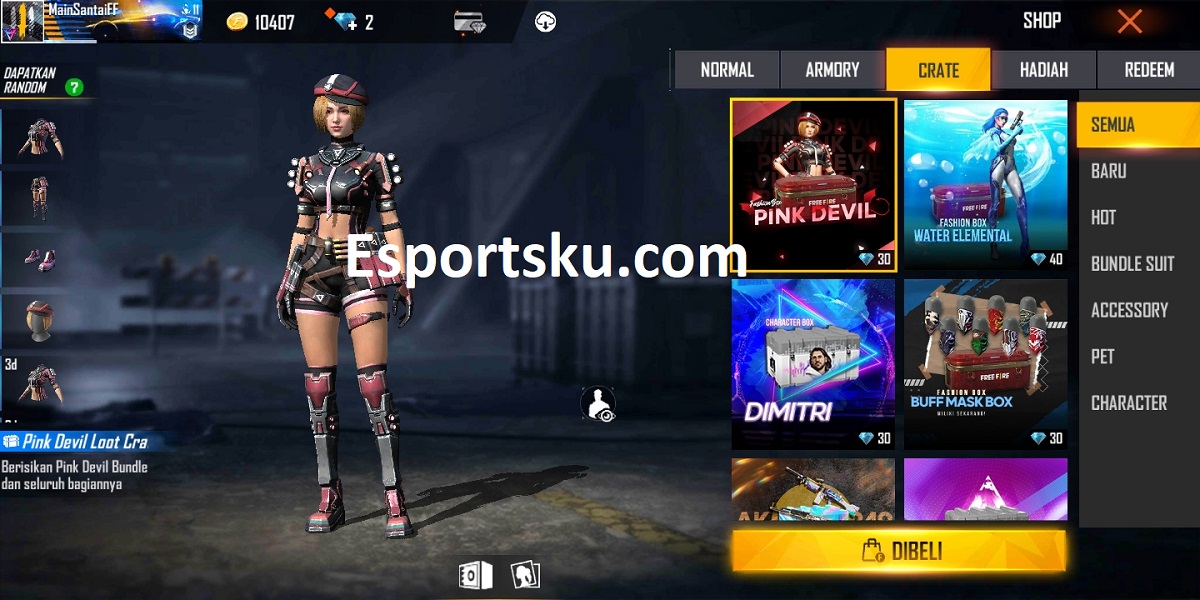 You must first login to the Free Fire game to be able to get this Loot Crate right now.
Then after you have entered, select the Shop section which is right on the left side of this Free Fire game.
When you enter the section, maybe you will immediately see the Crate menu option above.
Just press it and you will immediately find the Loot Crate at the very top because it is still new.
The price of this section is 30 Diamonds for you to get immediately.
The opportunity to get a prize is indeed quite large, it's just that it can not be permanent because there are other prizes.
Just buy 10 Boxes and you open them right away, you need 300 Dm and of course the price is not too expensive.
You will get the set part of this Pink Devil bundle after opening it.
The prize will go directly into the Vault, whether permanent or not.
You might like this Bundle, even some of the prizes that come in the Loot crate which might be pretty good. Because there is also a Bundle that has a color and appearance like this for you to use later.
It will definitely feel even cooler if you use it, it will feel good if you get carried away in the match. You guys can immediately get the Loot Crate through the method that you have provided, maybe one of the right choices this time.
But if you are not really interested in the Bundle, maybe the option to change the option to buy loot crates, of course you can. Because there are still some loot crate items that are much more interesting, than those that appear new or you don't like it.
Well, if you really like this Pink Bundle, let's have it right away and buy up to 10 pieces for a bigger chance of the main prize. It's just that to get it, you may have to collect 4 sides of the bundle first so that it can be fully used.
How are you now? are you interested in having the Bundle and make sure you have a strong female character too.
After knowing how to get the Pink Bundle Loot Crate Free Fire (FF), maybe you will immediately try to buy it too. There are several other interesting prizes that we can get, all of which are of course good and profitable for the players now, yes.
Have it right away and use Hockey Tips to Open Crate Free Fire, so you don't have to miss any more prizes. Because all of them, can provide a big change, for those of you who want to look cooler than before too.