You can find out how to get this new Mob Weapon Loot Crate Free Fire (FF), you will definitely feel excited to be interested. There are several things that we might find from Dragon Mob this time, maybe that will make you feel like it too.
Especially for the updates that are present in the Free Fire game, there are quite a lot, even you don't want to miss it. Especially at this latest event, the more things we have to look for, the better the prizes you might have.
Then you can also know if there is a way to get the 4nniversary Dynamic Free Fire Token, one of the options and of course you want it too. For events that are still taking place in this game, we must know first now, even you will be interested in it.
Now we can also find out How to Get Mob Weapon Loot Crate Free Fire (FF), maybe this will give you a cool Skin. If in the past you missed the period of having this gift, then now is the right time to try it again.
How to Get Mob Weapon Loot Crate Free Fire (FF)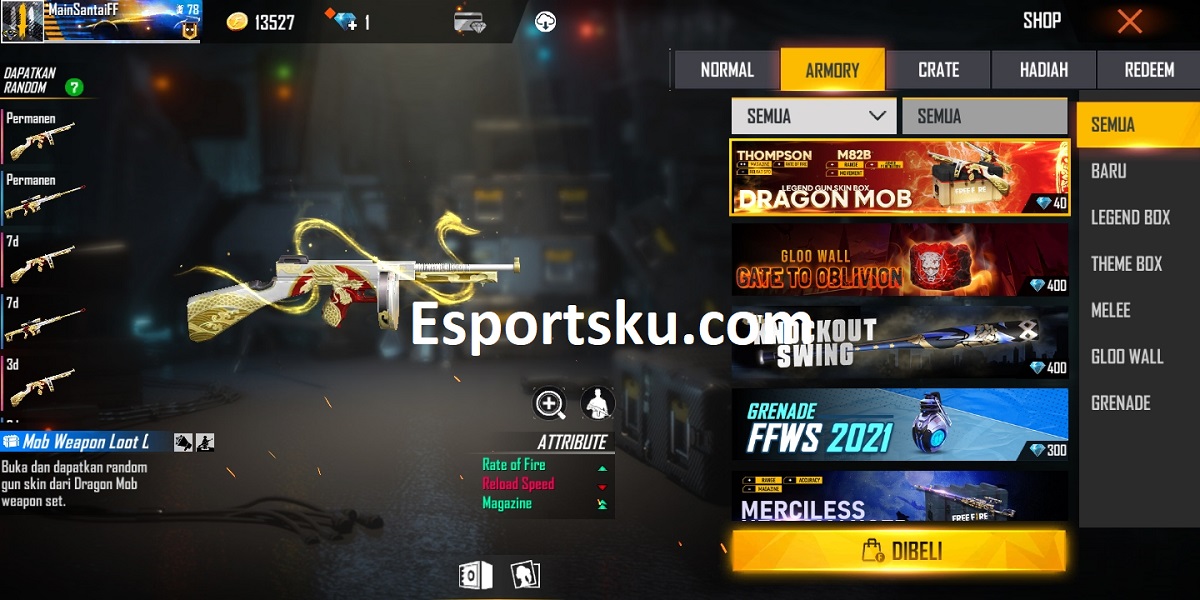 Login first into the Free Fire game, so you can get the Loot Crate right now.
Then you can immediately select the Shop section on the left if you are already in the Lobby game this time.
After doing this, press the menu called Armory so you can find the Weapon Loot Crate.
Because this is one of the newest items in the Free Fire game, of course you will see this Mob at the top.
Then after you find it, you can just buy it for 40 Diamonds for 1 Loot Crate now.
It still contains elements in Weapon Royale, so you have to buy 10 Boxes for a bigger chance to get the prize.
The chances of each player getting a prize in this Loot Crate are different, you may or may not be Hockey.
After getting this Skin permanently or for a duration, you can immediately check it in the Weaponary.
If you like, just use the Thompson or M82B Weapon Skins that are present now.
The opportunities we have are different, maybe you will also be interested in having this Loot Crate Mob right now. Because the position of the prize that is present on the inside of the Loot Crate, is indeed present in a quite different and interesting form.
It can be seen that in this position too, you can get a strong additional stat on the 2 skins of the weapon. Especially for Thompson, those of us who use it later can get extras like Rate of Fire + and Magazine ++.
Then you have to be careful, because this Movement Speed ​​will decrease and it will make it difficult for you to move fast. When you use this weapon and the skin, we must be able to use it as soon as possible.
Moreover, practicing How to Use All SMG Free Fire Weapons, maybe that will make us feel special now. If you are interested in owning it, of course, you can immediately buy it while the price is still cheap.
Cool skins like this can't be missed, even if there are other things that you might be able to get.
After knowing How to Get Mob Weapon Loot Crate Free Fire (FF), then this will make you feel curious about it. In fact, you should be able to use the weapon's skin as well as possible, so that no one else can miss it too.
Use Hockey Tips for Opening Crate Free Fire, so that later you can get the prize in full and it's not difficult at all. Because of the gift too, indeed we will have the best we can if you manage to have it.
Keep visiting Kabargokil for the latest information, Follow our Kabargokil Instagram and YouTube news, too!