You will definitely like How to Get Incubator Skin MP5 Fatal Snarl Free Fire (FF), because this is the newest Skin. Because later there will be lots of cool Skins from here, for interesting developments and battles that you can now do.
Especially now that we know that there are lots of leaked events, even some of them have been released into the Free Fire game. Of course we don't want to miss all of these events now, because the prizes that you will get are quite a lot.
Not forgetting the presence of the September Free Fire Incubator Leak, one of the skins that will be released is indeed the best. In fact, we might not want to miss this opportunity, so we can get the main prize and some other interesting things.
Even for How to Get Incubator Skin MP5 Fatal Snarl Free Fire (FF), you might like to have it now. Because this is one of the coolest Skins, it can even give a cool look that the player can use later too.
How to Get Incubator Skin MP5 Fatal Snarl Free Fire (FF)
This new Incubator will be released on September 7 or 8, 2021, this time is calculated from the Remaining Incubator Operano.
You must first enter the Free Fire game, then select the section called Luck Royale in the Lobby.
After you select the section, press the symbol from the Free Fire Incubator if the theme has changed.
Now, if this skin has changed, then you can only spin the feature now.
Players need 50 Diamonds for 1 Spin and 200 for 5 spins.
Every Spin Has a chance to get Evolution Stone and Blueprint from the Fatal Snarl Incubator.
Then you will use it later, to immediately exchange the Skin Incubator that appears in the game now.
For the price, this skin has several different ingredients, so you have to decide which skin you want.
Choose one if it's just mediocre, but if the sultan takes it all.
Later this skin will immediately enter the Weaponary Free Fire feature.
This latest incubator that is present gives the MP5 Skin an opportunity to shine, especially now that Meta SMG is indeed an MP5 and some of the most op. Now the presence of a Skin Incubator like this, means that you must have it and it will definitely be useful for us to use.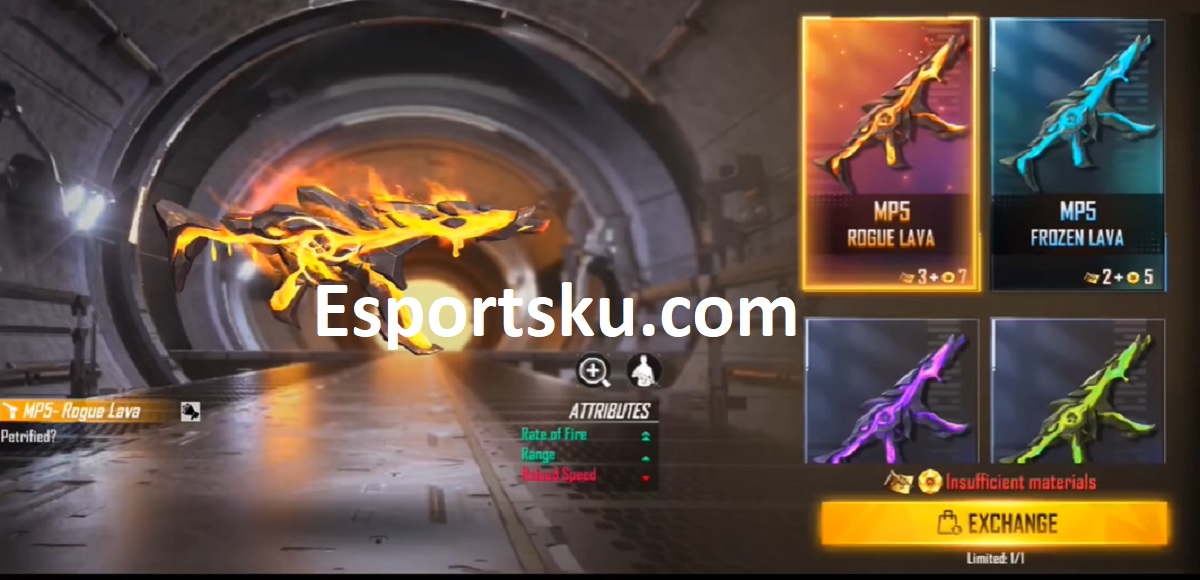 You also have to know how many Total Skins we have to collect in this Incubator, the ingredients and maybe you can find out. If you have prepared from the beginning, surely getting a skin like this is not a difficult problem at all.
MP5 Rogue Lava: 8 Evolution Stones + 4 Blueprints
MP5 Frozen Lava: 6 Evolution Stones + 3 Blueprints
MP5 Metal Lava: 4 Evolution Stones + 2 Blueprints
MP5 Jungle Lava: 2 Evolution Stones + 1 Blueprint
Well, in total, if you want everything you need 20 Evolution Stones and 10 Blueprints, that's to have all the Skins later. It just depends on what kind of player you want later, because this skin is still cool for you to use.
If you are surprised why the difference in ingredients is visible in the picture, now what we mention is on the Indonesian Server in total. There could be significant changes, just wait for it to be released on our server.
After trying How to Get the MP5 Fatal Snarl Free Fire (FF) Skin Incubator, because this is a really cool Skin Incubator. You might be interested in having it, so you don't want to miss all the opportunities right now.
Later, you will also use the Free Fire Spin Hockey Tips, so that you have a greater chance of getting this Incubator. The main prizes, such as Blueprint Materials and evolution stones, will be even easier.