This is how to get skins for free at the Grand Collection event in Mobile Legends. As you know, the Grand Collection is famous for the Sultan Event, but you can get free skins at this event.
Of course, getting free skins is the dream of F2P players, with these skins at least you get even more enthusiastic about playing, and of course you don't spend money.
It should be noted that, the skins obtained in the following article are Normal skins only. That's right, there are three skins that can be obtained, the lowest skin is the Normal skin, then the Elite, Special and the top skin is the Skin Collector.
Now for Normal skin, apparently you can get it for free, curious how to get it? Now, here is the experience of the author who accidentally got a free normal skin at the Grand Collection event.
How to Get Free Skins at the Grand Collection Mobile Legends Event
You need to know that, the following method relies heavily on luck, but it seems that many players have had the good fortune to get free prizes in the form of skins.
Collect Grand Collection Token
Grand Collection Token is a measuring tool that has the same value as diamond, 1 Grand Collection Toke = 1 Diamond.
So for that, you can get the Grand Collection Token first, which can be done for free.
First, collect a lot of Grand Collection Tokens through the Events page that comes with the Grand Collection event. Now here you guys need to complete some tasks, then claim the Grand Collection Token.
How to get it is very easy, and all players must already know how to get this item.
Draw Relying on Discount
The Grand Collection event every day will get a discount reset, now the usual price for one draw is 100 diamonds, then for a discount of around 50 diamonds.
You have to take the time to draw 1x every day, which is this in order to take full advantage of discounts and Grand Collection Tokens.
That way, you can do as much gacha as possible, and this gives you the opportunity to get skins for free.
Gacha until all tokens run out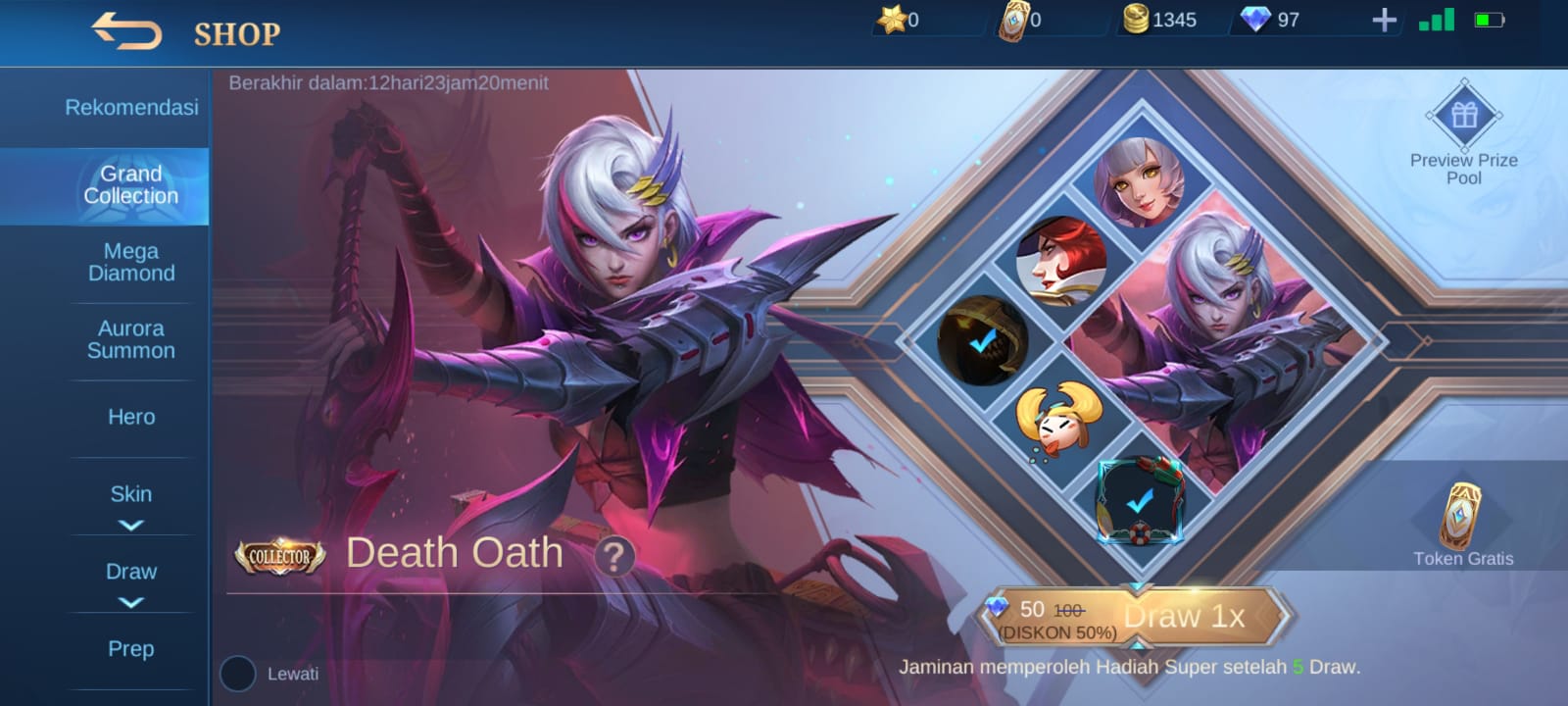 Finally, by taking advantage of your luck, you can take full advantage of all Grand Collection Tokens to get gifts for free.
That way, you can get normal skin prizes for free. But note that this method does require a lot of luck.
The author himself has received two main prizes in the Grand Collection Event this month, namely getting a prize in the form of a Border Avatar and a normal skin of the hero Helcurt.
So that's it for how to get skins for free through the Grand Collection event in Mobile Legends. Everything will come back to your luck, but it never hurts to try the tips above.