Let's find out how to get the Free Fire (FF) Survivor Pants Skin, maybe this comes as a very interesting skin. Because we might feel interested, even showing these pants will help survivors in playing to get Booyah.
Of course the battles that will occur in the game, will be exciting and all of you must be able to master every plot of the game. Make sure not to make mistakes when competing later, so that the enemy will not be too difficult to fight all of you.
Even for now we can see the Booyah Style Free Fire Schedule Event, one of the choices that you can't miss too. Because of some prizes and maybe other interesting things, because indeed this is one of the options to join the event.
Then there is a Way to Get Free Fire Survivor Pants Skin (FF), for those of you who want cool skins. It doesn't have much effect, but if it's for a light appearance, of course, we can immediately have this skin too.
How to Get Free Fire Survivor Pants Skin (FF)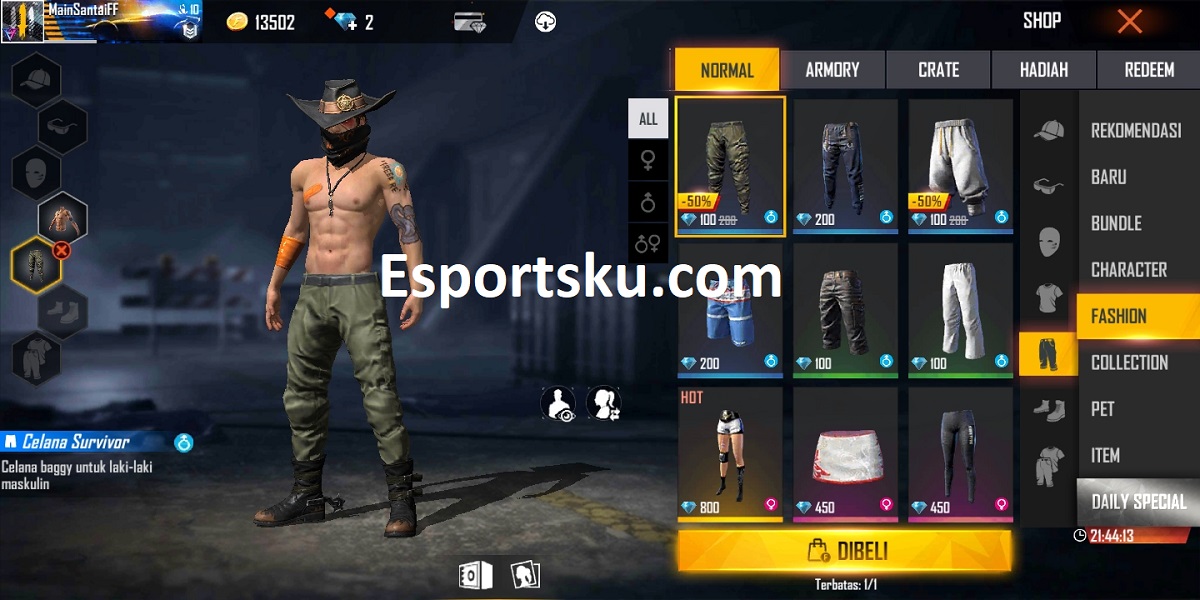 You must first enter the Free Fire game and appear in the Lobby section at the beginning of the game.
Then you select the section called Shop on the left screen, then select the word Fashion again.
After having Fashion, then you will immediately get several icons that show part of the Skin.
Press the Pants Icon to make it easier for us to find the Skin Survivor.
Scroll down and you will immediately find it, the price of the Survivor Pants itself is relatively cheap, namely 200 Diamond.
If you like it then there's nothing wrong with getting this Skin right now and using it while playing.
After buying the Skin, it means that you will immediately be able to find it in the Vault section of your respective account.
The appearance of the skin that is present is like this, it doesn't hurt us to get it or buy it right now. Surely you will get a cool appearance, if you wear or use the Survivor Pants Skin in the match.
The color of this skin is also like a faded dark green, even like a pair of pants that look worn and never replaced at all. More like what Soldiers often wear when training, but Survivor Pants are cooler in this game now.
For those of you who don't want to have such a flashy appearance, using this skin is the right choice and is very good. It's just that if you compete with expensive Skins or Bundles, you may indeed lose but the matter of liking in appearance is not a problem, right.
There are also Survivor Pants Skins that are still being used, even some Youtubers on the Outer server because they see the skins are very unique. It doesn't have any effects, but the colors match when they are combined with other Bundles in this Free Fire game.
If you are interested, you can just follow the option, so you don't miss it now. Make sure the skin that is not too ordinary, you can have right now in the upcoming Free Fire game.
After knowing how to get the Free Fire (FF) Survivor Pants Skin, then those of you who didn't know at first became aware because of all this information. Maybe there are some other advantages that we can get, when following some other ways in this game.
Then you can also know how to get One Eyed Free Fire clothes, maybe it will look suitable if these two skins are combined. The appearance that you give later, will not look ordinary and may give a good impression.