Must know how to get the Free Fire (FF) x Fruit Tea Collaboration Bundle, because this is one of the best gifts. Because you guys can receive a grand prize, even some other bonuses that Free Fire players might get from the Fruit Tea Collaboration.
In fact, there are still some things that we can find in this Free Fire game, so that later you won't miss it at all. The prizes that we can get from each event are indeed many, especially for some occasions that you really like too.
Especially for the FFML Season IV Free Fire event, of course this is the right choice for the players. Nothing will be missed, if you try it directly or experience other cool prizes that appear in this event.
Then came a Way to Get the Free Fire (FF) x Fruit Tea Collaboration Bundle, an event that should not be missed. When else can we get a Free Bundle, even just need to follow a few steps to get it.
How to Get Free Fire (FF) x Fruit Tea Collaboration Bundle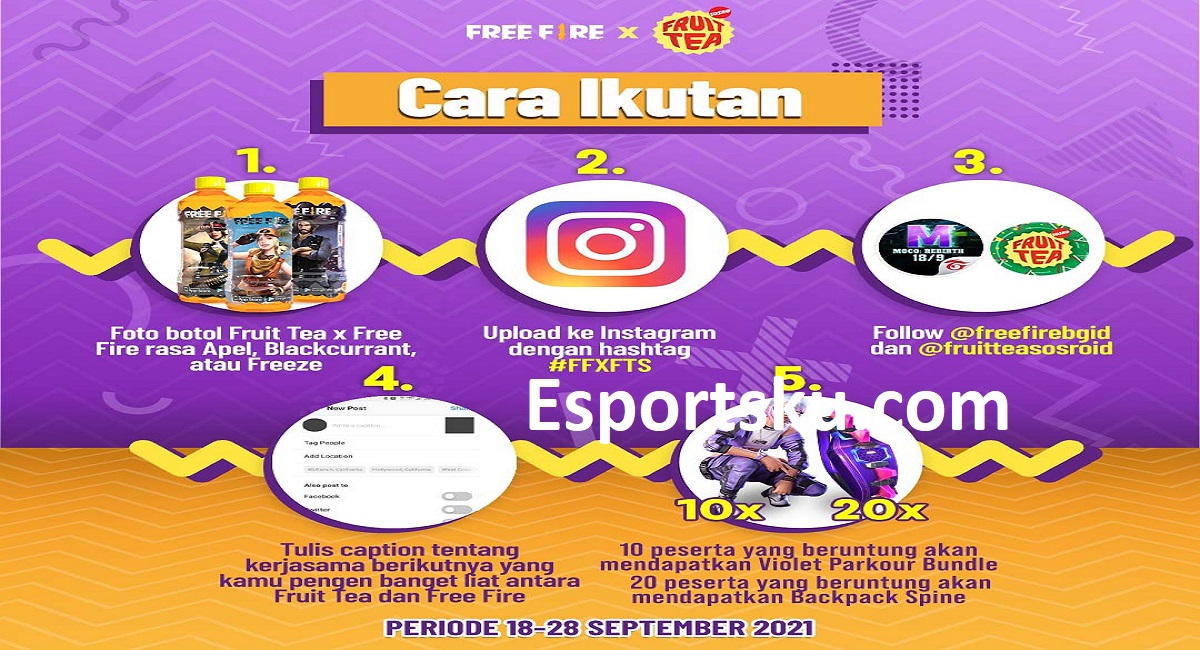 Free Fire players must have a Fruit Tea Bottle that has Freeze, Blackcurrant and Apple flavors for you to take photos first.
Then use their respective Instagram accounts to upload the photo using #FFXFTS, if you don't use it, it will fail.
Then you must also Follow Instagram @freefirebgid and @fruitteasosroid.
Next, players have to write down an input such as Collaboration which we will see again in the upcoming Free Fire and Fruit Tea.
The distribution of this prize is that 10 people will get a bundle and 20 people will get a backpack spine.
This event will only last until September 28th, so let's get involved right away so we can get the prize.
For now we can find out some new things that are quite interesting, even you will feel like trying it right away. Because what players can know now is that collaboration must be lively, so it was the same with Fruit Tea, which used to be too.
Now the bundle that we will get from this event is Violet Parkour, surely you know that the event that got this girl bundle. Meanwhile, yesterday the free Cowo character, maybe those who missed it can immediately try to participate in this event who knows hockey.
The procedure that Kabargokil has given is indeed directly from the Collaboration, you can try it right away now. Because there are several other prizes that we might be able to get, if you give this good nest to Free Fire or Fruit Tea.
Just go along with getting bundles and prizes like that, if you really want to try it it won't be difficult. Make sure the prizes and some of the event opportunities too, must be owned and followed properly.
Even yesterday, we just found out about the Free Fire x Big Rolls Collaboration, let's join too so that the prizes are more and more double. Because nothing will be missed, if you manage to get some prizes from this Collaboration and Fruit Tea too.
After knowing how to get the Free Fire (FF) x Fruit Tea Collaboration Bundle, then use it so you don't have trouble. There are even several other opportunities that we can use, if we try and immediately follow the Event in this Free Fire game.
Let's also play this latest Moco Rebirth Free Fire Event, surely the prizes will also be more as long as you are diligent. Everything players can get, as long as they keep playing.