Of course, for How to Get Manly Tattoos Free Fire (FF), maybe you will like it soon to add appearance. Because your Cowo character will feel cooler later, it won't even look normal if you wear Manly Tattoos.
Especially now that we can also find out some new things, even the ones you like will not be missed again. Maybe for the presence of several new events to come, players should know all this and try the update as well.
Because there is also a new Moco Rebith Free Fire Event Schedule, so you don't miss this cool event now. There are missions and some rewards that you can get, if you successfully complete some of the tasks that we have to do later.
Including now we can also know how to get the Manly Tattoo Free Fire (FF) shirt, that's definitely a really cool outfit. You will like to wear things like this, because the shape and appearance is very attractive.
How to get Manly Tattoo Free Fire (FF) clothes
You must first log in to the Free Fire game and then enter the shop to the left of the game lobby.
After you have entered, all you have to do is select the menu option called Fashion for you to use right now.
Later you press again the part that has the Clothes Icon to make it easier to get clothes this time too.
This shirt is an outfit from Body character which has a price of 300 Diamonds only, but if it is discounted it might cost 150 dm.
Then when you have made a purchase of this shirt, if you really like it, you can directly check it in the shop later.
Then you can immediately use the shirt and use it when dealing with strong enemies.
A cool appearance like this will change the appearance of your character to make it look even cooler when competing.
This shirt or body called Manly Tattoo is one of the Beach Clothing Sets, but it has its own characteristics as well. This is one of the coolest outfits, even you will see a Muscular Body and Sixpack when wearing it.
Then on the chest there is a wound tape and a black necklace, the wrist has a protector with the letter F. But because this is a real men's clothing, you can see that there is a tattoo on the left shoulder.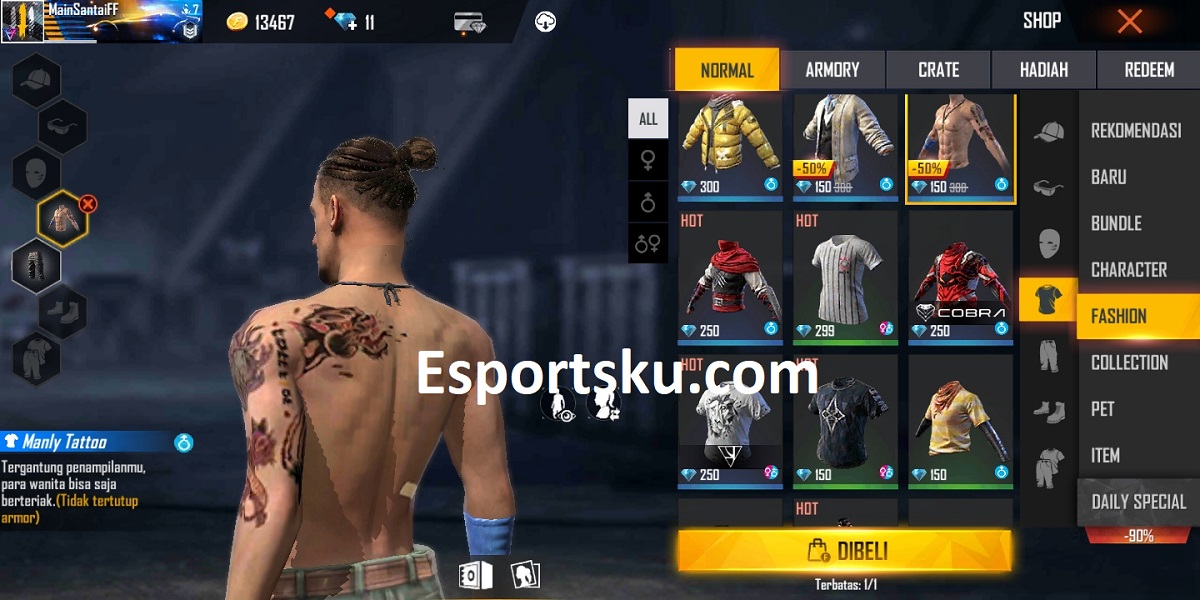 The motif of the tattoo that appears on the skin of this shirt is a dragon, some things that are related to fire and also have a relationship with tribal as well. Maybe you will like some parts of this shirt, because it shows a fairly strong nature when playing.
But remember that things like this are only good in the Free Fire game, you can't follow Skins in the Real World anyway. You can get the appearance of a real man now, just use the method that we gave earlier so you can have it right away.
It will look even cooler, if you use the Manly Tattoo Shirt in Training Mode. Let's look like someone who just got out of the beach, then relax to enjoy the exciting state of the mode.
After knowing How to Get Manly Tattoos Free Fire (FF), let's try it right away and maybe you all like them. Because right now apart from the clothes, there are still a few other things that players can get when participating in the latest event.
Don't miss out on How to Get Free Fire Party Style Tokens, because this is one of the right choices. Because you guys will have lots of cool prizes, for the players to immediately exchange them using tokens like this.