So this is how to get the Free Fire (FF) Heavy Weight Bundle, this is one of the Bundles that is really cool.
Where you use a Bundle like this, of course it will be considered very cool and better prepared to face many enemies later.
Because the soul that is given to each Free Fire bundle now has given you a great opportunity that can be used by all of you.
How about the new update of the game, it is indeed quite large to be used properly by all players later.
Especially with the release of new events like this, the Free Fire x Street Fighter collaboration itself is indeed quite good.
Where there are also many interesting prizes to try, so that later you can get a win with a cool appearance.
Moreover, for How to Get this Free Fire (FF) Heavy Weight Bundle, let's just look at the article below.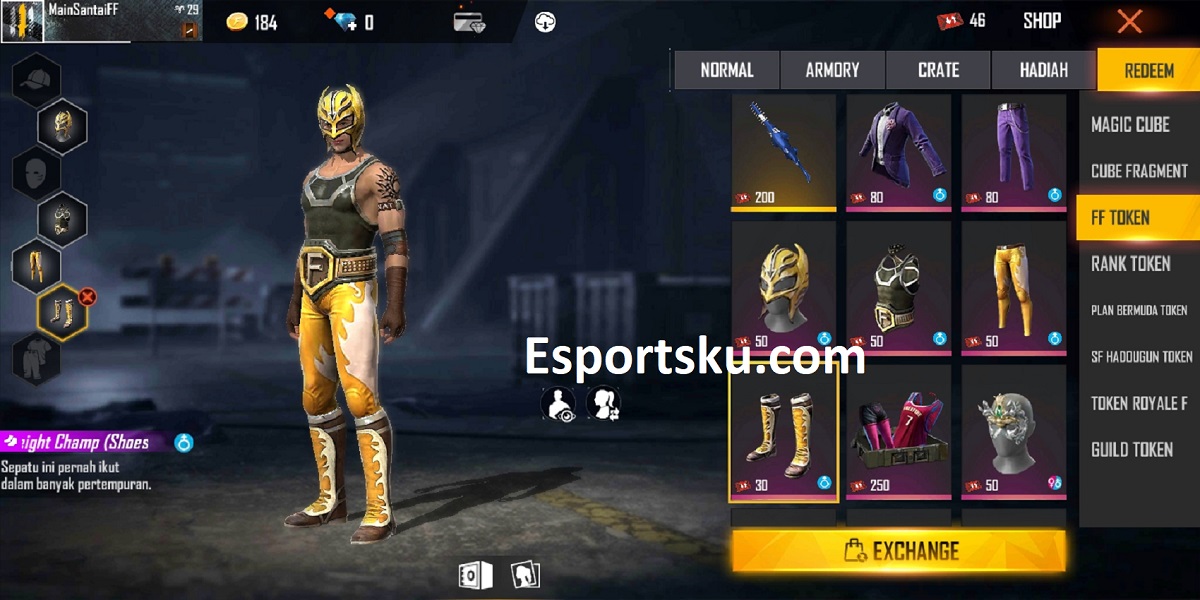 This bundle, called Heavy Weight, is indeed very interesting to be used when competing later.
Because indeed in the appearance of the Bundle called Heavy Weight, you will see firsthand the appearance of a very strong wrestler.
You definitely know 50 Unique Facts on Free Fire right now, where one of these things is related to this cool Bundle.
It can be said that for the Heavy Weight Bundle, it can be said to be very similar to the SmackDown wrestler named Rey Mysterio.
Now, if you want to cosplay like that in this Free Fire game, of course you can use the Bundle right now.
Moreover, to get this Bundle, it is very easy and you can also follow the method here.
How to get a Free Fire (FF) Heavy Weight Bundle is fast and easy, as long as you yourself have a condition called FF Token Free Fire right now.
How to Get Free Fire (FF) Heavy Weight Bundle
First of all, you enter the Free Fire game, wait until you enter the section called the game lobby.
Then select the section called Shop, then re-select the one that says Redeem in the right corner of the shop this time.
Here you will find Redeem from FF Token which, of course, can be used by players during the match later.
After being in the Free Fire (FF) Bundle Heavy Weight exchange feature, you can scroll first to look for the Heavy Weight Bundle which is similar to Rey Mysterio's.
If you have found the bundle, you can immediately buy it at a fairly cheap price.
Each part will be given only 50 FF Tokens, 3 Parts is 50 and if the total is 150, then the Shoes only cost 30 Diamonds.
When you have purchased this Bundle set, you can directly enter the Vault game feature to receive and use it.
Feel the power of professional wrestlers, when you already have this Bundle.
By trying this method, of course, such an easy thing can indeed make you more enthusiastic to compete later.
Moreover, regarding the presence of a Bundle like this, it is indeed very cool and quite interesting for you to get.
What's more, the method that we have given is easy and can be done by you guys easily.
You only need an FF Token, so that you can do all of these processes later.
After knowing How to Get the Free Fire (FF) Heavy Weight Bundle, then just use that opportunity and have this Heavy Bundle.
Be a strong wrestler, so that later you can become very strong in the next match to be used with you later.
Especially with How to Get Free Magic Cube Free Fire, it's quite easy and can be tried if you want to have the item.