For now, we have to know how to get FFML Gold Free Fire (FF) Tokens, focus on collecting them to get more. So that later if you already have a large total from the Token collection, there will definitely be attractive prizes that we can exchange.
Even now, we also know that there are now many new events that appear, we must try it immediately and finish it too. So that later you can get a reward that is quite satisfying, then there are some things that you might use in the game.
Because now we know the FFML Season IV Free Fire Event Schedule, of course you have to finish this. There will be lots of cool prizes that you have to finish soon, so that you can still get the prizes and don't miss anything.
Especially for the How to Get FFML Token Gold Free Fire (FF) section, maybe this is one of the very cool Skins. You definitely don't want to miss it completely, so you can still get a much better prize than usual.
How to Get FFML Token Gold Free Fire (FF)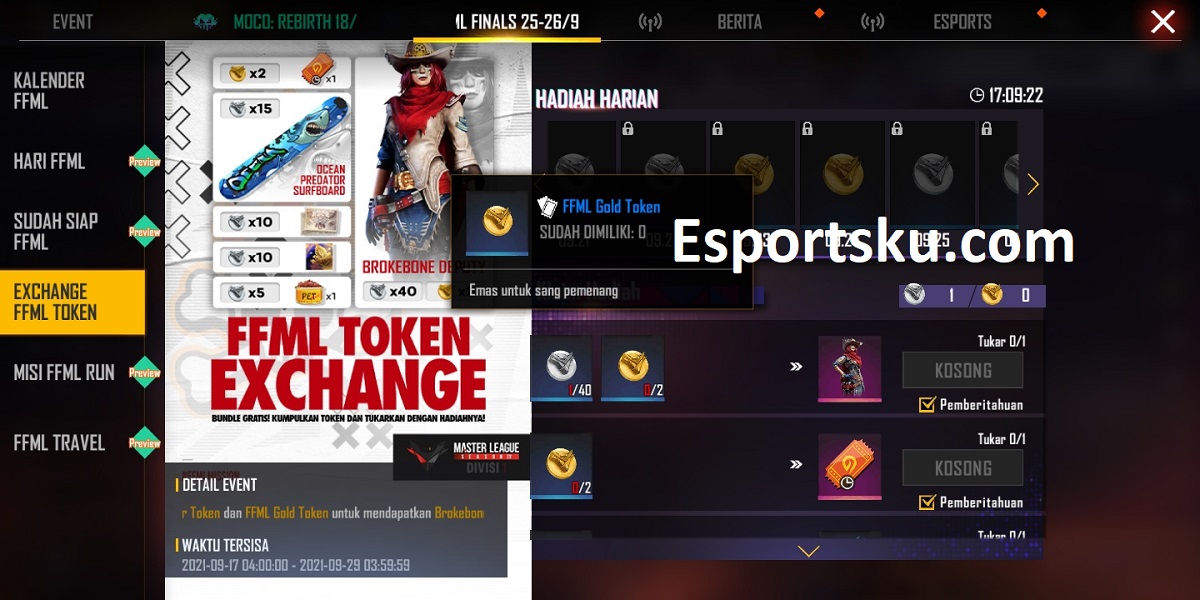 New players can get this token if they login on 23-25 ​​September 2021.
After the day you can enter the Free Fire game and select the right side of the Event tab.
If you are already in the Event Tab section, you must immediately look for the ongoing Mission Category.
You select the section called FFML Ready and Exchange Store in order to receive this token gift.
The total Tokens that you will get in this position are 4 pieces and that is enough to get a new redemption prize.
If you miss one day not receiving this Token or the mission, then tomorrow it may be difficult to get a new one.
There are indeed 2 missions that can give us these tokens, of course you have to know how it is and it might be fun. Just complete every mission that is present in this event now, so you won't miss any of them in this event.
Each of these methods has a different mission, you must complete it immediately and may immediately have other prizes. For the first part, FFML Ready, players only need to play in the Free Fire game on the missions that appear.
Play 40 Minutes: 1 Gold Token
Play 60 minutes: 1 Gold Token
Then if you choose the section called Exchange Store, you only need to login and you can get it right away. But you have to receive the gift directly at login, so that we can receive it immediately and can exchange the new gift.
Free Fire players must also know how to get FFML Silver and Bronze Tokens, because without them you can't get prizes. You have to be diligent in playing the Free Fire game if you want to get prizes in this event, because everything that appears is really special.
Make sure you now have to finish every mission from the FFML Event, because it doesn't last long and will soon be finished too. The time limit for us to play this event is until the end of the month, must be excited and have the prize so you can use it.
After knowing How to Get FFML Token Gold Free Fire (FF), then now is a good opportunity for you too. Maybe this is one of the right choices, you guys immediately collect Tokens and prizes that are appearing now.
Then you have to know the contents of the FFML Free Fire Exchange Store now, so you know what new prizes we will get later. The prizes are also quite a lot, even quite good for you to have.