So this is how to get Fairy Bundle Free Fire (FF), it's easy and fast for you to use when playing the Free Fire game.
Because with the presence of a method like this, there will be an opportunity for everyone so that later they can look cooler.
Even with the presence of new events now, there will also be attractive prizes and quite a lot for us to use.
Not only from that section, you might like the presence of various updates that will appear next.
Because it was only yesterday, we only had How to Get M4A1 FFCS Free Fire Loot Crate which finally appeared.
Not only that, there are many other interesting prizes that you can get.
Especially for How to Get Fairy Bundle Free Fire (FF), of course, with this bundle, your female character will become more beautiful.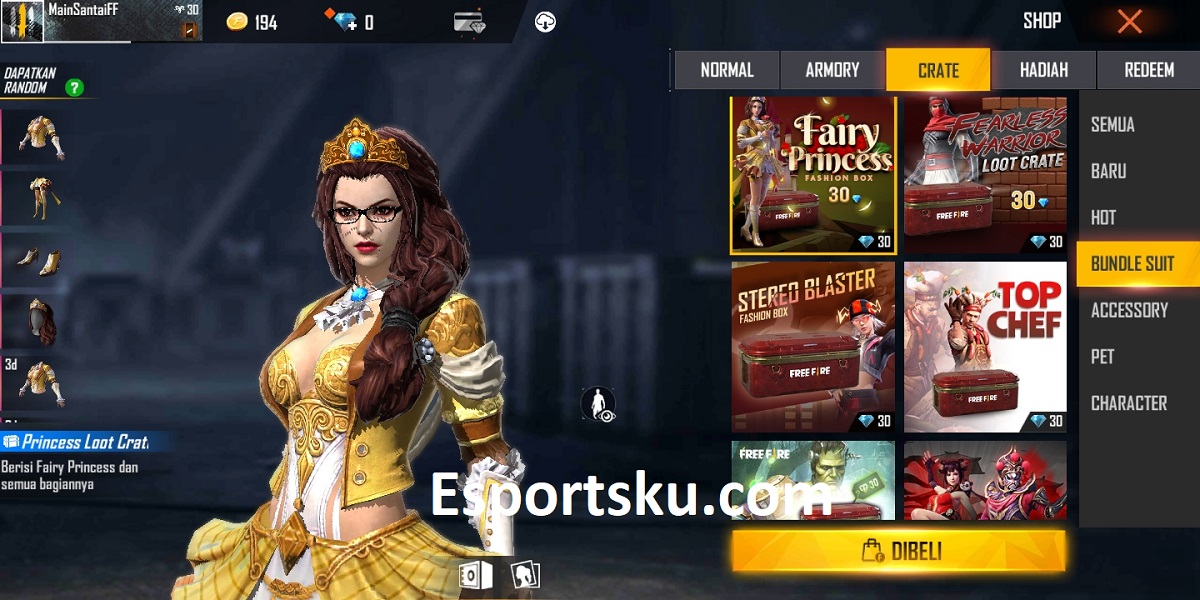 There are a lot of bundles that are present in this game, so don't be surprised if Fairy Bundle is also the choice you like.
Of course, with the presence of a Fairy bundle like this, you will look cooler and your appearance will not be ordinary.
Even the Cowo character will also lose to Cantik's face, when your Girl character uses a cool Fairy Bundle like this.
Moreover, it can be obtained in an easy way here, you can immediately have the Bundle and use it in matches.
The appearance given to this Bundle too, has a dress that has Gold color and Brown hair and also has a Gold crown on his head.
From top to bottom, all the colors given are Gold and need to be used later.
So here's how to get this Bundle now, by following the one below.
How to Get Fairy Bundle Free Fire (FF)
Enter the Free Fire game first, where you will see and meet the Lobby game that you can't expect anymore.
Then enter the current Shop, then you can immediately enter the Crate later.
After that, select the one whose writing is Bundle, you just scroll down to the bottom to get the Loot Crate bundle.
If you have found a Loot Crate called Fairy Princess, you can buy it directly.
The price given for this Loot Crate is only 30 Diamonds, so you can immediately fill in Diamonds to buy them directly.
In my experience, if you want to buy it 10 Boxes or for 300 Diamonds so that the opportunities can be bigger.
If you get the Bundle, just check it into the Vault to claim the bundle later.
Show the enemy, if you also have a cool Bundle like this in the Free Fire game later.
Just follow this method if you really want to have a Fairy Bundle, that's cool and if it's still in the Free Fire game, right.
Maybe someday, it will disappear from the Crate Shop.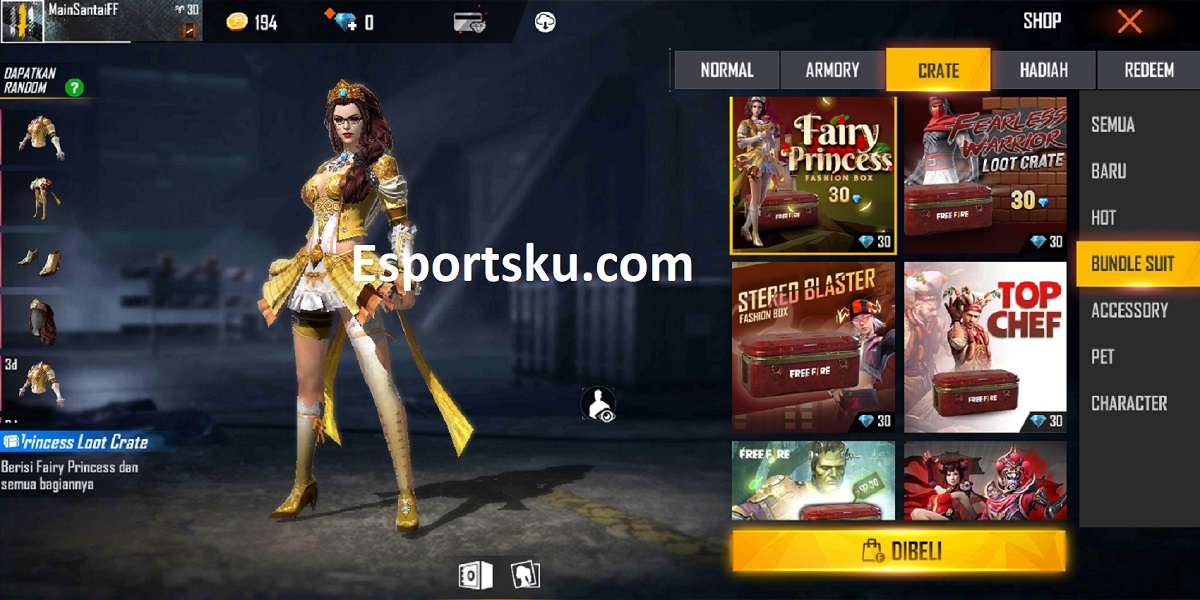 If I'm not mistaken, there is also a way to get Princess Pink Free Fire's Loot Crate, according to rumors, these bundles are brothers.
Only we can only prove it is similar or not, when we already have one of these bundles.
After knowing how to get the Fairy Bundle Free Fire (FF), then you can just take advantage of this time to have the bundle.
When else do you have a cool bundle like this one called Fairy, there will definitely be a lot of magic when you use it.
Especially How to Get a Free Magic Cube on Free Fire, it's easy and fast for you to complete it right now.