It turns out that it's really easy to get the Double Skull Free Fire (FF) Surfboard, if you're looking for the best Skin to use.
That's something that players can put to good use, but for that part you have to pay attention to it before you get it.
Right now, there are indeed a lot of interesting updates, which can also appear in the Free Fire game Shop right now.
Of course, everything you use right now is indeed the best part so you don't miss the next event or update.
Even at the Free Fire x Street Fighter Collaboration Event now, all of that is indeed very interesting for us to try right now.
Especially with those of you who take advantage of events like that, you will definitely get a variety of attractive prizes that can be put to good use.
Moreover, for now there is also a way to get Double Skull Free Fire (FF) Surfboard, it's easy and fast for you to use.
Curious? we see the explanation in the article below.
How to Get Double Skull Free Fire (FF) Surfboard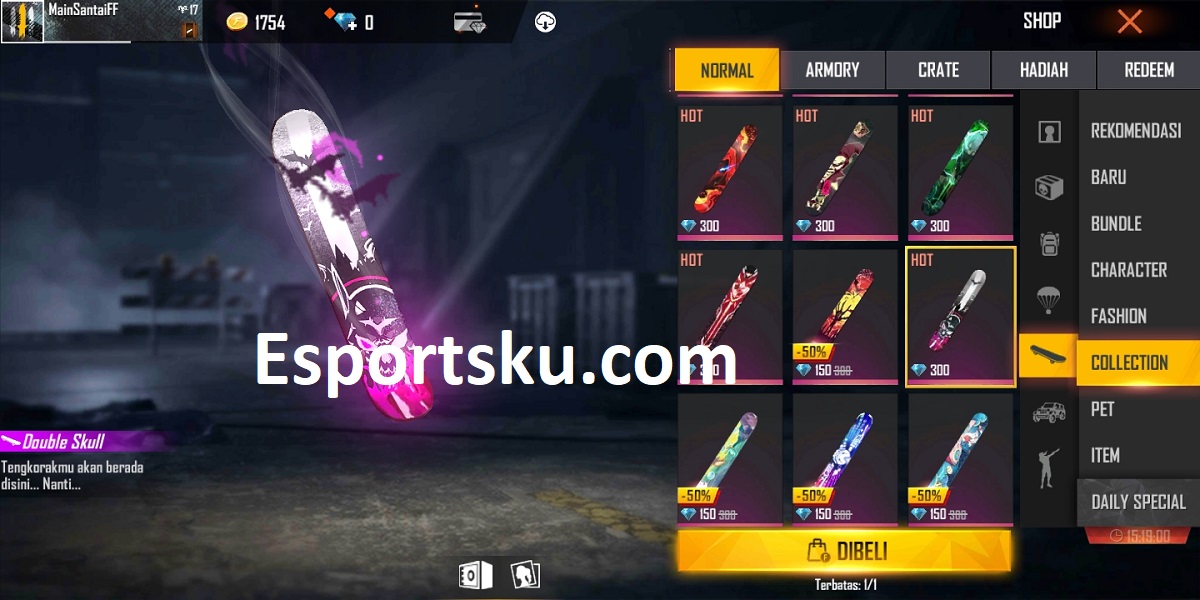 The presence of a Surfboard Skin called Double Skull in Free Fire, it has become one of the best things we can get later.
Because indeed by presenting a Surfboard like that, you can come down with a variety of very good effects when used.
The Surfboard skin is very easy to get, it won't be difficult if you try it now.
Take advantage of how to use it, you will later be able to look cooler when playing against enemies.
You have to enter the Free Fire game first, then after that you are already in the lobby, wait.
Select the Shop section on the left, after entering the Shop Menu, you can immediately press the Collection section.
When you are in a Collection Position like this, then you can immediately choose the part with the Surfboard image again.
To get a skin like that, you have to scroll down to find the Double Skull Surfboard.
Then those of you who have found the Surfboard, just buy it at a price of 300 Diamond and of course it's very cheap, right?
After you have purchased this Skin, just enter the section called Collection to choose and use the Skin.
Show it to all the enemies that are down near you with this skin, because the effect given to Double Skull is strong.
He even said that this skin will give a sign to all enemies, so that they will not face you as well.
So later, use Free Fire's Best Landing Tips, so you can go down with more confidence when starting the match.
Is This Surfboard A Must Get?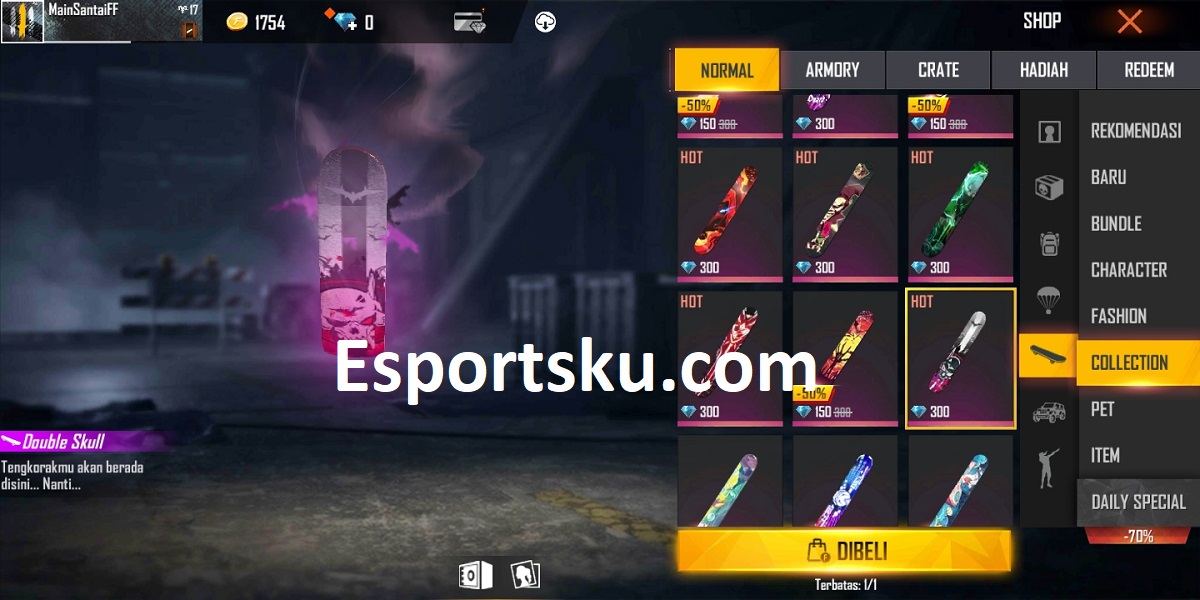 The skins that are presented on this Surfboard, there are indeed many and of course you shouldn't miss it altogether.
Because indeed the Surfboard, is very good and can be used very well for now.
Imagine the Double Skull Surfboard Skin Effect like that, it will indeed make you look more different than before.
Come down and give Eve death to all enemies, so that later they will be afraid and lose quickly.
If you don't like the skin or if there's something better, something like this won't force you to buy it later.
After knowing How to Get Double Skull Free Fire (FF) Surfboard, are you interested in having a Skin like that?
Because Surfboard itself is a very good skin, if in terms of getting off the plane like a messenger to the enemy.
To make this even cooler, you can try using How to Get Free Magic Cube Free Fire later.
So that you can get cool bundles in the Magic Shop, it will be right when you get to this later.