It turns out that this is how to get the Deschiper Base Statue Free Fire (FF), let's immediately try this method right now. If you use the Deschiper Base Statue, you will definitely get a prize which of course benefits all of us.
The developments that are present today are indeed quite a lot, maybe you will also feel some of the latest things such as Events. Not only in that section, because the features that will be present in the Free Fire game this time are quite a lot.
Yesterday we just attended the Booyah Style Free Fire Event, one of the most lively parts of this September. You'll probably love it, even having every present present in some of the new event Missions that appear in the Free Fire game.
Maybe for How to Get a Free Fire (FF) Deschiper Base Statue, you will know it and use the Statue. Moreover, the way that we can have items like this, is one of the easiest ways for players to do it too.
How to Get Deschiper Base Statue Free Fire (FF)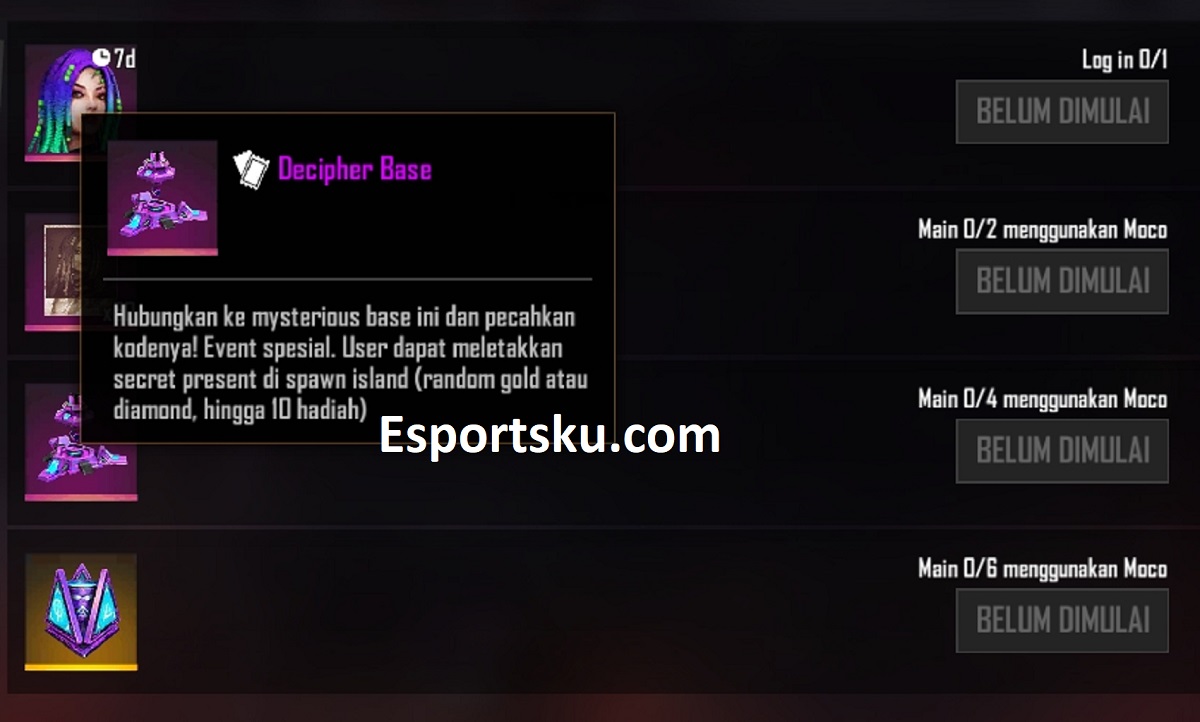 Through Event Missions
For now, the event that is present at Moco Rebith takes place from 11 to 28 September 2021.
There are several Missions and maybe you have to complete them soon in order to get cool prizes.
This statue called Deschiper Base is present at Moco Mission, Friend and Awaken.
The mission to get the Statue is indeed different, so we will finish it right now.
But in total, you will get 3 Statues, as long as you follow the development of this new event as well.
This reward will go directly into the Vault section when you have completed each of the new missions.
Through Purchase From Shop
Then there is another way that you can do, namely through purchases from within the Shop.
After you enter the Shop now, then select the Item menu section which is right next to it.
Then then those of you who enter can see the top selling item, namely this Statue Deschiper Statue now.
Just buy this Statue for 10 Diamonds and it will be sent directly into your Vault account too.
You can immediately use it in the game if you have this item right now.
Now getting this is quite good, even you yourself won't want to miss the prize like how it will be. Because there are several other gifts that we can have, even though this Statue Deshciper Base is one that gives many prizes.
Then you should know the Tips for Getting Diamond Spawn Island Free Fire, because this is indeed one part of the Item Statue. While the event is still taking place in the game right now, you have to play it right away.
Of course, using a Statue like this we can get a lot of cool things, including some gifts that you can use. But remember there are still some other important parts of other events for you to complete, so you can get some bigger prizes.
What do you think about this statue? are you ready to have it now? sure.
After knowing How to Get Deschiper Base Statue Free Fire (FF), then it will provide a good opportunity for all of you. Let's have all these gifts right away and use them, so there are some other bonus gifts for you to try.
Then you can try How to Get the new Glo Drone Free Fire Backpack Skin, because this is a very interesting prize. Prizes that are profitable for all of us, so that no important part is missed again for this event.