You have to know how to get the Cube C1 Free Fire (FF) Token, because this token is also quite important. Without using the token, then you will not be able to participate in the Event Interface that is present in the game for us to solve immediately.
In fact, there are still some other interesting new events, if you have this, you have to play them right away. Because there are already many attractive prizes, as long as you have to complete every mission in this event and maybe you like it.
Especially if you have to know how to get the Cube C2 Free Fire Coder Token, maybe many will like to have this. Because one of the important parts, to exchange the main prize in the event that is present in September right now.
Maybe one of them is how to get Cube C1 Free Fire (FF) tokens, you have to know too so that the event interface can run well. Because for the problem of gifts, it's not a bad thing, even if there are free ones, of course we should be able to get them while we can.
How to Get Cube C1 Free Fire (FF) Tokens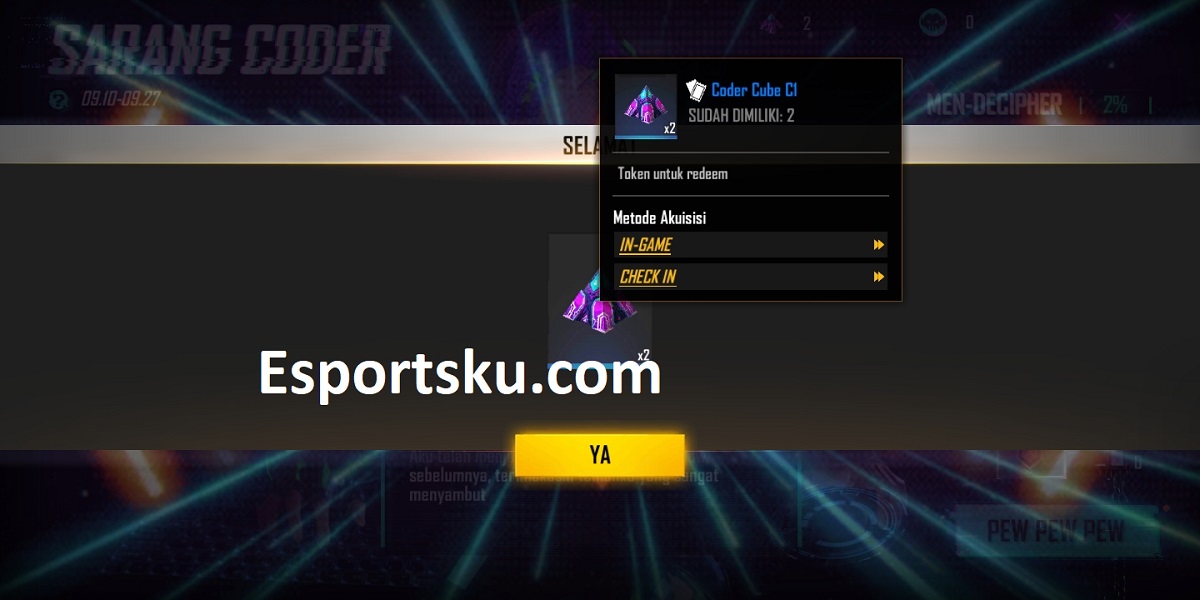 This token named Cube C1 will take place in the Free Fire game from 10 – 26 September 2021.
Login first into this Free Fire game, so you can get this Token on the Moco Event Interface.
Click the icon that looks like Moco's Hack and check out the Daily Login section.
If you press it then you can get 2 tokens every day, until this event is over.
Of course, if it's not enough from there to fulfill the current event, you can use other methods.
Simply play in Clash Squad and Battleroyale Modes to complete the match.
But if for Battleroyale itself you can do it through Looting, chances are you can get more.
After the Cube C1 Tokens have been collected, you can continue playing Pew Pew in the Event Interface.
Maybe there are some opportunities that you shouldn't miss, if you take part in an event like this right now. Just collect a lot of Tokens first, so that later the event will also be immediately completed by the player.
There are several other advantages that we can get, when trying and completing new events from the Free Fire game later. It's very easy to get Tokens like this, you might immediately be interested in trying to get the existing prizes.
Not only Tokens that you can get, it turns out that Glo Rubik Grenade Skins can also be collected by players because of the free gifts of this event. The more new events in the Free Fire game, the more enthusiastic players can play this game in the future.
If you really just want to focus on collecting these tokens, then immediately play in Battleroyale Classic Mode only. Of course you can find it easier to do Loot, you won't even be bothered by the enemy to get the token.
How to Get Cube C1 Free Fire Tokens Just choose which mode, depending on your situation, you might be able to get it this time.
After knowing how to get Cube C1 Free Fire (FF) Tokens, maybe all of you will do it right away. Of course, some items such as tokens, coins or those used in events must be collected right away.
Even one of them, we can know how to get Moco Swing Free Fire Bat Skin, definitely an event that requires tokens. That's why players who are still playing, must be ready to collect tokens in events like that.