This is the easy way to get Burning Loot Crate Free Fire (FF), you will definitely try it right away now. We can say that this is one of the coolest Loot Crates, even give a very satisfying reward for all of us to try.
Moreover, for the presence of several update events this time, there are indeed a lot of new things for you to try right away. Even from all parts of the Free Fire game update now, including one part that is quite interesting and players can try it right away.
Especially for the part of the Moco Rebith Free Fire event this time, there are many new prizes and maybe they will do it right away. Then you guys for now we can also have several opportunities, to have a new Loot Crate which turned out to be just released as well.
Because for How to Get Burning Loot Crate Free Fire (FF), it's fairly easy and you have to try it if you want. Prizes are not so common, because this Skin that is present is indeed quite cool and has a smoldering fire effect to burn everything.
How to Get Burning Loot Crate Free Fire (FF)
This is a Free Fire Loot Crate Weapon that just came into the game.
To get it you must first login and enter the Shop option.
Then select the section called Armory, when it is in the Menu section of the Shop section.
After seeing the very top, you will definitely find a new Weapon Loot Crate.
The actual name is not burning but Midnight Mafia, the price can be spent for 40 Diamonds only.
So that your chances are greater in getting weapon skin prizes, just buy up to 10 pieces later.
This skin will go directly to the Weaponary Free Fire section and you can use it immediately after that.
You just have to think about whether you want to use the skin or not later when you are dealing with enemies.
The weapon skins that are present in this Weapon Loot Crate are indeed quite good and quite interesting for now. Because the prize is in the form of M79 and P90 Weapon Skins, it is the right choice for you to have all the skins as a collection on that account.
Moreover, the addition of stat skins that we can give now, will indeed help in close or far range battles. It won't be too difficult to do this, because this is a special option that you can get in the Free Fire shop now.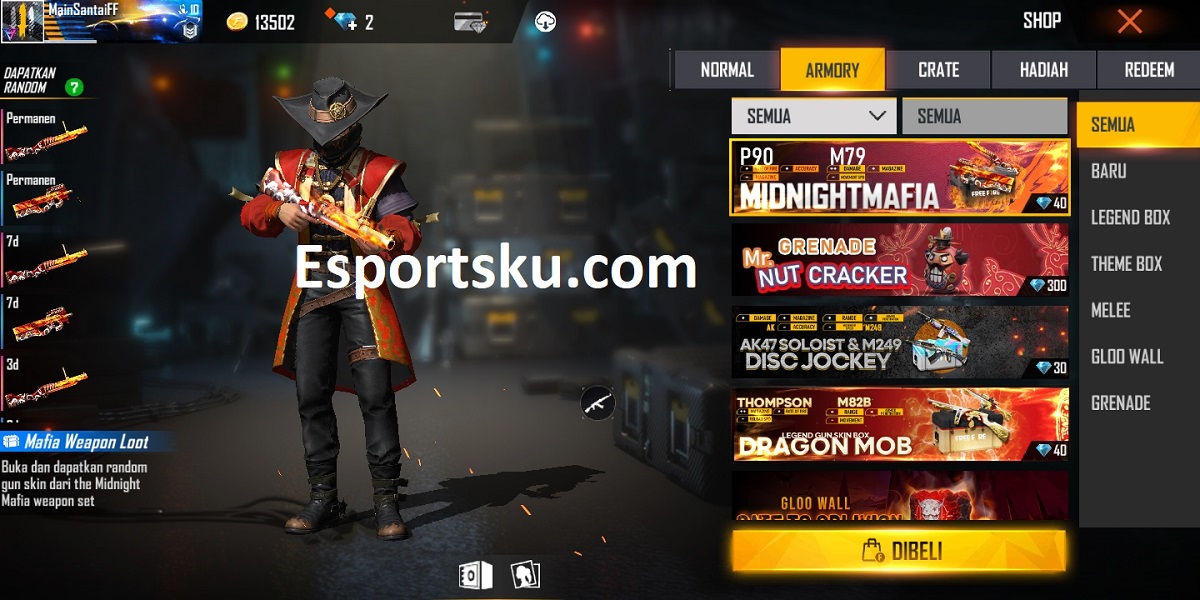 The skin that is present is M79 with additional Stat Damage ++ and Magazine +, so this weapon will not have 1 more Bullet if you use this Skin. However, the movement will feel slower, because the Movement Speed ​​has experienced a large reduction.
Then for P90 it has additional stats on Rate of Fire and Accuracy +, but in the Magazine section it is reduced – and has little effect. Well, if you want to have it now, of course, you have to try it right away and feel it when you compete later.
Make sure if you want to open this Loot Crate, you have to be confident and can get the main prize which is permanent in duration right now.
After you know How to Get Burning Loot Crate Free Fire (FF), maybe this will provide a good opportunity. There are even some things that you might not be able to miss, when participating in the Event now in the game.
Moreover, use Hockey Tips to Open Loot Crate Free Fire now, so that later it will be easier for you to get the main prize. You won't have to feel confused anymore, to try something like this because the opportunities will feel even bigger