This is how to get Battle Loot Crate Free Fire (FF), let's try it right away and you will get a cool bundle. Because there is a battle theme in the new Loot Crate, surely you all don't want to miss an opportunity like this too.
There are many prizes that we can get in this game, it's just that there are several processes that we must complete first. Because we will have some pretty good choices, even interesting events for all of you to get in the upcoming game.
Maybe for the presence of How to Play the Pew Pew Pew Free Fire Event, it gives players the opportunity to be able to get other prizes. Because there are many and maybe everything will taste better, because the prizes we get from here are also quite a lot.
You even have to know how to get Battle Loot Crate Free Fire (FF), this is one of the prizes that we can use. If hockey might be the bundle, you can get it without having to spend a lot of money later.
How to Get Battle Loot Crate Free Fire (FF)
You will have to enter the Free Fire game first and will meet the initial appearance of the game lobby.
Then next you can directly select the section called Shop on the left side.
If you have entered the Shop Menu, select the one that says Crate at the top now.
Because this will make it easier for players to find their targeted Loot Crate, even for this Battle Loot Crate.
This is one of the newest loot crate items in this Free Fire game, so now you can immediately see the top.
After you know this, just buy it and the price is also only 40 Diamond.
So that the opportunity to get a prize is much greater, you can of course buy this Loot Crate up to 10 Boxes only.
The prizes you get, whether permanent or not, will go directly into the Vault.
It's quite easy to get this Battle Loot Crate, you only need to use diamonds when you want to get it. But only a few opportunities, so that later you can use the gift for you to use later.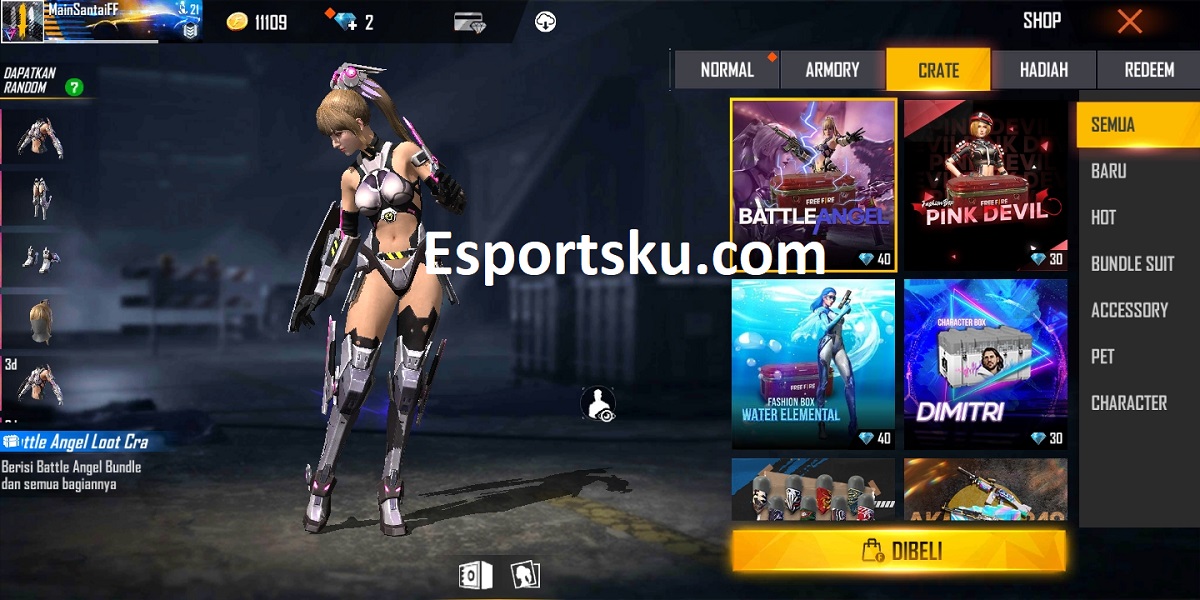 Because the prizes that we can get in the Free Fire game now are the best choices for you to get right away. Moreover, the Battle Loot Crate, the contents of the Bundle prize are related to the female character in Modern war clothes, but very cool.
Maybe later you will feel happy trying something like this, good luck when you buy it and get the prize. Just use Hockey Tips to Open Crate Free Fire, because there is a bigger chance to have a chance to get the main prize.
It's just that it's called Loot Crate right? you will have the opportunity to get a separate bundle from here. If you want to collect everything in full, it means that you have to buy more so that you can get a permanent part of the bundle this time.
After knowing How to Get Battle Loot Crate Free Fire (FF), you can just try it now. Who knows this can immediately give you lots of prizes, even the main Bundle permanently too.
Moreover, you also have to fill in the Horizon Store Free Fire now, because there are lots of really cool prizes from here. Players who want to get it too, must be able to collect all these prizes, yes.