You can immediately try How to Get Alvaro Loot Crate Free Fire (FF) right now, but if you really want to. Because this is one of the Item Boxes that are present in the game, so you can get them and maybe give you cool gifts.
Especially for now regarding the course of the new event from the Free Fire game, there are indeed many and maybe we should try. We might also find some good opportunities, so we can try and complete the Event Missions quickly.
After you see How to Get 4nniversary Dynamic Token Free Fire, maybe there will be prizes that we can exchange. This is of course profitable for you, you won't even want to miss the opportunity to do it now.
Try a Way to Get Alvaro Loot Crate Free Fire (FF), you might have a good chance to get it. You'll even have one chance to get the Alvaro Package later, if you're lucky, too.
How to Get Alvaro Loot Crate Free Fire (FF)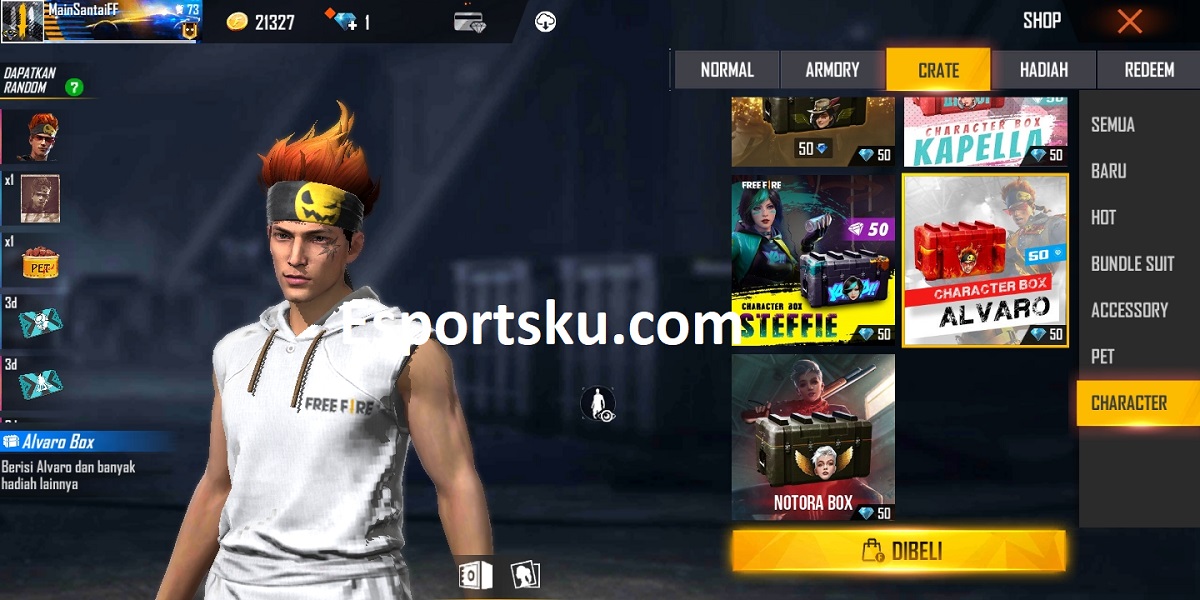 You first enter the Free Fire game to be able to get this Loot Crate right now.
Then after that you can immediately select the section called Shop on the left of the Lobby section of this game.
If you are already in the Shop, then immediately select the section called Crate, then press the one that says Character to make it easier.
Scroll slowly downwards until you finally find the Loot Crate of the strong Alvaro character.
Then you can just buy it because the unit price of the item is 50 Diamond only.
If you want a bigger chance to get a prize like this, of course buy up to 5 or 10 Crate only.
Open it simultaneously and maybe you will get Alvaro's gift along with the package from the character.
But remember that if you are looking for a character to buy from here, you may lose, it's better to try to buy it in the character Shop for 500 Diamonds.
If it was hockey it would have been a different fate and maybe even better if that was the case.
You may know that there is an Alvaro Free Fire Character Review, maybe something like this will help you to find out. So that later when you get Alvaro's character, it certainly won't be difficult or inconvenient for players who want to have it.
If you like Alvaro's character, of course we can do something like this right now because we might get lucky later. Because you won't feel curious anymore after trying, because maybe next time you can try it again or not.
For Alvaro's own character, it's meta, even if you use Weapon Launcher in every match later. Surely the abilities of these characters will continue to appear, even making you interested in getting Loot Cratenyna.
If you buy it, don't forget to use Hockey Tips to Open Loot Crate Free Fire, so that your buoy will get bigger later. There are even some opportunities that you might try, even to get cool prizes like this right now.
If you really like it, you can buy it right away, especially if you're getting a very cheap discount later. Of course, our spending to do Top Up, the possibility can be reduced very large.
After you know how to get Alvaro Loot Crate Free Fire (FF), maybe this will be a good thing if you want to test your luck. Because later we will make something called Gacha, to get the prize we want right now.
Moreover, if I'm not mistaken, there are also 30 of Free Fire's Strongest Weapons that you might be able to use later, so that Alvaro is even stronger.
Keep visiting Kabargokil for the latest information, Follow our Kabargokil Instagram and YouTube news, too!