Finally, the MLBB X Transformers collaboration event has started, you can have the opportunity to get free skins by collecting transformers tickets. Some are free and some are paid.
This event is the most anticipated event, players will get an exclusive skin on the day in which there are various interesting skins, with the main prize being a Transformers skin.
There are Johnson heroes with Optimus Prime skin, Granger heroes with Megatron skins to X.Borg heroes with Bumblebee skin. To get it, you can draw at the event that is presented, of course by using a diamond or a Transformers ticket in Mobile Legends.
To get the Transformers ticket itself is divided into two, there are also free and also paid, for the paid the amount itself is more than the free one. But don't worry, this event lasts a long time until you can get additional tickets.
As for getting Transformers tickets for free or paid, are as follows. Make sure you get it so you can get free skins in the Mobile Legends game.
How to Get Free Transformers Ticket in Mobile Legends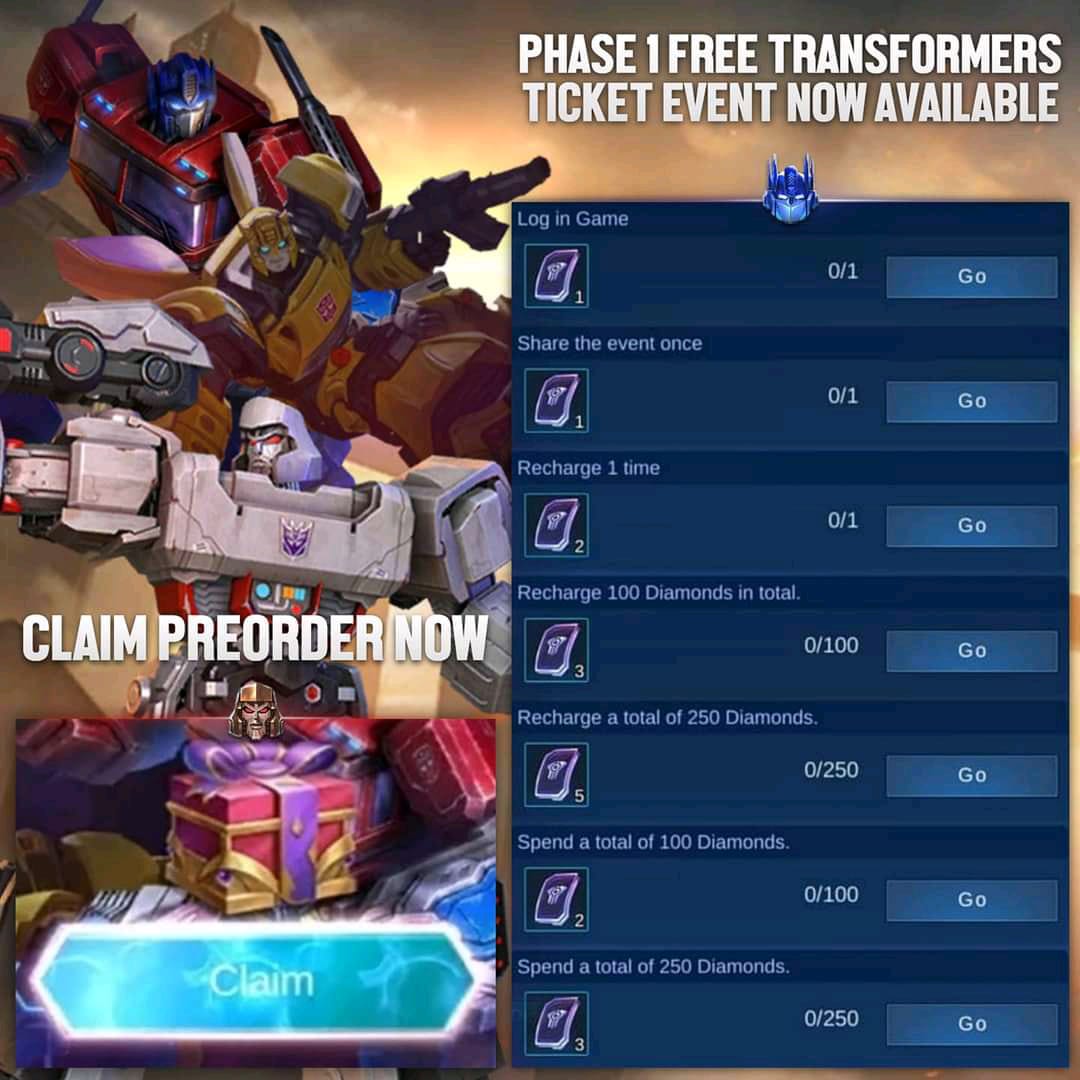 Here are some ways to get a free and paid Transformers Ticket in the Mobile Legends game.
Claim Pre-Order
First, please login and claim 1 Transformers Ticket via the Pre-Order page, pre-ordering can be done a few days ago before the event starts.
Now, you can get 1x Transformer Ticket for your favorite gacha skin, not bad!
In-Game Login
In addition to claiming through the Pre-Order page, you can also get 1x Transformers Ticket by logging in, going to the MLBB X Transformers event page, and claiming the prize of 1x Transformers Ticket for free.
Share Event MLBB X Transformers
Next, you can get Transformers tickets for free by sharing the event page. Go to Event and then click on Share button and share to social media like WhatsApp, Facebook and others.
Top Up Get Transformers Ticket Bonus
If you don't have enough for free, you can also get additional Transformers tickets by top up, please top up with a maximum of 250 Diamonds to get all Transformers ticket prizes in the event.
Top Up 1x : 2x Ticket Transformers

Top Up 100 Diamonds: 3x Ticket Transformers

Top Up 250 Diamond: 5x Ticket Transformers
Spend Diamond
The next step is that you can spend the diamonds that have been previously top up to get the Ticket Transformers bonus.
Spend 100 Diamonds: 2x Ticket Transformers

Spend 250 Diamonds: 3x Ticket Transformers
With all the methods above, you can get 18 Transformers Tickets, both free and paid, for 2x Draw, you can use diamond top up prizes to pass for 20X Draw and you can get 2 Epic Skins.
It should be noted that you can meet the above event 3 times in the next month, the prizes above will be reset by Moonton with a predetermined schedule, so that players who top up lightly will get a total of at least 60X Draw. How very interesting is not it?
Keep visiting Kabargokil for the latest information, Follow our Kabargokil Instagram and YouTube news, too!