Find out how much is the price of the Jota Free Fire (FF) Skin in the style of Kabargokil, if you already know it, you may feel interested and curious. Because if you know the price first, it will make you feel faster and ready to do some things in the future.
Moreover, for now, there are also things that you can buy to make the character's appearance more attractive to look at later. Even now, you might like some updates, because the newest event will also be coming soon in the Free Fire game.
For now, we can also know the latest 4niversary Free Fire Event Schedule, it will even feel more exciting for you to try it too. There are many interesting things that you might be able to try, even things like this will make you excited to play.
After all, let's find out how much is the price of the Jota Free Fire (FF) Skin in the style of Kabargokil, you must know so that you can buy it immediately.
How much is the price of the Jota Free Fire (FF) Skin in the style of Kabargokil
The skin that is present for the Jota character in the Free Fire game is very large, you have to spend 2750 Diamonds for the skin. Of course, this price in Rupiah can reach more than 300 thousand, if you like you can wait and collect money.
Especially if you like it but don't have the character yet, you have to buy it Double between the Skin and Jota himself in the Free Fire game. The price of this character is 599 diamonds, so for a total we might be able to spend 500 thousand more.
Because if you already have the character, maybe the price of the skin doesn't need to be expensive and is indeed very cheap. Jota is one of the Brand Ambassadors in the Free Fire game, in fact he is also the strongest Rush character.
After he gets a new Buff, the damage or attacks that Jota will give later will attack the enemy's HP on a large scale. Of course, every attack and damage that our weapons give will give different things and effects.
Maybe if you have tried the Jota character yesterday for free, of course you are interested and want to buy Skin from clothes or Jotanya. The cool appearance of a character, especially if it's the original, will increase a different impression for other players.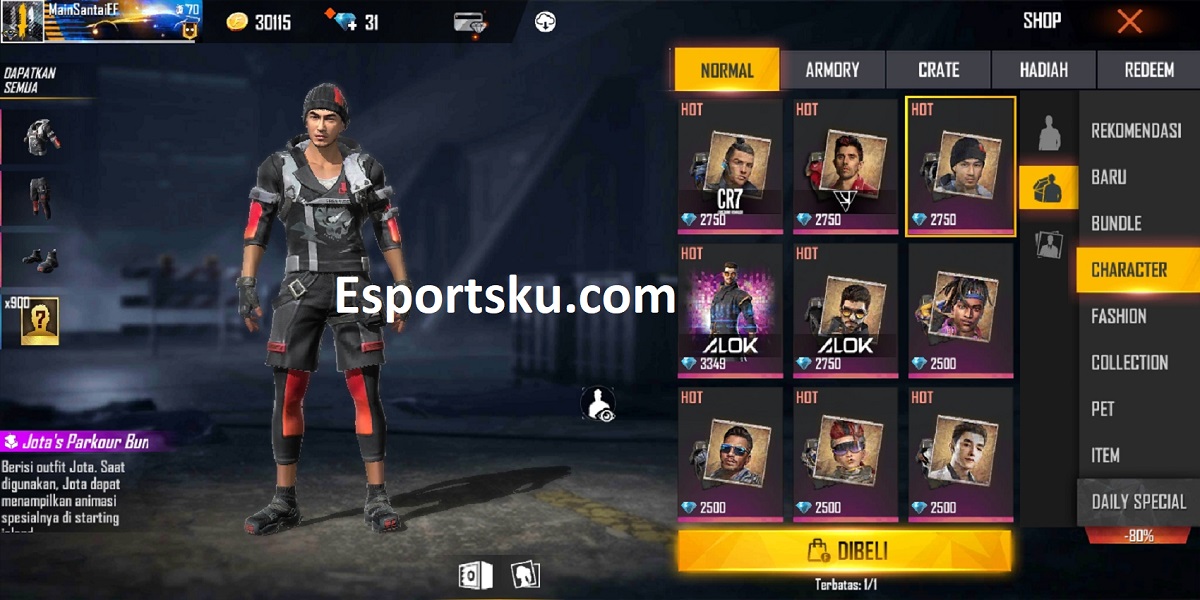 You will feel interested in trying this, in fact all of these things will depend and will show a good impression for us to try. Jota will look right if he uses the original Skin, looks like a person and a Parkour lover in the Free Fire game.
You may be helped by Jota's Skin, moreover he is also an actor who is very agile in doing dangerous things. Then you might like it if Jota himself gives other additions, because besides his clothes, there may be several other Skins for him.
How? After you know this, are you interested in buying Skin Jota? Of course, moreover, the price can be discounted when there is a new event. Just take advantage of the opportunity, then just buy this character and the skin.
Maybe if you already know the price of the Jota Free Fire (FF) Skin like Kabargokil, you can prepare yourself to buy a lot of things. Even this skin will not be too difficult for you to do, it can be easier for us to get.
Moreover, use also know the price of the Chrono Free Fire Skin, so that you can have the character and appearance that is very suitable. Let's immediately have Jota's character, even chrono to make it more fitting.
Keep visiting Kabargokil for the latest information, Follow our Kabargokil Instagram and YouTube news, too!