Have a Thrash Metallic Backpack at the Fragment Royale FF Event!
The fourth Free Fire (FF) Anniversary Event has officially started today on August 20, 2021.
At this FF anniversary celebration, Garena has presented lots of exciting events that players can play.
One of these events is the Fragment Royale event where Spinners can get the main prize, namely Backpack Thrash Metallic.
Also Read: RewardFF2022 Com, Can You Get Free Fire Exclusive Items!?
The backpack has the appearance of a rockstar guitar which is definitely very cool.
If you are interested in the backpack, we will discuss in detail how to get it.
Fragment Royale Anniversary FF Event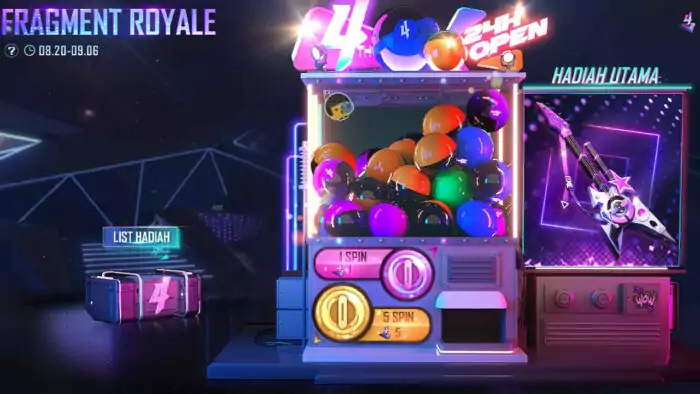 This latest Fragment royale event will take place from 20 August to 6 September 2021.
Basically, this event is a spin event, but interestingly, you won't need Diamonds.
The reason is to spin in Fragment Royale, you need an Anniversary Dynamic Token which can be obtained through Map Drop or Aftermatch Drop.
Besides the Thrash Metallic Backpack which is the main prize, there are other interesting prizes that you definitely don't want to miss.
Here is a list of the prizes:
Backpack Thrash Metallic FF
Bright Lights Headpic
Turn Up Banner
Incubator Voucher
Diamond Royale Voucher
Weapon Royale Voucher
DJ Rig
FAMAS Loot Crate – Moonwalk
Blue Rhythm Fragment
Pink Rhythm Fragment
Green Rhythm Fragment
Yellow Rhythm Fragment
Gold Royale Voucher
Santa Militia Loot Crate
Rockie Box
SPAS12 – Plague Doctor Weapon Loot Crate
Also Read: When is Free Fire (FF) 2021 Birthday? Turns out this date!
Also Read: Latest Free Fire Redeem Code (FF) August 20, 2021, Gas!
That's information about the Fragment Royale Free Fire (FF) event where Spinners can get the main prize of the Metallic Thrash Backpack. Don't forget to visit SPIN Website for more information, and follow the account Instagram and Youtube we.