You have to know the newest Hahaha Luck Royale Clown Free Fire (FF), which is interesting, because this prize is only for certain bundles. If you spin the feature, maybe you will get a pretty interesting prize and of course it's really good.
Moreover, there may be some interesting prizes from this event, so that you all don't miss anything. Because what will appear in this Free Fire game, it is included in quite a lot and you can get it easily, of course.
Then next for One Wheels 2 Gloo Wall Free Fire, you might be interested in joining this event when it's released later. In fact, there will be many cool prizes that we can get, if we participate in events like this and always try new things from the events that are present.
Because for now there is the Latest Hahaha Luck Royale Clown Free Fire (FF), maybe this is quite interesting. For the prizes that you will get too, it will certainly make a lot of players tempted because of things like this.
Hahaha Latest Luck Royale Clown Free Fire (FF)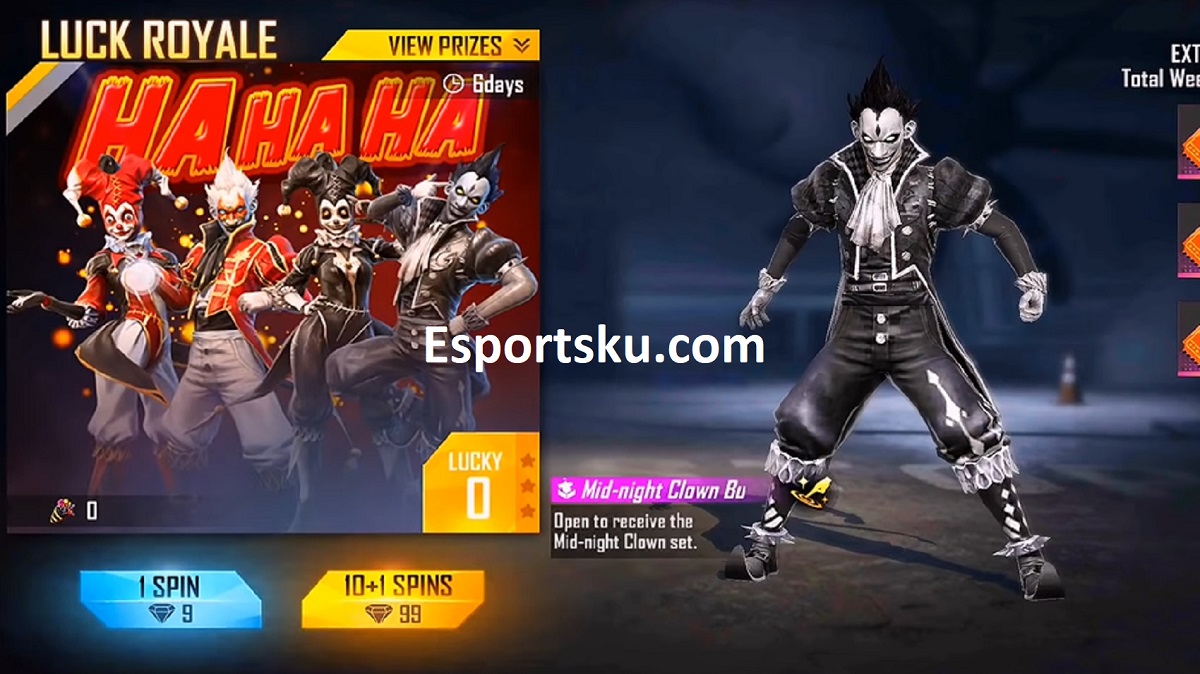 From the leaks that are present in this Free Fire game, maybe there are several things that you should try and one of them is from the information this time. We can know that for the presence of the Latest Hahaha Luck Royale Clown Free Fire (FF), it is indeed one of the right choices, too.
Because you may not have one of these new Bundles yet, because there are indeed several other prizes for you to use. Including some things from the Royale Hahaha Clown, it will definitely give you the total item and you can use it after all of this, huh.
In the new Luck Royale, we can find out some interesting prizes that players can immediately get. It's just that no one knows yet, if this Royale will appear on the Indonesian server when.
The possibility is small, but the name hopes that it can still be heard. Moreover, participating in this event is also very easy for you to do.
Just follow a few things we need to do when we want to take part in the Royale after its release into the game.
Before you take part in this event, you must first enter into what is called Luck Royale Free Fire.
Then after you have entered, you can immediately look for the section called Hahaha Clown Royale.
Now, after being in that section, you can just select the Spin section using Diamond later.
The price of 1 Spin is 9 Diamonds and if 10 Spins reach 99 Dm.
Of course, every time you get a gift, it will be sent directly to your Free Fire account later.
After you are satisfied with the prize, of course you can leave this event right now.
After knowing how too, maybe you will be interested in participating in Event Royale like this. Due to the issue of items and prizes, we really can't doubt it at all.
If hockey might get the Clown Bundle prize, this is one of the Items from Incubator Royale. If it's released later, let's try to spin it right away and collect all the newest prizes.
After knowing the Latest Hahaha Luck Royale Clown Free Fire (FF), you will have the opportunity to take part in the event and Spin. Because for the problem of prizes too, it will change if it appears on the Indonesian server in the future.
Don't forget to use the Free Fire Spin Hockey Tips now, so that no prizes are missed at all. Because this is one way, so that later you can get even more prizes.