LK24 is an assault rifle or AR type weapon that has often been used by players from last season.
This weapon itself is indeed famous for its superiority in gunfight for mid-range distances.
and this weapon's good accuracy also makes it able to survive in the tier list of meta weapons for 2 seasons.
and for those of you who are still confused about this gunsmith weapon, I will share a suitable gunsmith for this weapon.
also in this article I will also explain the function of the gunsmith that is distributed to this weapon.
if you want to find another gunsmith build for weapons in Call of Duty Mobile you can visit the iFerg or KithCODM youtube channel.
because the two Call of Duty Mobile YouTubers often share their gunsmith builds.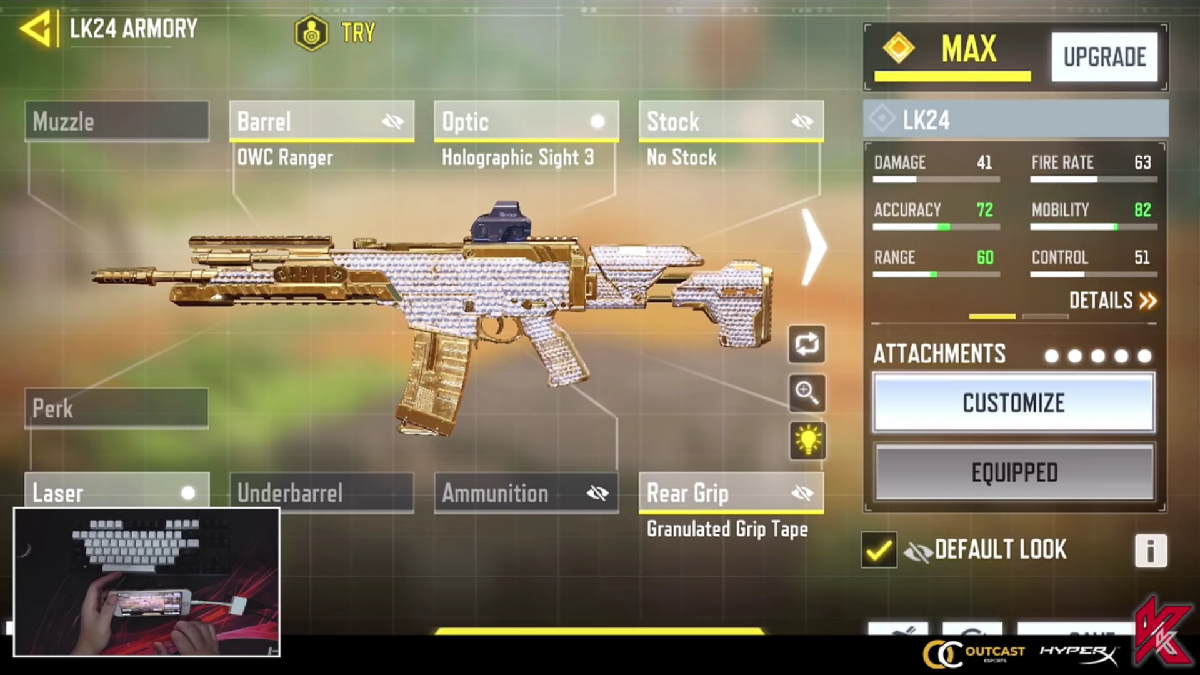 ok for the LK24 gunsmith build that will be used is the Barrel OWC Ranger, Optic Holo sight 3, laser, and Rear Grip granulated grip tape.
for this build itself, it is designed for mid-range gunfights while doing ads or aiming down sights.
because it can be seen from his weapon stats that the advantages of this gunsmith are in accuracy, mobility and range.
and because this build is focused on aiming down sight and mid range distance, you don't need to do a full spray.
that's because the use of the owc ranger barrel makes your accuracy better when shooting tap-tap.
because if you shoot with full spray then this gunsmith is a little difficult to control because in the mid range full spray is usually less effective.
therefore the use of granulated rear grip is very important which will support close range combat.
because in close range combat you will usually immediately reflect shooting without doing ads first.
and additional lasers will also help you to identify enemies in close range combat.
but the option to add a laser is optional, you can also don't need to add a laser to this gunsmith.
and in close range combat, this rear grip will shine because of the addition of accuracy and mobility which is very supportive.
as well as optical holo sight 3 which is quite good for the mid range ads distance, which is very beneficial for you.
the only drawback in this gunsmith is the ammo because in this build it is not recommended to use a magazine.
This build itself, as I said earlier, is special for mid-range gun fights where you don't need a full spray.
therefore the use of a magazine is not needed for this gunsmith weapon when you use it.
as well as by shooting tap-tap or not fully spraying at mid-range will help you kill more accurately.
This build itself also functions to maintain angles when you play objectives or hard points.
which is where you can support your team by keeping an angle or covering from a certain angle.
and that was the build for LK24 which is still effective for the current season on call of duty mobile.