Hi Buddy Booyah!
Free Fire knows a custom-made grouping schemes for skins and items in the Game known as Tier System. Its presence has been around for a long time, but Free Fire just set it on the February Patch Update.
Tier System is a grouping of items and skins such as Bundles, Gun Skins, and other collection items into several categories, which are distinguished by several aspects. His presence became the difference between items.
Also Read: Leaked FF Season 39 Elite Pass Bundle, Scarecrow Theme!
Also Read: Star Gazer and Crazy DJ Are Coming to FF Magic Cube Redemption!
In the Tier System, there are 6 Categories. The six have different background colors, which indicate the differences of each item. The placement of items in this tier varies. The higher it is, the lower it is.
If Buddy Booyah doesn't understand the Tier System Free Fire, the six categories will be explained by Booyah News in more detail in the review below!
Trial (White Background)
The Trial Tier with white item background is the lowest tier in tier Free Fire systems. Items categorized in this tier is an ordinary skin or item that is not too valuable, and its existence is ignored by the player.
However, most of the Tier Trial items are old skins that have been around for a long time, long before Free Fire developed as it is today. The Oreo shirt fashion skin, Keep Calm T-Shirt, and Black Turtleneck are quite popular Tier Trial skins.
Uncommon (Green Background)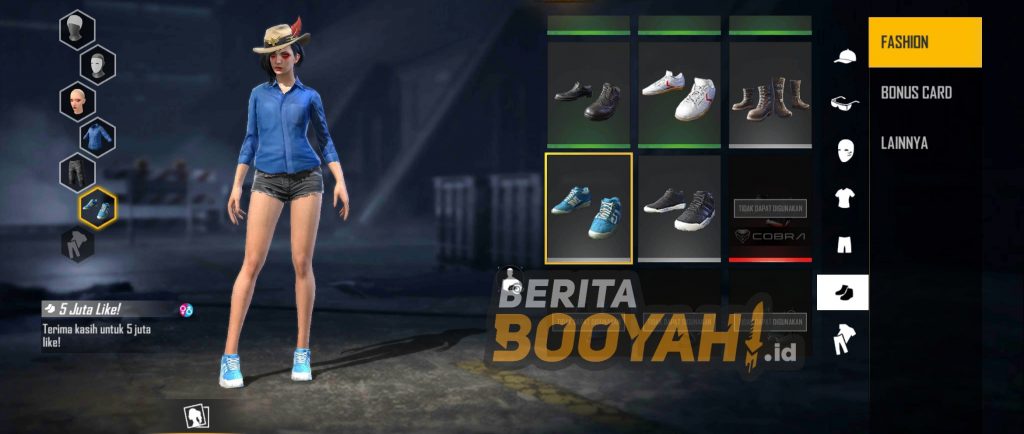 Tier Uncommon on a green background not much different from tier Trial is right below it. Row of items in tier this doesn't have any advantages. With a mediocre look, most Tier Uncommon items are free skin items. But make no mistake, the Angel Pants that Free Fire players dream of are in this tier.
Rare (Blue Background)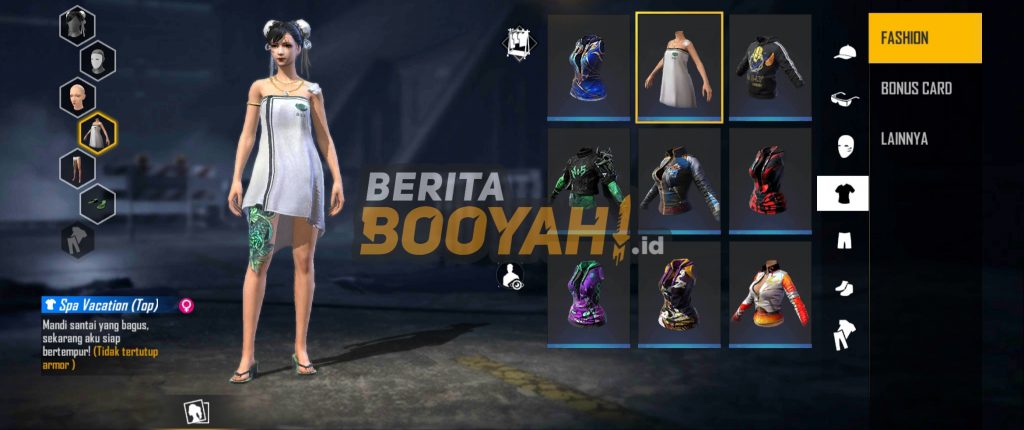 Skin items that are in tier Rare with blue background are common skins that can be obtained easily. Tier This is dominated by bundles and complementary items from Gold Royale, as well as prizes for Free Fire events.
Not a few interesting skins that are perched in this Tier are obtained using Diamond, be it through a shop or event. Some of the well-known skin items in the Rare tier are Full Arm Tatoo, The Streets Jacket (EP Season 2), and Men's Top Chef Pants.
Epic (Purple Background)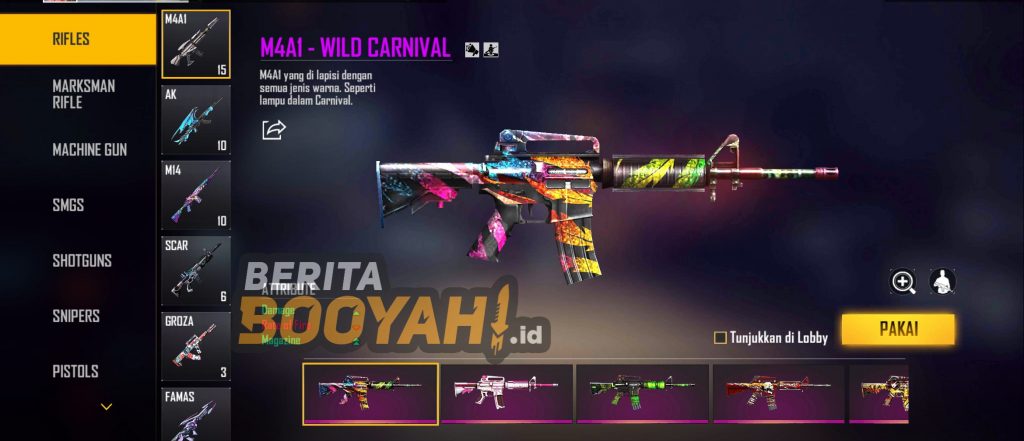 Epic Tier on purple background usually filled with items obtained from various paid Free Fire events, as well as certain special events. Not a few skin items in this tier have a look that is no less interesting.
For the Collection and Gun Skin sections, Epic tier items are not small items, because classified as an item with good in-game quality. For example, the Legendary Gun Skin that can be displayed in the Lobby is dominated by the Epic Tier.
Mythic (Yellow/Gold Background)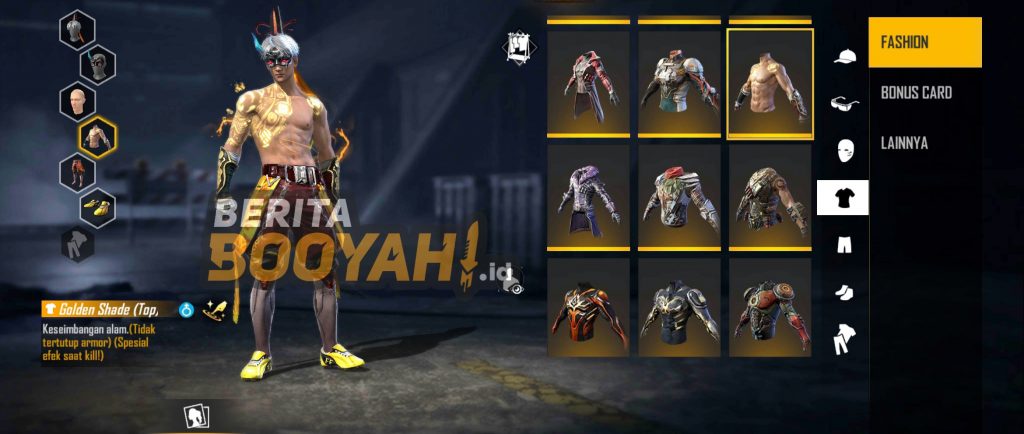 Next is the tier Mythic on yellow background. Every item present in tier this is limited edition exclusive items. In addition, items tier Mythic comes with an elegant impression with cool visuals, making it look different with a striking "expensive" impression from other items.
Skin items tier This is dominated by bundles, Gun Skins, and collaboration items, Incubator and Diamond Royale main prizes, to certain Web Event items such as the Mystery Shop or Hacker Store with special themes.
Artifact (Red Background)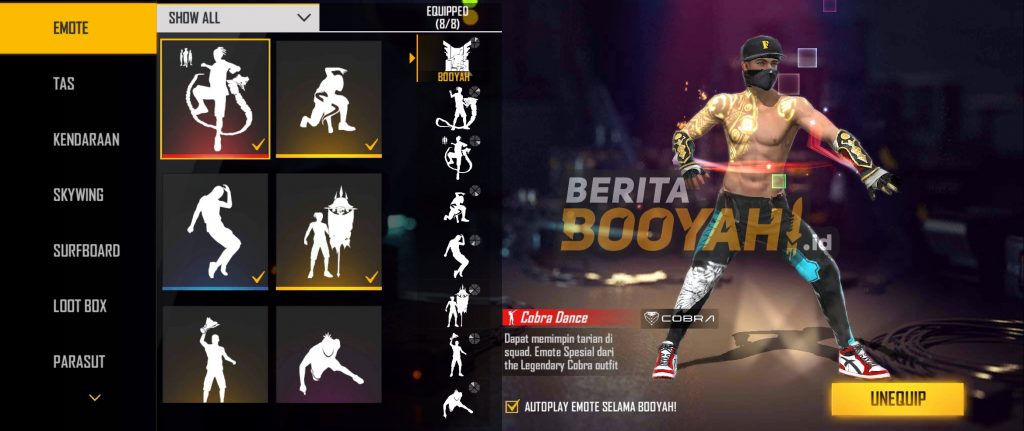 Lastly, TThe Artifact tier with the red background is the highest category and the Tier with the most exclusive items. Item skins in Artifact Tier are only pinned on special items, with advantages or characteristics that are conceptually not owned by other items.
So far, the items with Tier Artifacts were only Evo Gun Skin, Legendary Outfit Cobra Rage, and Emote Cobra Dance. Tier Artifact skin items occupy the top positions in Vault and Collection and excel in various aspects ranging from effects, appearance, and the price to get them.
So, those are some Tier Systems for skins and items in Free Fire. Try checking Buddy Booyah's account, Which Tier or category dominates your Vault and Collection items?
---
Don't want to miss a series of other interesting information about Free Fire? Don't forget to follow Tiktok, Instagram, Facebook, and YouTube from Booyah News!