Get a Free Glo Drone at the Moco Rebirth FF Event!
The Moco Rebirth event on Free Fire (FF) has been going on for almost a week and so far there have been lots of exciting activities that players can do.
Of course, at the Moco Rebirth Spinners event, you can also get various free gifts which are very cool.
Also Read: New Game Mode Pet Mania Present in FF OB30 Update! Like Fall Guys!
One of the prizes offered at this event is a Glo Drone whose appearance is very unique and suitable for Moco characters to pair with.
How to get a Glo Drone at the Moco Rebirth event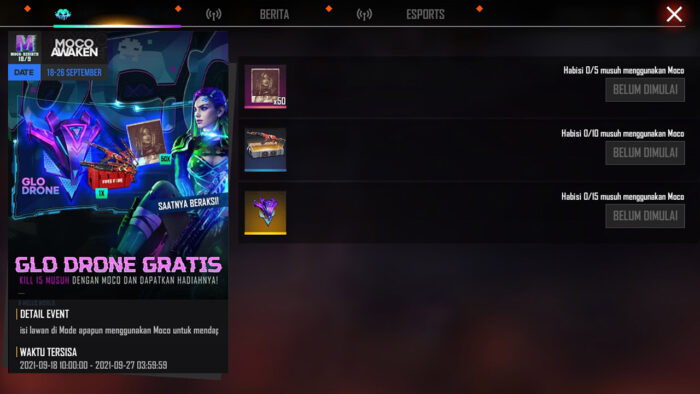 Spinners can get a Glo Drone for free by completing the Moco Awaken mission available at the Moco Rebirth event.
The mission that must be done is for the player to finish off the enemy using the Moco character.
The Moco Awaken mission will be available from September 18 to 27, 2021, so you have plenty of time to complete this mission.
Here is the list of rewards from the Moco Awaken mission:
Kill 5 enemies using Moco: x50 Moco Memory Fragment
Kill 10 enemies using Moco: Red Samurai Weapon Loot Crate
Kill 15 enemies using Moco: Glo Drone
That's the way to get Glo Drone at the Moco Rebirth Free Fire (FF) event! According to Spinners is this mission difficult to complete?
Also Read: Gas Take Free Fire Redeem Code (FF) 16 September 2021!
Also Read: Evo Gun FAMAS Demonic Grin FF looks, AWESOME!
Don't forget to visit SPIN Website for more information, and follow the account Instagram and Youtube we.