Get a Free Destiny Guardian Parachute at the Booyah Style FF Event!
In early September 2021, Free Fire (FF) presented a new event called Booyah Style.
At this event there are lots of activities and missions that Spinners can do, and of course there are also cool prizes that you don't want to miss.
One of the cool prizes that can be obtained is the Destiny Guardian Parachute which has a very cool appearance.
Also Read: Use Your Favorite FF Characters for Free at Booyah Style Events!
If you are interested in the parachute skin, in this article we will discuss how to get it!
Destiny Guardian Parachute at Booyah Style Event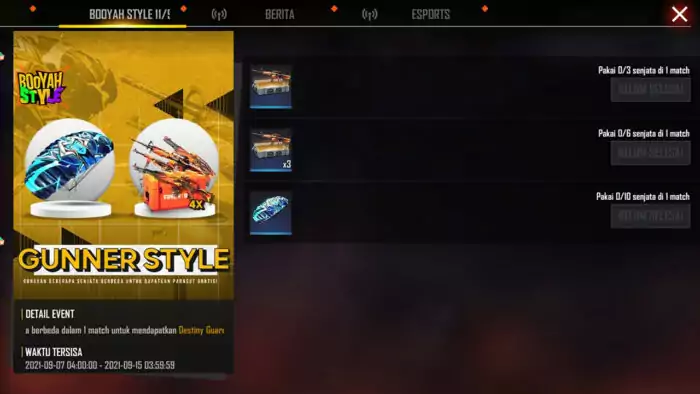 Spinners can acquire a Destiny Guardian parachute by completing the Gunners Style or Shooter Style missions in the Booyah Style event.
The mission will take place from 7-15 September 2021, and the thing you have to do is to use a lot of weapons in 1 match.
Here is the list of missions in the Gunner Style event:
Use 3 weapons in 1 match: Loot Crate Flaming Wolf
Use 6 weapons in 1 match: x3 Loot Crate Flaming Wolf
Use 10 weapons in 1 match: Destiny Guardian Parachute
Also Read: Latest FF Redeem Code September 8, 2021, Take Gas!
Also Read: Free Fire Max Vs. PUBG Mobile: These are the 3 Differences between the Two Games!
That's the way to get the Destiny Guardian Parachute for free at the Booyah Style FF Event! Don't forget to visit SPIN Website for more information, and follow the account Instagram and Youtube we.