Let's find out the Free Fire (FF) Sacrificial Spin Prize List, that way you will immediately be excited to collect lots of Spin Tokens.
Because for now, there are still some cool prizes that can be put to good use, once you understand the event.
Especially with the presence of new events now, there are indeed a lot and you should be able to take advantage of all of them well too.
So that later the Themes in the Events that are presented now, can indeed be used by the players quite easily.
One of them is the Free Fire Eid al-Adha Event Schedule, which is easy and fast for players to use right now.
If you have completed the mission, you can immediately receive cool prizes and special items from this limited event.
For one of them, you also have to know, the newest Free Fire (FF) Spin Sacrifice Prize List right now.
Curious? Let's take a look at the article below.
Free Fire Sacrifice Spin Prize List (FF)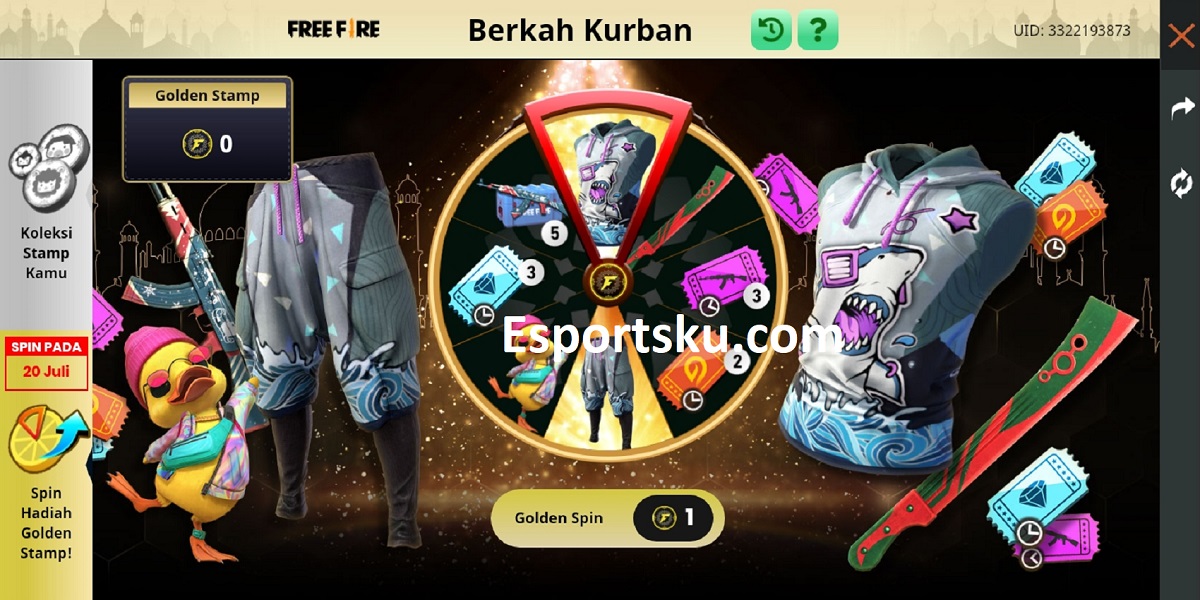 For now, you must know that the most recent Sacrificial Spin Event will provide quite a lot of prizes.
So you have to know the prizes first, so that later they can be put to good use because you already know what's in them.
That's why the list of prizes for the Spin Sacrifice event now, can indeed be said to be quite good and you must follow it.
Because here there are various attractive prizes that you can get, when Spin with us, we use the Golden Stamp Token in the Event that has been provided.
To get these prizes, Spin is something you should be able to do and make the most of it.
Not only that, you also have to be prepared, because the prizes inside might make you excited to play the Free Fire game.
In this spin event, you will get the following prizes:
Lethal Swordtail (Top)
Lethal Swordtail (Bottom)
Weapon Loot Crate AK47 Winterlands 5 Times
Diamond Royale Tickets 3 Pieces
3 Piece Weapon Royale Tickets
2 Incubator Royale Tickets
Machete Dashing Blade
Dj Beanie's newest pet skin
By getting gifts like this, you should be able to have them all without anything left at all, right.
Because we also know from this event, you will get various prizes and the Spin prize system is also very different.
Because for the presence of this Sacrificial Spin, players who have received these prizes will no longer get the same prizes.
So we already have the opportunity, to collect all the prizes that appear, in this latest event right now.
So what do you think about the presence of a new event like that? Is it cool and interesting? Definitely a gift like this, very nice.
Have all the clothes and skins of Dr. Beanie and Machete, to use when you compete against many enemies with ease.
You will have a great opportunity in this event, so don't worry about getting these prizes now.
This Spin event period will take place from July 14 – 25, 2021, so you have to be prepared with all of that and must be completed now.
Those of you who take advantage of events like this, are quite lucky because the prizes are quite a lot.
After knowing the Free Fire (FF) Sacrificial Spin Prize List, of course this will make you even more enthusiastic about playing the game.
Especially with the presence of Spin Sacrifice with prizes that can be obtained by all, surely something like this is quite profitable for us too.
Especially by following the How to Get Free Magic Cube Free Fire, you can later exchange it for gifts in the Magic Shop in the form of a Bundle.