Hi Buddy Booyah!
Emotes in Free Fire are one of the features that players really like. In games, Emotes can be used to express various expressions. To support this, various Emotes are presented with unique and interesting movements.
Free Fire also often presents Emotes to coincide with ongoing collaboration events. The presence of a series of collaboration special Emotes earned him a special classification. Not only that, usually the movements that are presented look different from other emotes.
Also Read: This is the Reason Why You Should Try META Grenades in Free Fire (FF)!
Also Read: Want to Download Free Fire (FF) Max Now? Know This First!
This time, Berita Booyah wants to present a series of special edition Emotes for the Free Fire collaboration event. While reading the list below, mark which emotes you have!
I'm Saitama Dan Obliteration
The first list is filled by Emote I'm Saitama and Obliteration. These two emotes are special emotes FF x One Punch Man collaboration. It can be said, this collaboration is one of the newest collaborations that Free Fire has ever made.
These two Emotes bring Saitama's characteristics to the game. Saitama's silly behavior is shown in the I'm Saitama Emote. While Emote Obliteration displays the effect of the bald-headed character's deadly blow.
The Victor, Sii! , And Top Scorer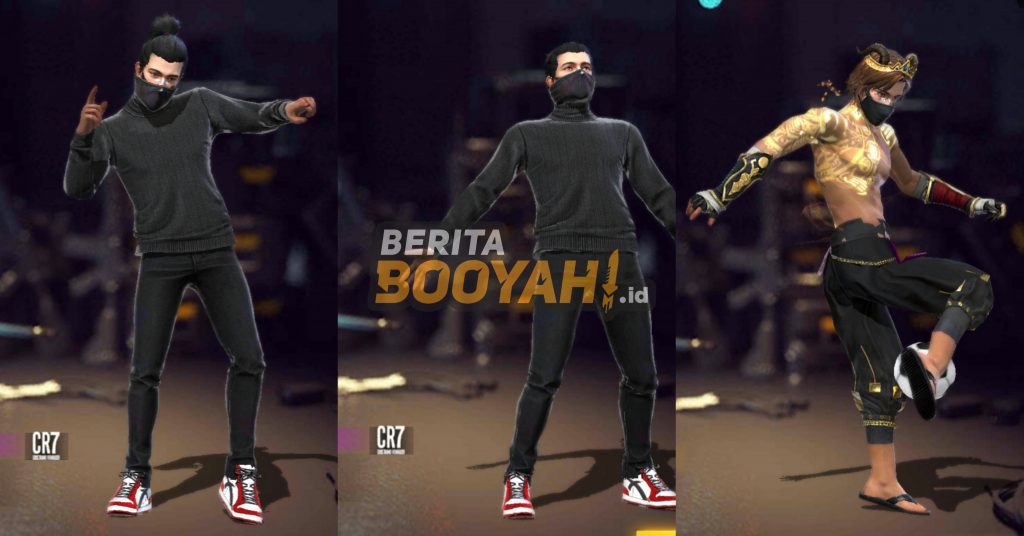 The Victor and Sii emotes! Featuring the iconic celebratory gesture of the world's soccer superstar, Cristiano Ronaldo. This emote is present at the event Free Fire collaboration with Cristiano Ronaldo, which also features the Chrono character.
Don't forget the cool Top Scorer emote is here to complete the feel of football which is the background of Cristiano Ronaldo. The ball juggling technique ends with a hard kick making the Top Score emote perfect for style!
Make It Rain And I'm Rich!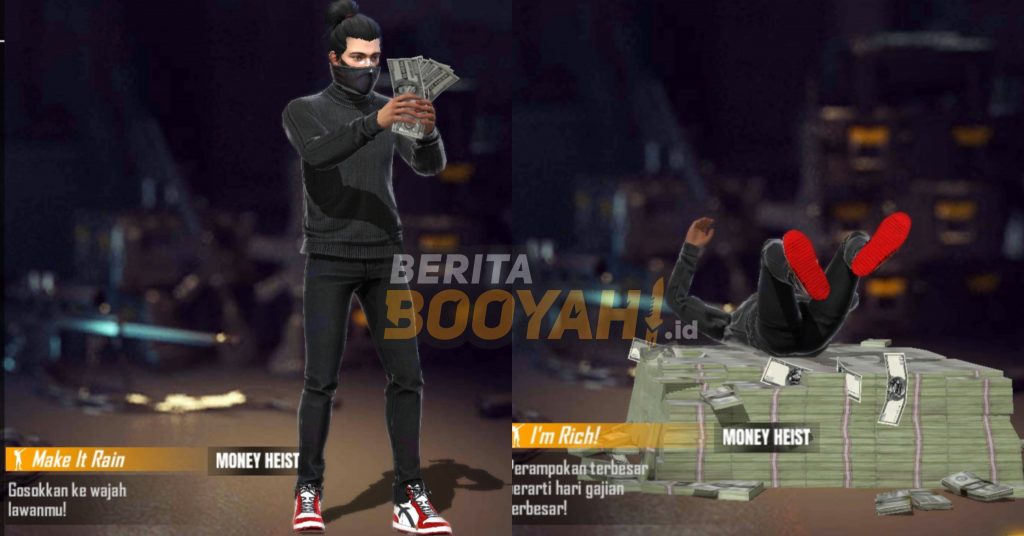 In addition to the One Punch Man Anime, Free Fire has also hooked up with the famous film series, namely Money Heist to collaborate. In addition to presenting a row of exclusive items, this collaboration also presents two special Emotes, namely Make It Rain and I'm Rich.
These two Emotes make the banknotes a hallmark. This can not be separated from the Money Heist series, which tells the story of a robbery that is very thick with money.
Captain Booyah!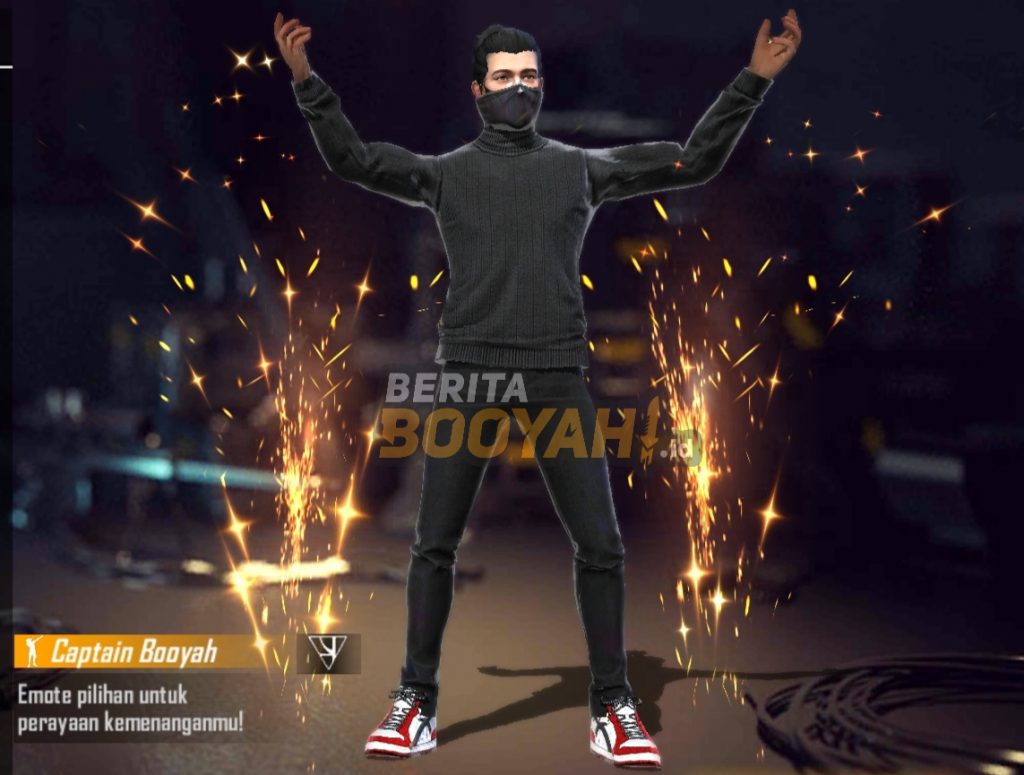 Collaboration FF x KSHMR presents a character named K or Captain Booyah. Not only that, emote Captain Booyah also present to add to the splendor of this collaboration.
KSHMR itself is one of the most famous DJs in the world. His presence in Free Fire is certainly a special attraction, especially when KSHMR is made one of the Free Fire characters.
Top DJ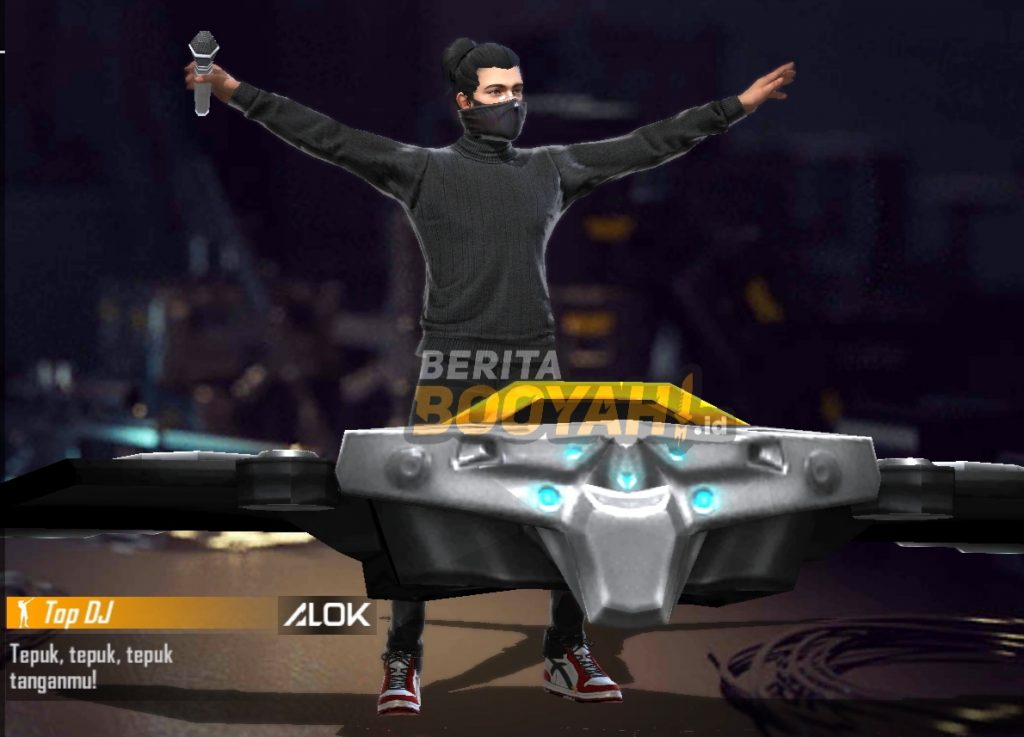 Final, Top DJ Emotes which is a special Emote FF x DJ Alok collaboration also adorn this list. This collaboration, which presents DJ Alok as one of the Free Fire characters, has stolen the attention of many people, because Alok is the favorite character of many players.
Well, those are some special edition Emotes found in Free Fire. Among the list above, which Emote is Booyah's favorite?
---
Don't want to miss a series of other interesting information about Free Fire? Don't forget to follow Tiktok, Instagram, Facebook, and YouTube from Booyah News!