Hi Buddy Booyah!
The fierce competition for Free Fire does not discourage the Free Fire community movers. With its regular agenda in the form of tournaments, the Free Fire community often gives birth to players pro player reliable and able to compete and have unusual skills. Armed with togetherness, the Free Fire community embraces each other to deliver the player achieve his dream.
One's readiness player is not obtained for free, there needs to be precise steps, one of which is by frequently participating in various tournaments. For Buddy Booyah who lives in Bima and its surroundings, there is good news for those of you who want to test their skills and develop their playing skills.
Also Read: Free Fire Cikarang Community Presents War At PPKM Tournament, Come Register!
Also Read: Get the MP5 Fatal Snarl FF Blueprint in the Latest Top Up Bonus Event!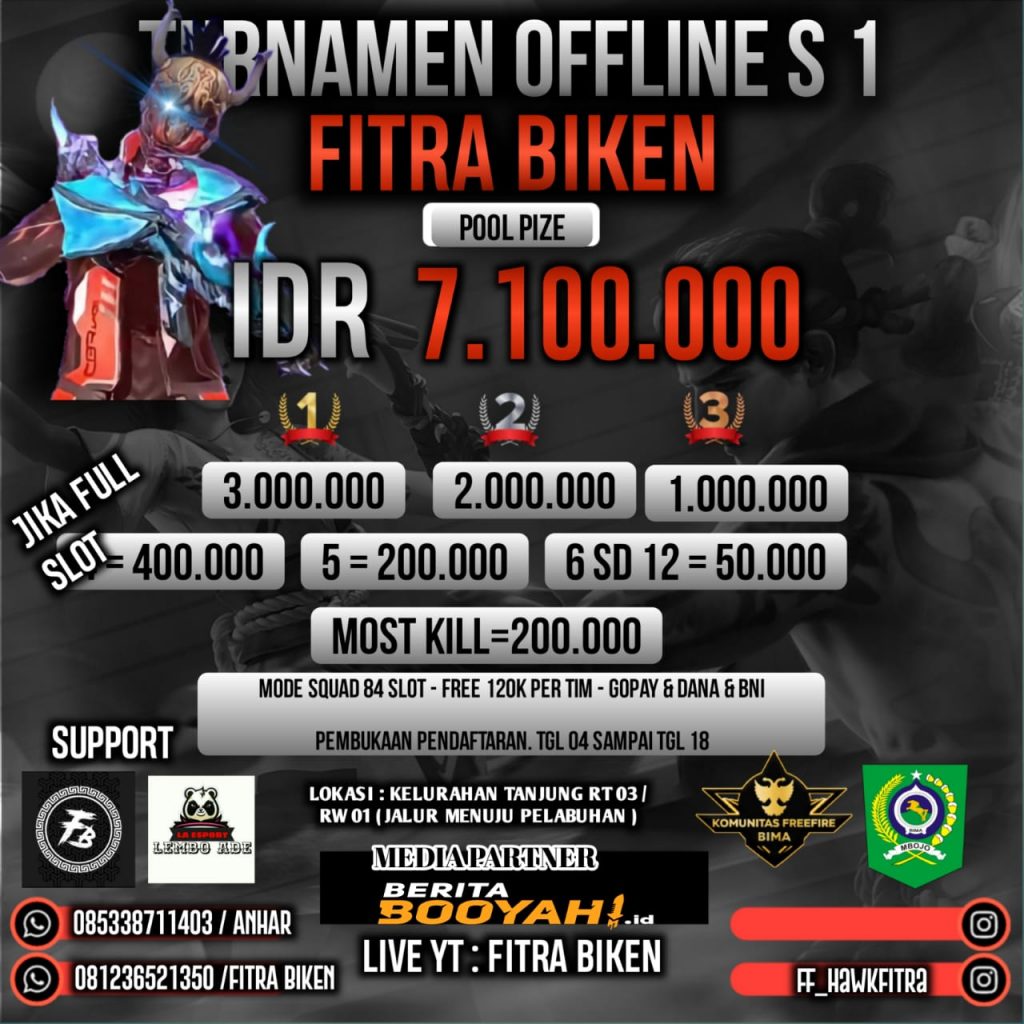 The Free Fire Bima community presents the Season 1 Offline Tournament which is a shame for Buddy Booyah to miss. This tournament aims to provide a platform for players who want to gain experience in the Free Fire competitive scheme. However, this tournament is only open to player from Bhima only.
Tournament registration is open until 18 September 2021. So Buddy Booyah can register immediately so you don't lose the opportunity to show your skills and win the championship. In total, there will be a prize of 7.1 million rupiah!
The Free Fire Bima Offline Tournament is planned to take place in Tanjung Village, RT.03, RW.01 (Road to the Port). With this format, Buddy Booyah will be mentally trained and also expand the circle of friends.
With registration fee 120 thousand rupiah, Buddy Booyah can display optimal performance with teammates. For more details on registration information for the Free Fire Bima Offline Tournament, please contact the following numbers:
Admin : 0853-3871-1403
This golden opportunity must be seized immediately, so what are you waiting for? For Buddy Booyah who lives in Bima and its surroundings, hurry up and register!
---
Don't want to miss a series of other interesting information about Free Fire? Don't forget to follow TikTok, Instagram, Facebook, and YouTube from Booyah News!