Maybe you should immediately know the contents of the Latest Horizon Store Free Fire (FF) Prize, because there is a lot that we can exchange right away. It's a pretty good gift, maybe you'll even find a few that fit and want to get one as soon as you know this.
There are even some other prizes that we can collect in the new Event now, there are even some missions that we have to complete. Especially for some events and still going on until now, there must be some new prizes that are more interesting, yes.
Especially for the Booyah Style Free Fire Event yesterday, even though it will end soon but there are many good reward missions. All of them can give you interesting prizes, it's just that not all of them and you must finish them before they disappear.
Then we can continue to know the contents of the Latest Horizon Store Prize Free Fire (FF), maybe you will know it and won't miss it. It can be said that we have to buy all of those present, if you want to have each item using a special token as well.
Free Fire (FF) New Horizon Store Prize Contents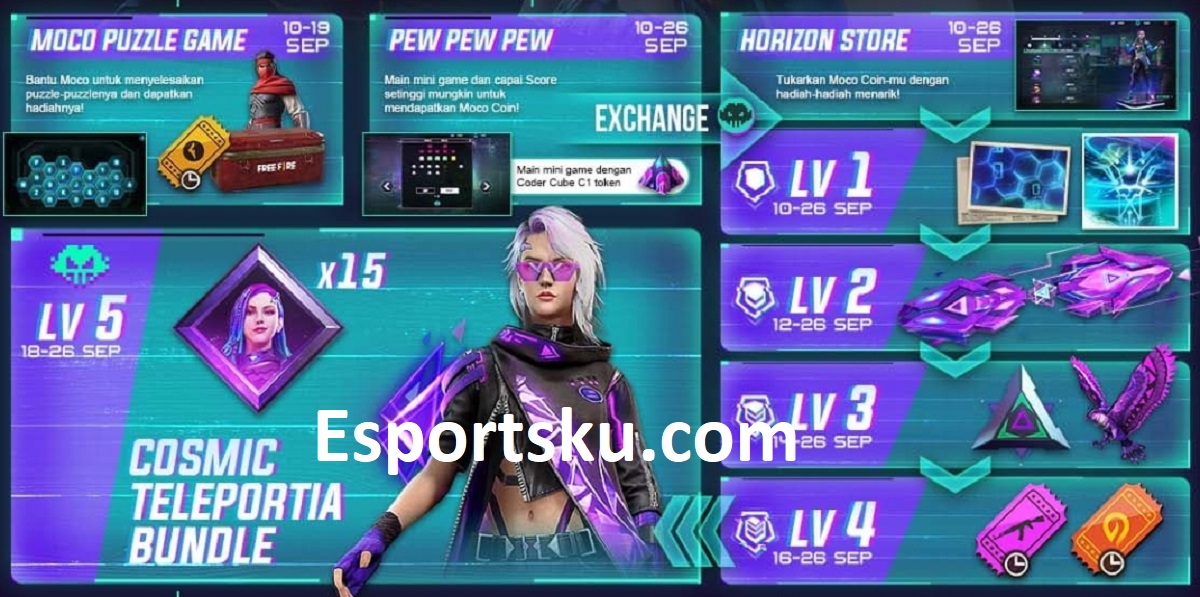 If you want to know the contents of the gift from the Horizon Store, you must first check the column that is right above the Pew Pew. If you have pressed it, then you will soon find out the prizes that we can get in the latest Horize Store Event.
In this new Moco Rebith Free Fire event, players will be presented with a new interface from an interesting Web Event. Now in this event, you will find some interesting and newest prizes for us to use immediately to make the account cool.
The following are some of the prizes and the opening date of the event for you to immediately prepare the terms of exchange later.
Horizon Level 1 ( 10 – 26 September 2021 )
Moco Month Banner
Torquise Avatar
Gold Royale Ticket
Airdrop Loadout
Treasure Map
Horizon Level 2 ( 12 – 26 September 2021 )
Glo Technica Surfboard
Carnival Carnage Weapon Loot Crate
Gold Royale Ticket
Bonfire
Supply Crate
Horizon Level 3 ( 14 – 26 September 2021 )
Cyber ​​Neon Falco
Pin Moco Month
Falco Box
Gold Royale Ticket
Contents of the Latest Horizon Store Prizes Free Fire Horizon Level 4 ( 16 – 26 September 2021 )
Diamond Royale Ticket
Weapon Royale Ticket
Incubator Royale Ticket
Top Pastry Chet Loot Crate
Gold Royale Ticket
Horizon Level 5 ( 18 – 26 September 2021 )
Cosmic Teleportia Bundle
Moco Awakening Fragments
Every gift that is presented at the Contents of this Store is really cool, you have to get all of them and collect them right away. Of course a gift like this, will indeed provide many advantages, for those of you who really want to have it.
Even for how to get it, you need to exchange special tokens, let's just collect the gifts that are present on the initial date. Levels will be unlocked on every date that we have given you, it's time we now have lots of cool prizes like this.
Surely everything is enough for you to get right now and collect, have every gift on a new level that is present now. Because there will be many surprising gifts that you can use again, when you have one of them for a cool account.
For the last level, it may indeed require a lot of preparation, all of you must be prepared to overcome this, yes.
After knowing the contents of the Latest Horizon Store Free Fire (FF), then your chance to get more prizes. Then you also still have some new events to come, finish them first and then continue with other more relaxed events.
Especially for How to Get Cube C1 Free Fire Tokens that are present today, let's collect these tokens to play minigames. After the minigame is completed, then you will get far more prizes than before.