Hi Buddy Booyah!
On August 18 tomorrow, Wednesday, the Free Fire Master League (FFML) Season IV Division 2 will start soon. There will be 18 semi-pro teams who are ready to fight for the championship and win promotion rights to division 1 in the next FFML Season.
Also Read: Madura Prime, Ready to Debut and Win a Champion in FFML Season IV Division 2!
Also Read: Jota FF Annoying in Free Fire? This is the Counter Way!
Do Buddy Booyah want to know the pot distribution in FFML Season IV Division 2 tomorrow? If yes, Buddy Booyah, you must see the discussion below!
FFML Season IV Division 2 Pot Distribution!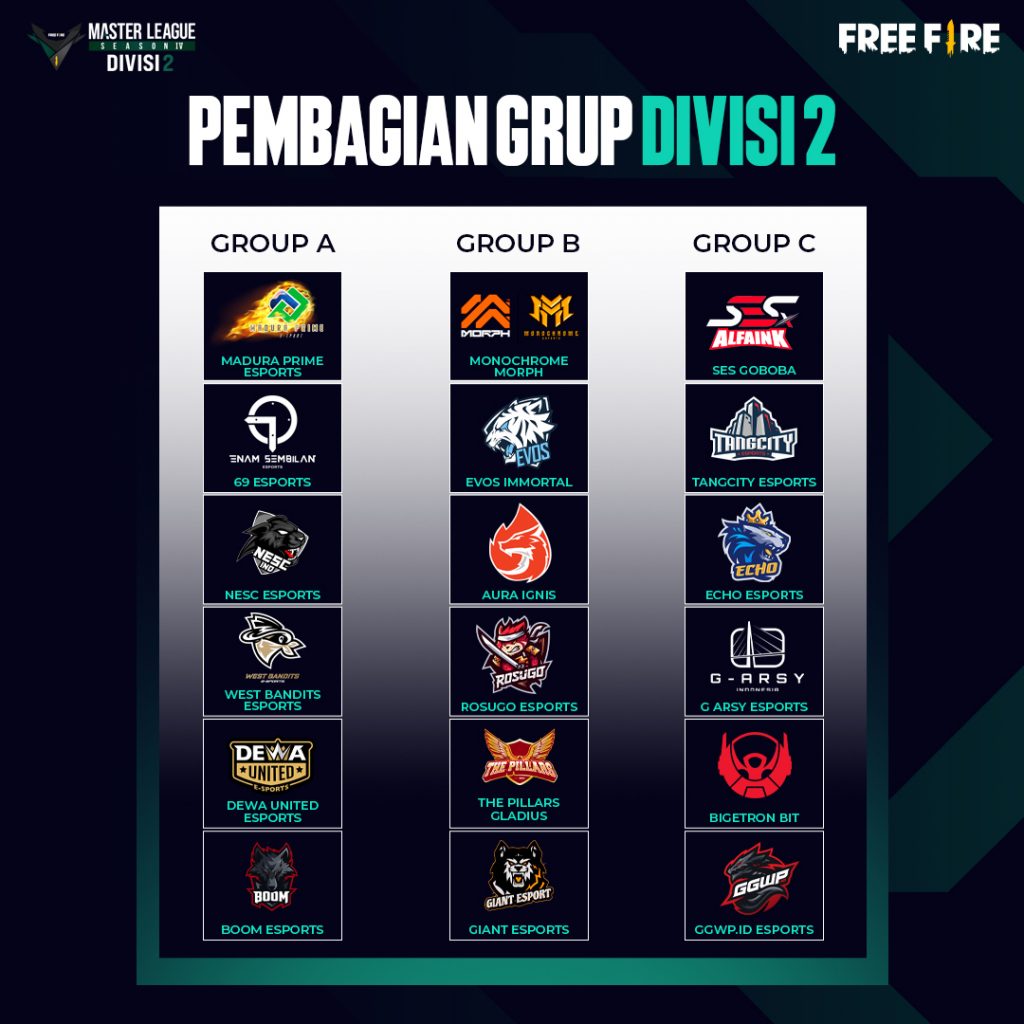 FFML Season IV Division 2 this time fought 18 teams in 3 different pots. There are 8 new challengers who will play in the division 2 league this time.
Three of them are the second team from three esports organizations to play in FFML Season IV Division 1, and cannot get promotion rights to division 1 in FFML the following season.
And for the distribution of the pot, Buddy Booyah can see below!
Pots A:
69 Esports
BOOM Esports
God of United Esports
Madura Prime Esports
NESC ESPORTS
West Bandits Esports
Pots B:
AURA Ignis
EVOS Immortal
GIANT Esports
Monochrome MORPH
Rosugo Veda
The Pillars Gladius
Pots C:
Bigetron Bit
ECHO Esports
G ARSY ESPORTS
GGWP.ID ESPORTS
SES GOBOBA
Tangcity Esports
From the pot distribution above, it looks like the pot B team battle will be a very interesting spectacle. There are eternal rivals, namely AURA Ignis and EVOS Immortal who both want to win pot B.
However, the match between pot A and pot C is no less exciting. There's NESC ESPORTS which contains Wawan and his friends who are back to be competitive again in the Free Fire major tournament, and there's the inaugural match of 5 new teams consisting of community players in all three FFML Season IV Division 2 pots!
According to Buddy Booyah, who will come out as the winner from the fierce competition of FFML Season IV Division 2?
---
Don't want to miss a series of other interesting information on Free Fire? Don't forget to follow Tiktok, Instagram, Facebook, and YouTube from Booyah News!