Hi Buddy Booyah!
Free Fire has a feature that is a place for players to form teams and play together, in one unit and with the same goal. The feature is called Guild.
There are many guilds registered in Free Fire. This shows the enthusiasm of players for this feature. On this basis Free Fire tries to bring updates to the Guild feature.
Also Read: So Overpowered, Jota Skill Revamped on Advance Server FF July 2021!
Also Read: Finally, AURA Esports Introduces the Second Free Fire Team, AURA Ignis!
On Advance Server FF July, Free Fire introduced a new feature called Guild Wars. What is the mechanism for this latest feature? Check out the full review that Berita Booyah has presented below!
New Features Advance Server FF July, Guild Wars!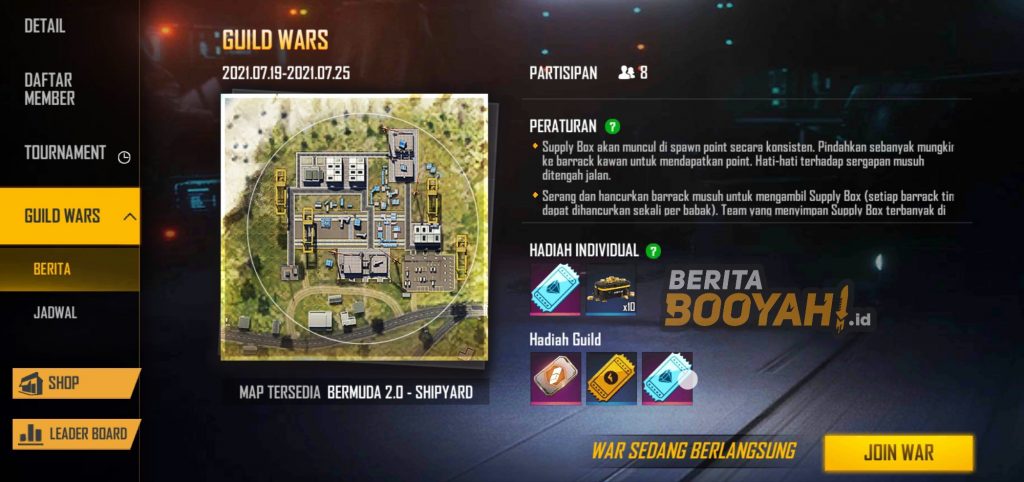 Guild Wars is a feature that presents battles between Free Fire Guilds. Each Guild can send 1 representative team with 8 players. The battles in Guild War are packaged in a special mode that is quite unique.
Later, the players must work together to collect the Supply Box from Respawn Points to the team barracks. Each team can also fight against each other, and destroy enemy barracks to loot the collected Supply Boxes.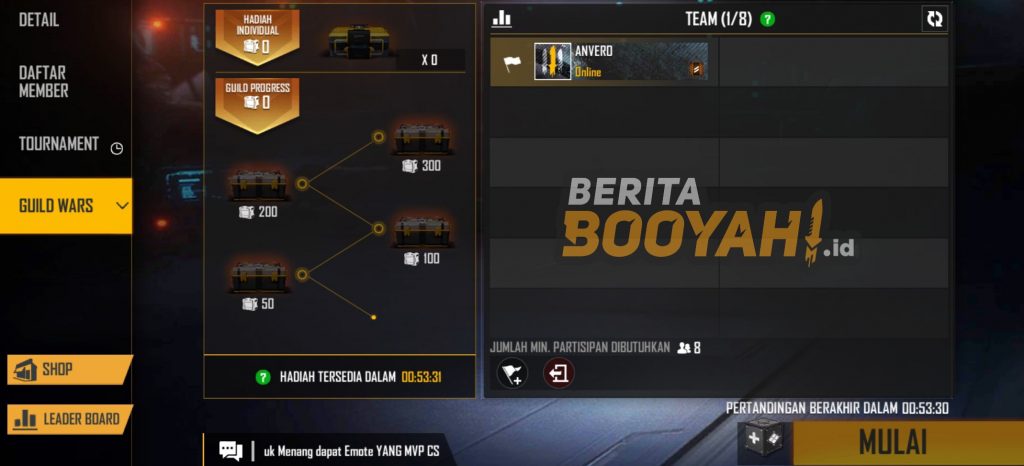 The team that manages to collect the most Supply Boxes is entitled to be the winner, and get Guild Progress points. Players can also receive individual points depending on how much they contribute to Guild Wars.
There are various rewards that can be obtained from Guild Wars. Each point that a Guild member collects is accumulated for the acquisition of individual rewards or prizes for all Guild members in the box "Guild Progress". This feature also brings system Leaderboard Ranking which displays the Guild with the highest points earned.
With a pretty interesting concept, it looks like Guild Wars is worth waiting for its presence on the Live Server. According to Buddy Booyah, can Guild Wars increase the attractiveness of the Free Fire Guild Feature?
---
Don't want to miss a series of other interesting information about Free Fire? Don't forget to follow Tiktok, Instagram, Facebook, and YouTube from Booyah News!