Hi Buddy Booyah!
The FF 4th Anniversary event has enlivened Free Fire starting today. Buddy Booyah can get various prizes presented in the event by completing existing missions.
Starting from Gun Skins to Bundles, Buddy Booyah can have them for free at the FF 4th Anniversary event. In fact, Buddy Booyah also has the opportunity to get a free Magic Cube FF!
Also Read: There will be a Free Magic Cube FF at the Free Fire 4th Anniversary Event!
Also Read: Event Buy 1 Get 2 Free FF, Have a Cadencia Treblerock Bundle!
In addition, there will be a special anniversary quiz to welcome the 4th Anniversary. For Buddy Booyah who wants to know the leaked answer, let's go straight to this article!
Anniversary Quiz Free Fire (FF)
Anniversary Quiz is a special quiz for Free Fire's fourth anniversary that is present starting today, August 20, 2021. In this web event, Buddy Booyah is required to answer questions which in 1 day can only provide answers once.
So Buddy Booyah doesn't have to bother answering even more wrong. Here, Booyah News has a leaked answer so you only need 5 days to get all the prizes!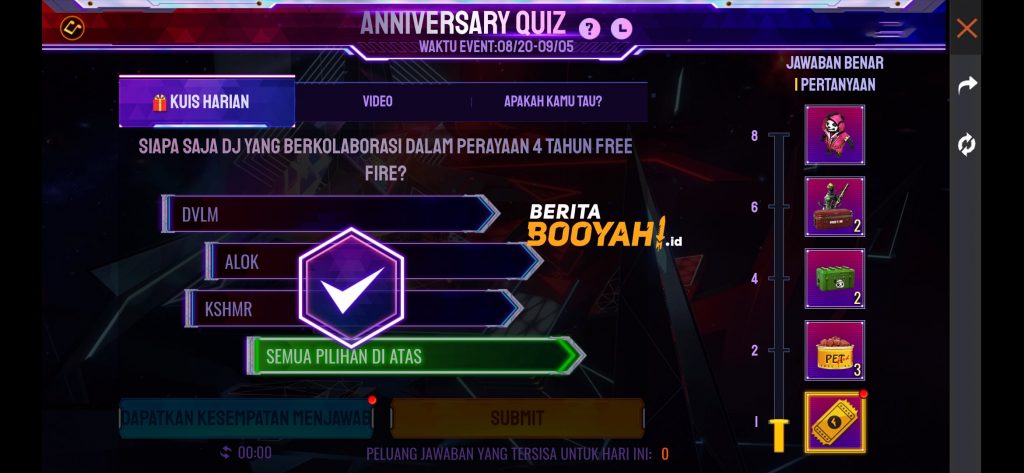 Who are the DJs collaborating on the 4th anniversary of Free Fire?
DVLM
Alok
KSHMR
All Options Above (True)
Every day there will only be 1 question, if you have finished answering all five questions, you can get the Pet Skin Party Panda Free Fire (FF)!
Take it easy, later this article will be updated according to the presence of new questions in the special quiz event for the fourth anniversary of Free Fire. Therefore, do not miss to answer the existing quiz!
---
Don't want to miss a series of other interesting information about Free Fire? Don't forget to follow Tiktok, Instagram, Facebook, and YouTube from Booyah News!