Hi Survivors!
After going through the Mid-Season, signaling that the FFML Season IV Division 1 match will soon be over. Of course, the atmosphere of competition is getting hotter, where the teams are fighting for the top of the standings which is considered to be quite difficult, because each team has put all their strength to give maximum performance.
On the seventh Match Day yesterday, we were presented with good games from Group A and Group B. Not wanting to waste the remaining time, each team was more careful in taking steps to bring home additional points.
Also Read: Enlivening the Free Fire Karawang Community 3th Anniversary Tournament, Come on, Register now!
Also Read: M1887 Rapper Underworld FF Present at Completion Gacha Free Fire!
The movement slowly but surely, was carried out by the teams from Group A and Group B to successfully display a beautiful game, which made the audience amazed. However, the dominance of Group B further sparked the heat in the FFML Season IV Division 1 Day 7 match yesterday. This is evidenced by the acquisition of Booyah in 5 Rounds which was controlled by the team from Group B as follows.
• Round 1 (Bermuda): EVOS Divine
• Round 2 (Kalahari): Red Bull Rebellion
• Round 3 (Purgatory): ONIC Olympus
• Round 4 (Bermuda): EVOS Divine
• Round 5 (Kalahari): Red Bull Rebellion
• Round 6 (Purgatory): NXL Ligagame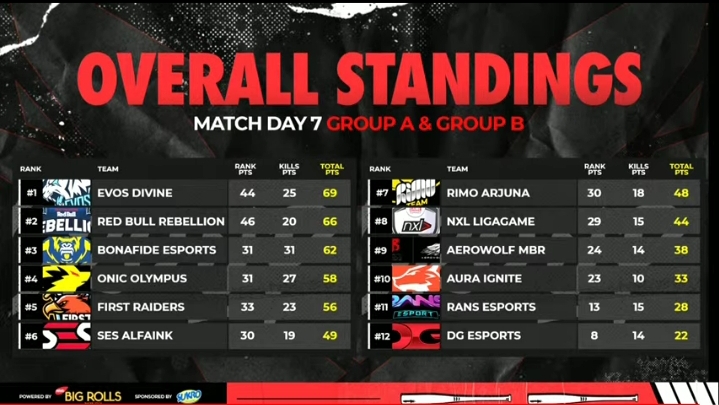 It was a beautiful night for the EVOS Divine team, with their hard work, they managed to hold two Booyah and collect 25 point kills to top the Overall Standings FFML Division 1 Day 7 yesterday. Not only that, EVOS Divine's improvement in game strategy seems to be producing sweet results.
After a long wait and chasing points, they were finally able to overthrow the ONIC Olympus team, which had been sitting at the top of Group B for a long time, even though it was only one point difference. The success of getting one Booyah in the third round did not bring ONIC Olympus to stay afloat until it dropped to second place in the temporary standings of Group B.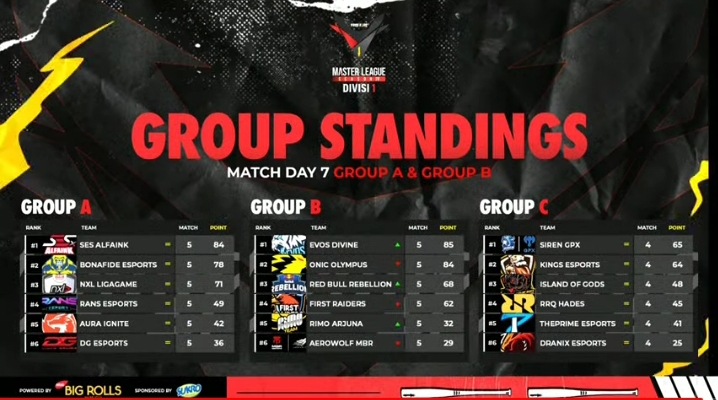 Interestingly, in Group A there was no visible shift in position. Meanwhile, the hard efforts made by the AURA Ignite team in the early rounds made the competing teams quite overwhelmed. However, apparently, AURA Ignite has not been able to provide optimal results on the seventh Match Day yesterday.
The epic performance presented by the Bonafide Esports team has not been able to dethrone the SES Alfaink team, which is still comfortable at the top of the Group A standings. However, Bonafide Esports' performance could be a danger signal that should be taken into account by the SES Alfaink team.
Tomorrow, the exciting battle will continue, bringing together teams from Group A who will challenge teams from Group C. So make sure you don't miss Match Day 8 FFML Season IV Division 1, Tomorrow at 18.30, Live on YouTube FF Esports ID!
---
Don't want to miss a series of other interesting information about Free Fire? Don't forget to follow Tiktok, Instagram, Facebook, and YouTube from Booyah News!