Now here comes an Event Discount 50% Incubator Mythos Free Fire (FF), don't miss something like that for those of you who want to save more.
Because indeed every form of this game event is entitled Discount, there must be many interesting things that of course you can take advantage of well.
Especially with the presence of several new events like this, all of which will definitely make you more enthusiastic about having them.
Because for now, there are still many other new events to be had.
Especially from getting to know the M60 Free Fire weapon more closely, you guys will be interested in being able to use it now.
Because it's from the 50% Incubator Mythos Free Fire (FF) Discount Event, take advantage of the event prizes that are given as well.
Curious about the presence of discount events like this? let's look at the article below.
Event Discount 50% Incubator Mythos Free Fire (FF)
In the Luck Royale feature now, we can indeed get the Latest M60 Mythos Free Fire Skin which is pretty cool for you to use.
So with the presence of a Skin like that too, it will make your appearance in competition stronger and not look weak later.
By trying How to Get M60 Mythos Free Fire Skin, you should also know that there is a discount that is being given now.
Of course, with the presence of a discount like that, it will make all of you more efficient in owning an M60 Skin like this, too.
For the presence of a Discount Event like that, it will indeed make you guys even more excited to get the new M60 Skin.
Not only some other interesting things that you can get here, of course all of that you have to take advantage of right now.
This discount will only apply to 1 Spin in 1 Day, so for example, you are Spinning 1 Time and 5 Times.
Where the two spins get 2 opportunities, after you spin on that choice, you won't get any more discounts.
All Discounts will return to Normal after you Spin on the same day, but will return the next day for you to try.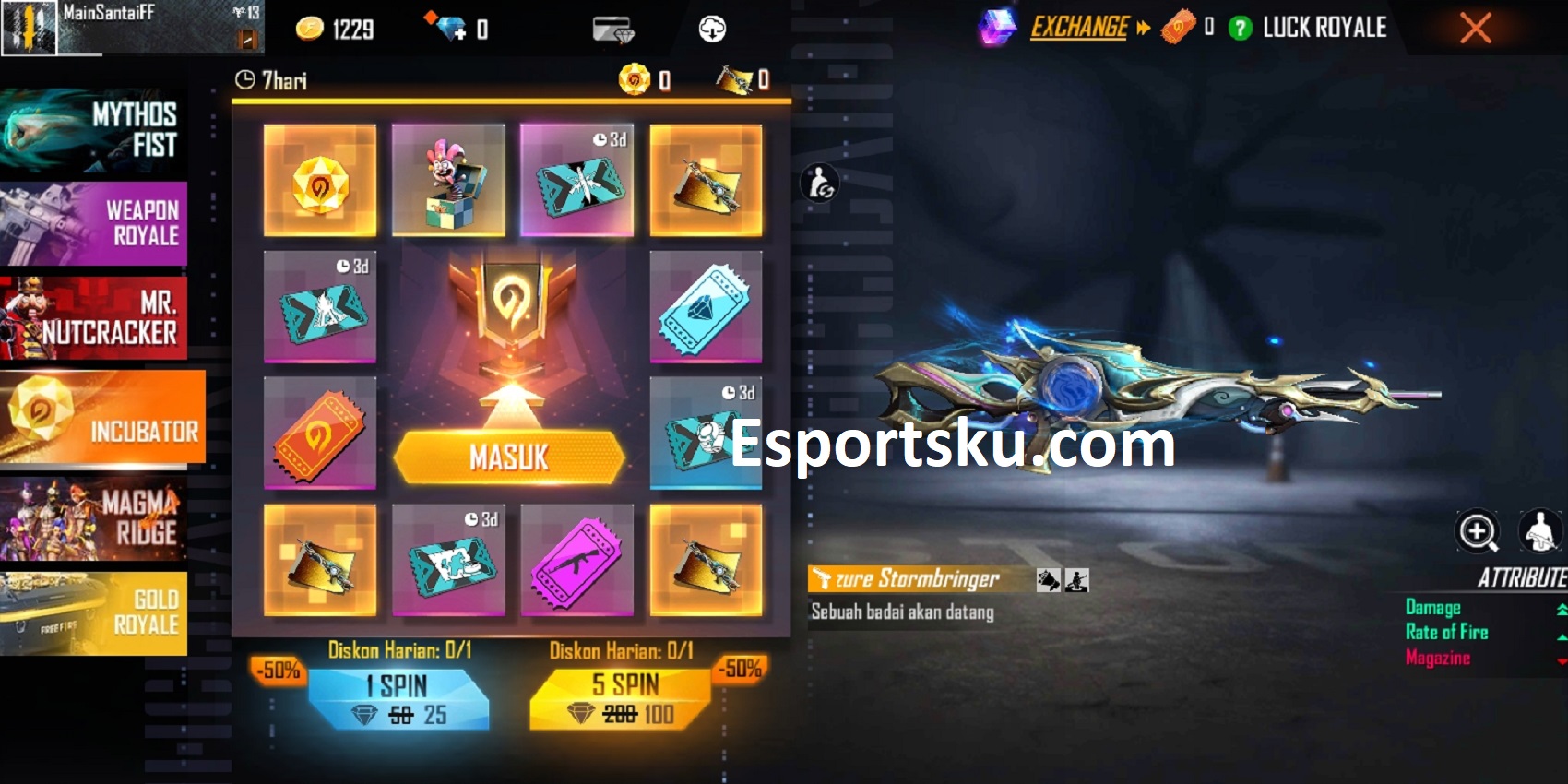 The price of each discount is also quite saving, later we will issue a few diamonds.
Spin 1 Time requires 25 Diamond, Original price is 50 Diamond.
Spin 5 Times requires 100 Diamonds, Original price is 200 Diamonds.
This event will take place from the upcoming 7-14 July 2021, so there are 7 times discounts that you can get from this event.
Not only that, because there are still many interesting prizes that you can get from this Spin.
Because apart from collecting materials for the M60 Mythos Incubator, there will definitely be other prizes in the spin as well.
Just how many times do you think you want to spin, but during this event it will be economical and you can't ignore it later.
All of that is indeed quite interesting and can be put to good use, yes, immediately have the items presented at this event.
While we are given the opportunity for cheap discounts, take advantage of this and use all of it quite well.
After knowing the 50% Incubator Mythos Free Fire (FF) Discount Event, then you can save Diamond spending from this latest Event.
When else will you have the latest Skin from the cool M60 Mythos? Of course all of that, it's quite interesting and can be used yes.
Especially for the Free Fire Spin Hockey Tips, just use them so that you get a much better chance of getting this prize.
Especially there is another new incubator that will be present, in July and in the future.