Don't miss the Incubator Rebel Academy Free Fire (FF) with a 50% discount, of course, an opportunity that you can use for this bundle. Because before the discount runs out or finishes, you can already take part in the event because of this festive discount.
Moreover, until now there are still many new updates for the Free Fire game, of course you may be interested in following it until you change the patch. Because for now we can also get Special Events, then we can also get lots of prizes.
Especially for How to Get Loot Box Thrash Metallic Free Fire, this is one of the newest items that we can get for free. There are still many Events and Missions for you to complete, so that you can add a lot of profitable prizes right now.
Even for Incubator Rebel Academy Free Fire (FF) 50% discount, you can immediately have the discount when you spin later.
Incubator Rebel Academy Free Fire (FF) 50% Discount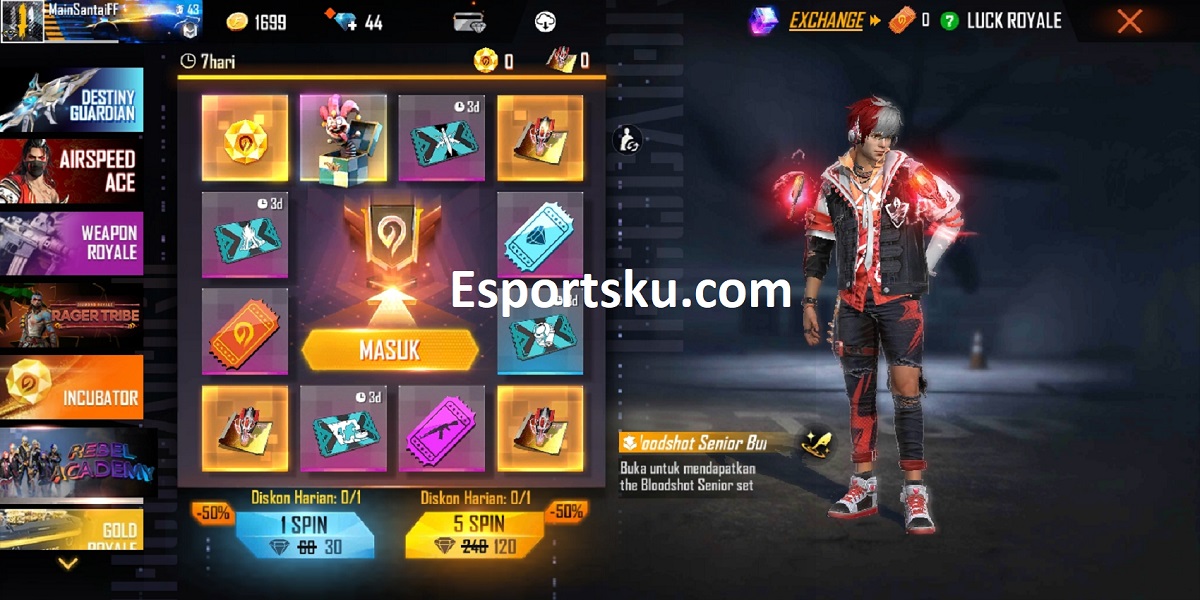 Right now the Rebel Academy Free Fire Incubator is indeed getting the latest discount, Spin 1 Times 30 Diamonds and Spin 5 Times 125 Diamonds only. Because if a discount like this appears, Garena has added that the event will end soon too.
Maybe those of you who don't have this bundle can spin right away, because you can get the main prize as soon as possible. We will also find discounts on the 2 Spin features, you shouldn't miss this opportunity either.
Because the discounts we can get from Incubator Rebel Academy can be fairly cheap, it's just that there are some conditions that you must see. Anyway, the discount that is present for every Free Fire Incubator will appear every day, for example, today it's Spin, tomorrow there will be more.
Discounts are not present forever in that 1 day, gradually over the last 7 days this Incubator will give discounts to its players. It can be calculated that later you will receive 7 times the discount, on the two Spin Features that are present at the Rebel Incubator now.
As long as this event is still ongoing, maybe you also need Free Fire Spin Hockey Tips to make things easier in Spin later. Of course, this Grand Prize will come easily for us to get, especially those who have always wanted the bundle back.
Use this last chance to join Incubator Rebel, because it won't be around for a long time either. But unfortunately if in this Discount Event you don't get a gift Buff, the chance to get a prize is quite small.
Are you ready to get this Rebel Academy Free Fire Incubator Bundle Prize? because it's still there and you can try the prize now. Before the Bundle disappears, then just use this opportunity first.
Because surely after this Incubator ends, his party will have another Incubator who will replace his position right now. Later when you get the Bundle, of course you can immediately play with the new Events that are currently available.
Profitable gifts, then use the cool Bundle in the Free Fire game right now.
After knowing the Incubator Rebel Academy Free Fire (FF) 50% discount, now is the time for you to do Gacha immediately. Because soon the event will indeed end, before it happens, let's spin a lot now.
Moreover, there is a Free Lone Wolf Anniversary Free Fire Ticket, only playing and completing the Match can get the prize. Even this will provide a free opportunity, for every player who wants to have the main prize.
Keep visiting Kabargokil for the latest information, Follow our Kabargokil Instagram and YouTube news, too!